DALLAS — Keyonna Snipe hates flying.
There's something about being confined to a small space on an airplane that makes her nervous. Throw in a batch of turbulence thousands of feet in the sky and that's a whole other story for the humble, single mother from North Charleston.
So she gets behind the wheel. And she drives.
Two years ago, when Clemson's football team demolished Ohio State in the 2016 Fiesta Bowl of the College Football Playoff, she packed her bags and drove the 2,130-plus miles from her Lowcountry home to Phoenix to be there for her son, John Simpson, who was a freshman on the Tigers' football team.
Simpson was on the field for 10 plays of action in that blowout game ahead of Clemson's national title — one for about every 213 miles Snipe drove.
But she insists she wouldn't have missed it, just like she wouldn't miss Saturday's Cotton Bowl here in Texas either.
By the end of this week, Snipe will have been in the car for another 1,100 miles and 16½ hours to watch Simpson, a former Fort Dorchester star and now a junior left guard on Clemson's offensive line, take on Notre Dame with a national championship berth on the line.
The mother and son have been through too much together for her to miss out on his biggest moments now.
"I'll put it this way: it was a struggle. I struggled a lot, I had him at a young age," said Snipe. "But he was understanding. He understood, 'My momma is trying.'
"He's very appreciative of everything he has. Everything. He's just such a sweet guy. I can't even explain it."
She doesn't have to.
Humble beginnings
To understand John Simpson and why Snipe is willing to drive thousands of miles to see her son play, you first have to understand where he, his mother and his younger brother come from.
You have to understand that at 6-4, 330 pounds, Simpson is both wildly fierce on the football team — even brave enough to scuffle with Clemson superstars Dexter Lawrence and Clelin Ferrell — yet contagiously goofy and down-to-earth off of it.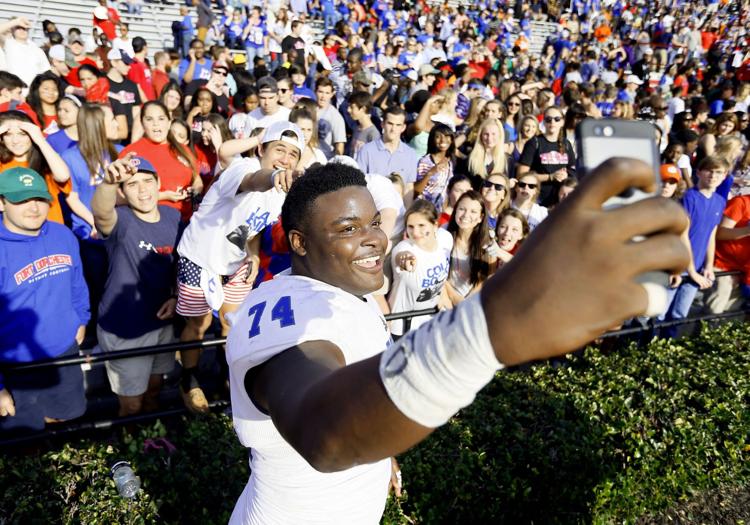 He is the ultimate mix of gentle yet aggressive, humble yet confident and cognizant yet grateful for how he ultimately got here — which begins with where he comes from.
Simpson was raised in the Dorchester-Waylyn neighborhood of North Charleston, where crime was so rampant he often stayed inside his home because going outside was too dangerous. In a state that is one of the worst in the nation when it comes to number of gun deaths, North Charleston is one of the most dangerous areas in South Carolina and Dorchester-Waylyn is one of the most dangerous areas in North Charleston.
One day when Simpson was on his way home from high school he came upon an elementary school student bragging about the gun he had just found in the woods.
"'What are you doing?' Simpson asked him. 'Where did you find that? Put it down — you never know what happened to it.'"
There was a nearby park where Simpson occasionally went to play, and where he saw many fights.
When it became apparent that Simpson might have a future in football, his mother moved the family so he would be able to attend Fort Dorchester. The apartment was smaller but it was all Snipe could afford.
At Fort Dorchester, Simpson's new classmates seemed to have everything they could possibly want, while he was  buying his own school clothes with money he made from mowing lawns.
Snipe's priority then and now is providing for her children. She works the third shift on an assembly line at Cummins Turbo Technology in Ladson. She doesn't hide the fact her family often lived paycheck to paycheck.
John often helped out with paying the bills. He was never a typical high school student.
Getting a job
In a city that is known for its food, Halls Chophouse in downtown Charleston is one of the most upscale restaurants in the city. The most expensive steak on the dinner menu is $116. Seared foie gras goes for $22.
Before he turned 16 years old, Simpson had not spent much time in downtown Charleston, and never in one of the city's finest restaurants.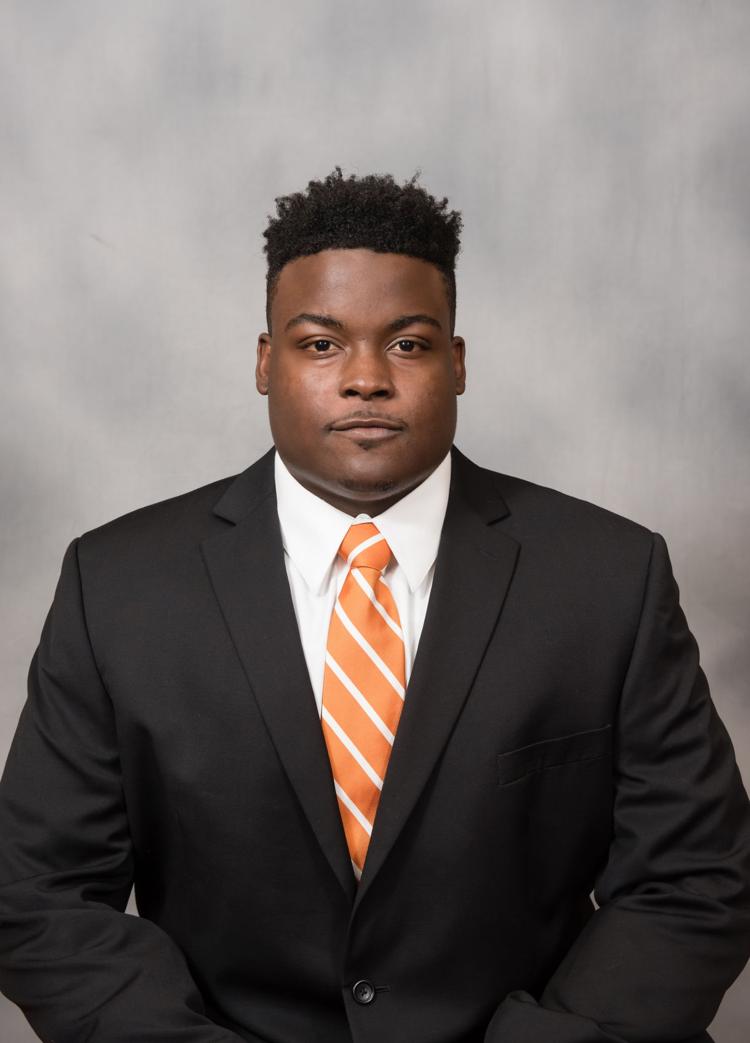 But when he realized his mother was doing the best she could, Simpson felt inspired to help her provide. Thanks to Mickey Bast and his program "Teach the Need," Simpson became the first high school student to land a job at Halls.
"The best part was he had such a long reach (when he served)," joked owner Tommy Hall, who is now a mentor to Simpson.
"We're serving ladies and gentlemen. I never would think about bringing a high school student in, but John was one of those guys we gave a chance to and he just shined. He would go play football games on Friday night and he'd be bruised up, scraped up and he'd be at work at Halls the next day, uniform pressed."
Simpson used some of the money he earned at the restaurant to help his mother pay bills. He also learned invaluable lessons about being responsible and professional.
Tommy Hall loved seeing him interact with all of the people, who marveled at his 6-4 frame.
"My great memory is seeing John with that great smile that lights up the dining room, delivering food to the table, it just puts you at ease as a manager and a owner," Hall said. "He's got a great career if he would want to be in the restaurant business one day."
'That's my baby'
Simpson actually wants to be a social worker. Or maybe a counselor.
When his football days are over, he'd like to go back into the type of neighborhood he was raised in and help save the kids who might not be as dedicated as he was to finding a better way and staying out of trouble.
He still visits North Charleston when he is home and he wants to be an example of what a level-head combined with a hefty dose of hard work can do for a young person's future.
"He always kept his nose clean," said Fort Dorchester coach Steve LaPrad, who has been told by at least one NFL scout that Simpson could be a first-round draft pick in May. "I know he never had a discipline slip at Fort Dorchester High School. There's no way. And it's hard for those guys when you live in that type of environment.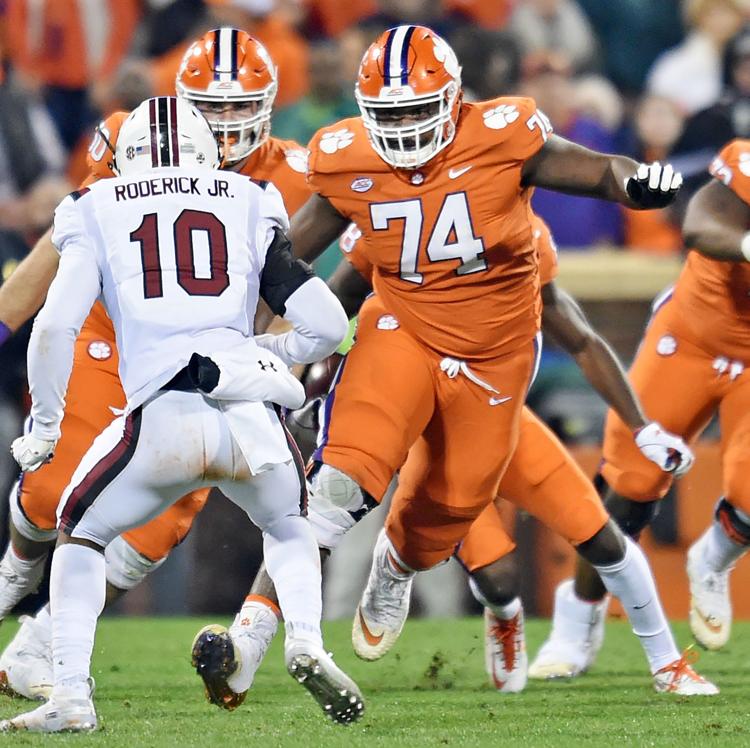 "I'm sure if you ask 100 people who know him all 100 would like him. I don't know anybody that's an enemy of John Simpson. He's just one of those guys. He's one in a million."
Should Clemson win Saturday against Notre Dame, the football team will head to Santa Clara, California, for the national championship game. Snipe will be there as well, and this time she says she will fly.
She couldn't be happier about all of the good things happening in her son's life.
"I can't explain it, but it's a good feeling. It's a good feeling," Snipe said. "That's my son. That's my baby."
Simpson has made his mother, his brother, his high school and his hometown proud.
That won't stop anytime soon.