CLEMSON — Christian Wilkins, Clelin Ferrell, Dexter Lawrence and Austin Bryant were not in uniform as Clemson players took part in their seventh spring practice Friday. But the NFL-bound prospects are still playing a critical role as the defending national champion Tigers completely rebuild a starting defensive line.
"It feels like they're almost still here," said Justin Foster, a rising junior projected to start at defensive end.
That's because Wilkins and Co. — aka the Power Rangers, one of the best defensive line units in college football history — keep in touch.
Via text, Snapchat, Twitter.
Old-school phone calls, too.
"It's an everyday thing," Foster said. "It's just 'Keep working hard.' They tell us they're going to be watching. They give us tips on things and just help us out."
Xavier Thomas appreciates all the help he can get. The sophomore defensive end is the most accomplished returning defensive lineman. That's not saying much, but the Florence native played in all 15 games of Clemson's undefeated 2018 season and finished with 10½ tackles for loss and 3½ sacks.
He's the guy who made Death Valley roar last Sept. 29 with a sack of quarterback Eric Dungey on first-and-22 from the Syracuse 13. The play essentially sealed Clemson's 27-23 victory with Chase Brice starring in quarterback relief of Trevor Lawrence's first start.
Meet the new leader on the defensive line.
Eventually.
"As time goes on, I have to step my way in that role," Thomas said. "I'm working my way into being a vocal guy. I don't really say much now. I have to because I have some young guys behind me."
Other defensive ends include Logan Rudolph, Justin Mascoll and blue-chip prospect K.J. Henry, who redshirted as a freshman in 2018.
Xavier Kelly, a rising redshirt junior who moved from defensive end to defensive tackle last season, is getting extra work in the middle with veterans Nyles Pinckney (pectoral muscle) and Jordan Williams (leg) out for spring practice.
Kelly draws inspiration from Albert Huggins, the 2018 senior who stepped in as an effective starter against Notre Dame and Alabama when Dexter Lawrence was suspended after testing positive for a performance-enhancing drug.
"That was a guy I looked up to," Kelly said, "(Huggins) was very motivational."
Generally, the message from Clemson's former starters to the new guys has a similar theme: Stay grounded.
"I haven't done anything yet," Thomas said. "I haven't started a game yet."
The Power Rangers live.
Jackson Carman's progress
Mitch Hyatt, a four-year starter at left tackle, is gone. In steps Jackson Carman, the 6-5, 345-pound Ohioan that Clemson lured away from Ohio State.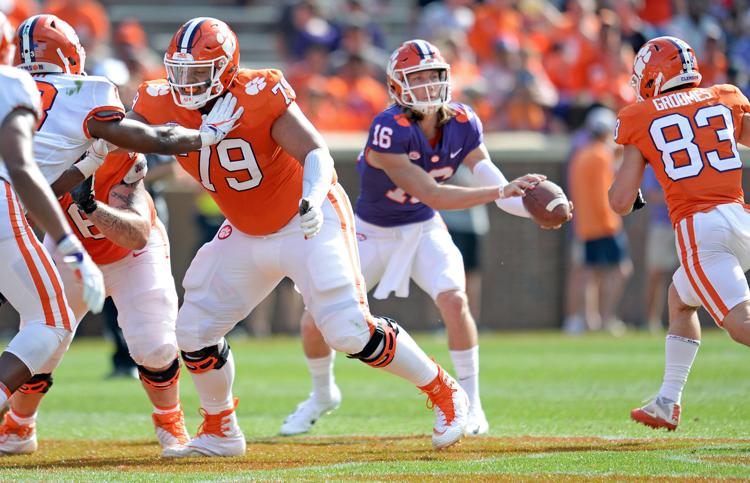 After playing behind Hyatt as a freshman, Carman is Trevor Lawrence's blindside protector this season.
Carman's size, coach Dabo Swinney said, "is his best asset and his worst asset."
"He's a very blessed person physically for his position and his craft," Swinney went on. "He's incredibly athletic. He's naturally strong. But it's also the worst part because he's got to really work hard to maintain, because he can get big in a hurry. But he's — not quietly — he's very loudly had a good seven days. I'm very encouraged with him."
Coming up
Clemson's eighth spring practice is Saturday, a scheduled scrimmage.
Follow Gene Sapakoff on Twitter @sapakoff.