The Citadel loses money on beer sales at football games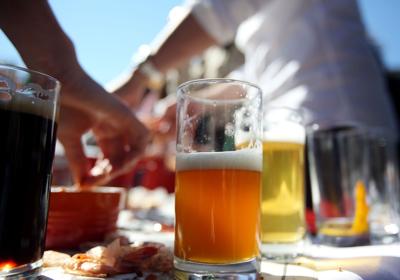 Selling beer at a football game might seem a sure way to make money, but The Citadel learned otherwise last season.
The Citadel lost money selling beer at home football games in 2017, and it's unclear whether beer sales will continue at Johnson Hagood Stadium for the 2018 season.
The school sold $21,718.24 worth of beer at five home games last season, The Citadel's first effort to sell beer in public areas of the stadium.
But expenses to sell the beer, including $5,000 per game in rental costs to set up a beer garden, amounted to $32,858.62, leaving a net loss of $11,140.38.
The Citadel's athletic department split the loss with corporate partner Sticky Fingers, leaving each party with a loss of $5,570.19 for the season.
Interim athletic director Rob Acunto told a committee of The Citadel's Board of Visitors on Wednesday that the school's beer vendor would not partner with The Citadel next season if the beer garden setup remains the same.
However, Acunto said, the beer vendor is interested in an expanded concept "because profitability would be virtually guaranteed if rental costs were eliminated."
Without rental costs, he said, net revenue for beer sales would have been $13,859.62.
Acunto said there have been no discussions of what a different concept to sell beer during football games might look like.
"We have not gone past the discussion of the current finances and the thought of, 'We've got to look at something else,'" Acunto said. "We can't do it ourselves; we need somebody else to do it with us. And part of this would be, what is the appetite of the college and the Board of Visitors to go forward with it."
Beer sales at home games ranged between $3,268 for the season opener against Newberry and $6,124 for an Oct 14 game with Wofford. Expenses for beer sales ranged between $6,056 and $6,966 for each game, including $5,000 per game for rental of tents, chairs, tables and fencing.
Acunto said there were no problems reported associated with selling beer during the season.
Notes
• The Citadel exceeded its revenue target for ticket sales last season, earning $1,058,440 in season and individual ticket sales against a goal of $1.02 million.
The Citadel took in $523,895 in season ticket sales against a goal of $475,000, and earned $94,420 in ticket sales for the game at Clemson against a goal of $75,000. The Citadel's goal for individual game tickets for six home games was $470,000; the school earned $440,125 for five home games after the Sept. 9 game was moved to Presbyterian College due to Hurricane Irma.
The Citadel averaged 8,894 fans for five home games.
• In its second year of running concessions itself, The Citadel athletic department grossed $102,127 in concessions for the football season at Johnson Hagood Stadium. Concessions were profitable, Acunto said, but the athletic department will again outsource concessions starting in July.
• The Citadel's cadet-athletes earned a grade-point average of 3.033 for the fall semester, slightly higher than the overall Corps of Cadets (3.017). GPAs ranged from 3.459 for women's golf to 2.723 for wrestling, with baseball at 3.373, basketball at 2.972 and football at 2.83.
Reach Jeff Hartsell at 843-937-5596. Follow on Twitter @Jeff_fromthePC