Lee Winroth steps quickly to the mat. On the bar in front of her is 190 kilograms, which is about 420 pounds and nearly three times her body weight.
Wasting no time, Winroth bends to take her grip, hoisting the weight to waist level and locking out her hips to finish the deadlift before returning the weight to the mat.
The judge sitting in front of her at the 2016 Nordic Powerlifting Championships signals a completed lift, and Winroth does a little dance to celebrate her world record deadlift for women in her age (16) and weight class (67 kilograms, or about 147 pounds).
Meet The Citadel's newest soccer player, who also happens to be a YouTube sensation as a powerlifter.
Two videos of Winroth's lifting exploits have garnered over 1 million combined views on YouTube, and Winroth's story was chronicled by the New Yorker magazine in 2016.
Now 19 years old, Winroth, from Gävle, Sweden, has signed to play soccer at The Citadel. She played in Sweden's top professional league for the past two years for the Kvarnsvedens Ik club, and also competes for the Swedish national powerlifting teams, holding Swedish and European championships.
She'll likely be the strongest female athlete ever at The Citadel when she reports to campus in late July.
"For a 16-year-old? That is unheard of," said Donnell Boucher, The Citadel's director of strength and conditioning. "That's just about three times her body weight and that is extraordinary for a female lifter, let alone one who is also excelling at soccer.
"Picking up four plates at each side (400 pounds) is no small feat for some average-sized freshman male football players. And this lady did it at 16?"
All the more remarkable — Winroth was diagnosed at age 12 with scoliosis, a sideways curvature of the spine. Her father, himself a weight-lifter, got her into the gym to help strengthen her back.
By the time she was 14, her symptoms had disappeared.
"The doctor said, 'Oh my God, where is your scoliosis now?'" Winroth told The New Yorker.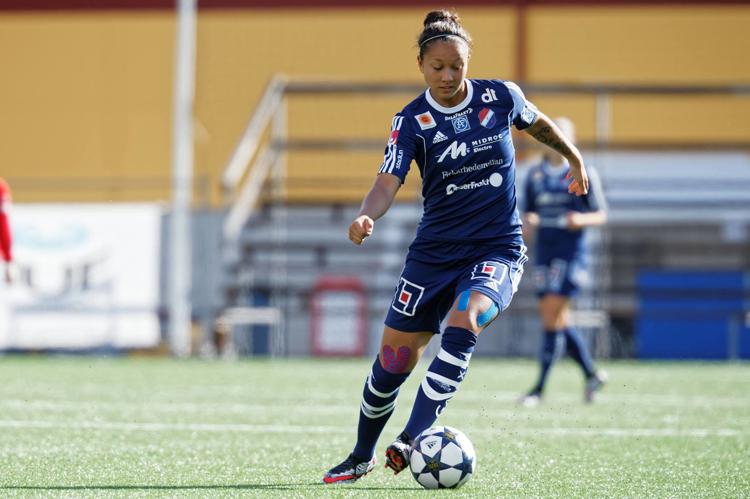 Citadel soccer coach Ciaran Traquair found out about Winroth from a fellow college soccer coach. Since Winroth was a developmental player for her pro team, her college eligibility is unaffected.
Traquair said Winroth is just as strong mentally as she is physically.
"We wanted to make it very clear what type of institution The Citadel is, because she is from Sweden and might not be familiar with us. But she is one of the strongest kids I've ever seen. Her response was, 'Good, I need challenges on a daily basis.'"