It's a play that Craig and Yvonne Cashion have seen their daughter make many times in a lifetime dedicated to soccer.
A corner kick, the ball high in the air and bending toward the goal. Caroline Cashion, a midfielder for The Citadel, leaps high to head the ball away. She collides with another player and falls to the grass.
"I normally tell her, 'Just shake it off,'" Craig Cashion said. "I was waiting for her to hop up and be ready to go."
But this time, Caroline didn't get up.
"My legs kind of went like wet noodles," she said. "They smacked against the ground. It was kind of gross."
Cashion, a 22-year-old graduate student in her fourth season at The Citadel, lay face down on the grass at Washington Light Infantry Field near the end of a double overtime loss to visiting Chattanooga on Oct. 13. She reached around to grab at her lower back. A trainer and a teammate knelt next to her.
Knowing that Caroline had undergone several knee surgeries, the trainer asked if her knee was OK.
"Start checking," Caroline answered. But as the trainer poked and prodded her left knee, Caroline began to "freak out."
"That was a scary moment," she said. "They were poking me, pulling my shoes off, testing my knee. And nothing. I couldn't feel anything."
Cashion, who gained a measure of Lowcountry fame in high school as a kicker for the West Ashley football team, had suffered what her doctors called a "spinal concussion" that left her unable to feel anything from the waist down.
On Wednesday, five days after the injury, Caroline said the feeling had returned as far down as her mid-thigh, and that she was able to move the toes on both feet.
"I gained 2 inches today," she said proudly from her room at Medical University Hospital.
'You don't believe it'
A spinal concussion is essentially a bruising of the spinal cord, said Dr. David Geier, an orthopedic surgeon and sports medicine specialist in Charleston who is not involved in Cashion's care.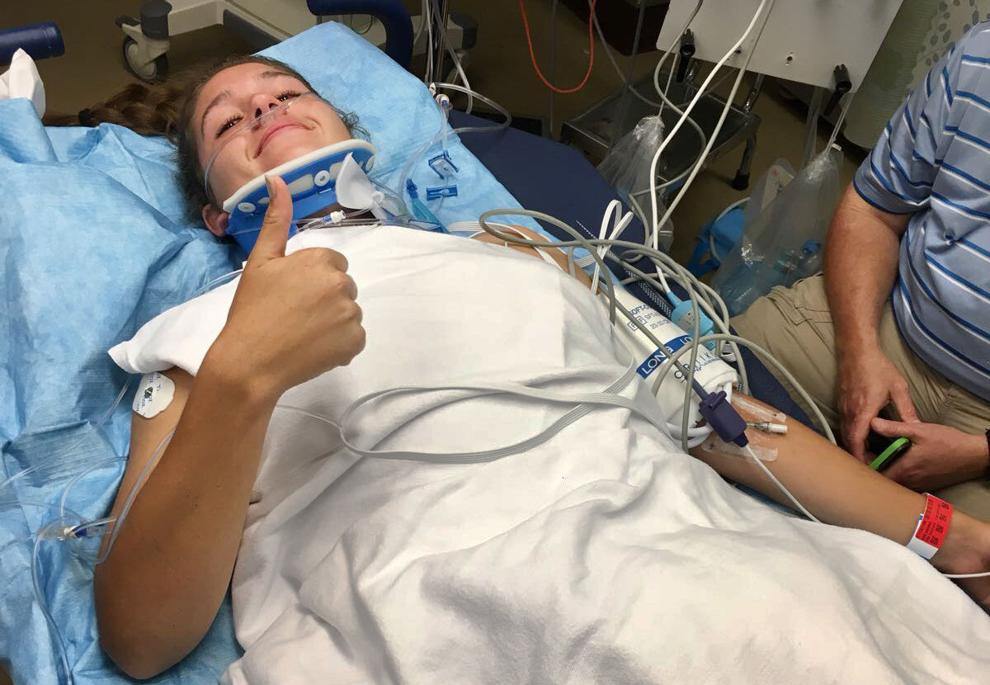 "Usually you see it in football," he said. "I've never heard of it in another sport. Usually it's related to one of two things — you get hit right on top of the head, or a violent sort of extension, something like a whiplash."
In Cashion's case, she appeared to take a blow to her lower back.
"Generally, if there is no fracture, patients typically get back to normal," Geier said. "They get all their motion and feeling back."
An article on the National Institute of Health website says "symptoms typically resolve within 24-72 hours without permanent deficits."
That's the hope the Cashions are holding on to.
"You don't even believe it, that it's happened," Yvonne Cashion said. "You just believe she'll be better tomorrow, and everything will be fine. You literally don't let your mind go there."
On the play in question, the opposing player turned as she jumped, her rear end appearing to bump Caroline in the lower back.
"I've probably gotten hit worse," Caroline said. "My coaches said they've seen me get hit in far nastier tackles."
Her parents attended the game and weren't overly concerned until a few minutes had passed.
"I thought she simply got knocked out," Yvonne said. "I asked the photographer, 'Did they knock her out?' He looked through his lens and said, 'No, she's flapping her arms.' So I sat back down. But when he said she was reaching for her back, I thought, 'Oh no.'"
Beating Summerville
Yvonne Cashion had watched from the stands as her daughter kicked for the West Ashley football team in high school. As a sophomore — on her 16th birthday, as it happened — Caroline booted a 20-yard field goal and an extra point, providing the winning points in a 10-7 victory over Summerville and its legendary coach John McKissick.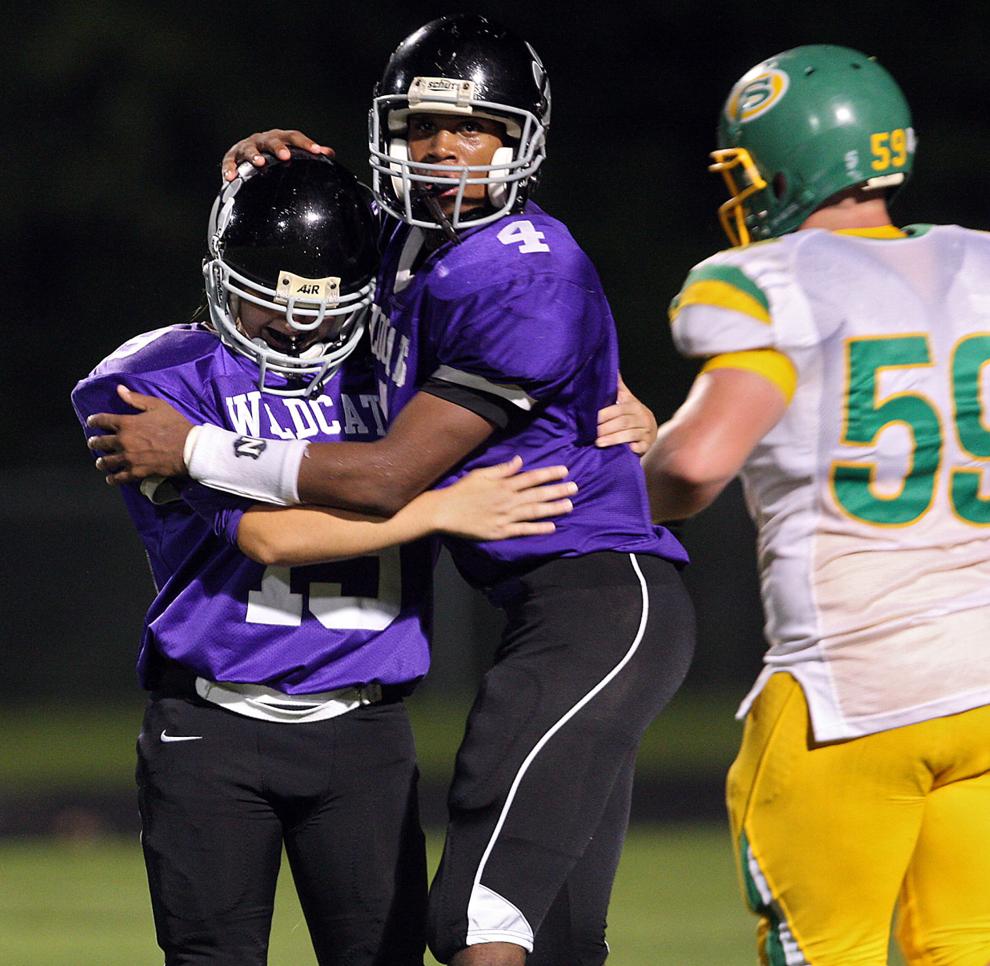 "I loved every minute of it," Yvonne said. "But I was terrified for her being out there. No one treated her any differently. It was never like that. She had the ability, and she proved she could do it. It was awesome."
Caroline tore the ACL in her left knee during a high school soccer match in her junior season, the height of the college recruiting period. She returned to kick for the football team as a senior.
The Citadel was one of the schools that stuck by its scholarship offer as she came back from the torn ACL.
"I lost a lot of big offers, and some schools didn't stick with me," she said. "But the schools that stuck with me, that's where you want to be."
Caroline injured her left knee again as a Citadel freshman and redshirted as a sophomore. She graduated in three years and played this year as a graduate student, taking classes at The Citadel and College of Charleston.
Cashion has played some of her best soccer this season, starting the first 14 games and scoring goals in wins over Hampton and Jacksonville.
"She's the type of kid who will take a lot of responsibility on her shoulders," said Citadel coach Ciaran Traquair. "This season, she's been one of the most mature and experienced players we have. When I got here, I don't think she was real sure of how she fit in on the team.
"But when the going gets tough, Caroline is the kid you call on. When she gets injured in a game, she usually gets straight back out there. She's been fantastic this year."
That's one reason Caroline's injury was such a shock to her teammates and the Chattanooga players that day. They formed a circle and put their arms around each other during the approximately 22 minutes it took to get Cashion loaded on a stretcher and into an ambulance.
"All the kids were shocked when it happened," Traquair said. "Caroline went down with about six minutes left in overtime, so it was very disheartening to lose the game and to lose Caroline at the same time."
'I plan to come back'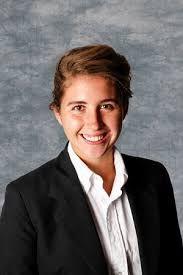 But Caroline, who wants to coach soccer one day, said she's not done playing. She plans to return to the Bulldogs for a fifth season in 2017-18.
"I got through my injuries, we got a new coach in, and I got to where I felt I was playing well," she said. "I plan to come back next year. I want to play again."
There's a long way to go before that happens, of course, including further testing and a lot of rehab.
Caroline said she's had great support from her Citadel teammates and classmates. A group of 10 cadets crowded into her room Tuesday night to watch an NBA game with her. Teammates and parents have visited the room, and a friend on the Charleston Southern team sent a picture of Buccaneer players sporting Cashion's No. 19.
"An experience like this makes you appreciate your friends even more," she said. "My teammates have been great, the freshmen have been hilarious. They know exactly what I need."
Citadel senior Tinslee Dilday played soccer at Summerville against Caroline, and played on club teams with Cashion since they were in the eighth grade, winning two state championships.
"She just always keeps going," Dilday said. "She gets knocked down hard and keeps going. She's always fighting, always winning the ball for us. She's one of the best competitors on the team and such a hard worker."
Despite all that determination, there are down moments. Tuesday was not a great day, Caroline said.
"I just started to feel overwhelmed," she said. "I felt overwhelmed about everything that was ahead of me, some of the scary things that could happen. I just really felt stressed."
But if anyone can make this comeback, it might be the girl who at 6 years old was so tough that she got sent over to play with the boys at soccer camp; the girl who tackled opposing kick returners on a high school football field.
"You don't hear of people being paralyzed from the thigh down," Caroline said. "I've passed my neck, I've passed my waist. I will be fine."