Standing in formation with an upperclassman six inches shorter and 100 pounds lighter in his face, Citadel knob Isaiah Pinson often had to resist temptation.
"You're thinking, 'I could really knock you out right now,'" said Pinson. "'But I know I shouldn't.'"
That lesson in self-control, taught by the Corps of Cadets, has paid off for Pinson on the football field. Now a 6-3, 267-pound junior, Pinson won the Southern Conference's Jacobs Blocking Award as the best offensive lineman in the league this season, helping the Bulldogs to a 10-1 record and a second straight SoCon championship.
It's a long way from his first college start in 2014, when Pinson made a memorable debut with two personal-foul penalties in the first half of a 34-14 loss to Coastal Carolina. That also was the first game at The Citadel for Brent Thompson, then the offensive coordinator and now the head coach.
"We take some of the blame for that," Thompson said. "We wanted to play with an edge, but with a little bit more control. We wanted to play physical football, and Isaiah embraced that from the start. He's really developed into a leader, but when he first started out, you couldn't get guys behind him because he was getting 15-yard penalties and was a little edgy and chippy."
Pinson, who was a Shrine Bowl pick after one season as a starter at Byrnes High School in Spartanburg, admits to feeling a "blind rage" sometimes on the field.
"Watching film now, it's easy to tell when somebody would get under my skin in a game," said Pinson, who has started 36 straight games heading into Saturday's FCS playoff game against Wofford. "I would lose focus. I've had to learn to control my anger, that blind rage I used to get."
Pinson credits his experience in the Corps of Cadets for helping him make use of that excess of emotion.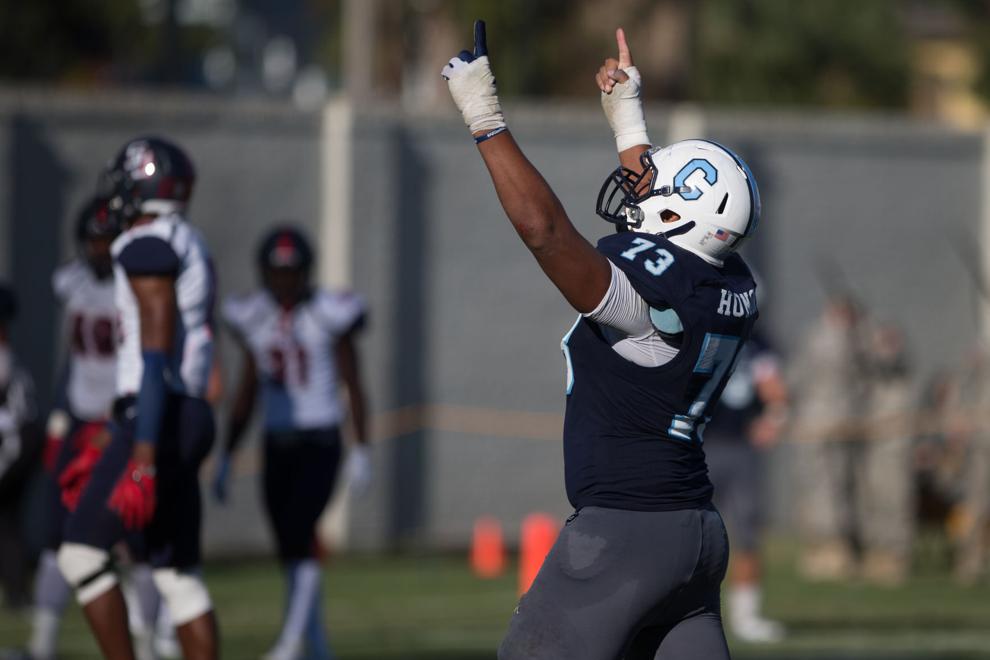 "The Citadel really helped me a lot with that," he said. "I had to learn how to channel my anger and my out-of-control temper, and it's paid off for me this year. Now, I feel like I play more composed and don't lose my head as much. Everything is just clearer now, and I can make decisions faster because they are not made on emotion."
Harnessing that emotion has helped Pinson make use of all his athletic gifts at left tackle. He was named to the all-SoCon squad this season, along with left guard Kyle Weaver and right tackle Nick Jeffreys, for an offense that leads the FCS in rushing yards per game.
"He's very athletic and he's determined that he's going to make a block," Thompson said of Pinson, who also lettered in track and wrestling at Byrnes. "He's a technician who wants to be good at the fundamentals, and we stress that with all our linemen. But he's tall and can really move, too."
Remarkably, Pinson was not heavily recruited out of Byrnes, despite making all-state and the Shrine Bowl after one season as a starter under line coach Lance Hansen, a 1992 Citadel All-American. He had an offer from Newberry and no interest from his hometown team, Wofford.
"I was interested in anybody who was interested in me," Pinson says with a laugh. "I was a senior with zero offers going into that summer, so I was equally interested in everybody. But The Citadel was a school I was thinking about even if I couldn't play college ball."
Pinson's last two teams at Byrnes went 25-5 and won two state championships, and the work ethic he learned there has served him well at The Citadel, he said.
"I transferred to Byrnes, so I came in as the new kid," said Pinson, whose family has moved from the upstate to Charleston to follow his career. "I didn't start as a freshman or sophomore on junior varsity, I started as a junior on JV, and I started one year on varsity. So I think I got used to working hard for what I want.
"Byrnes is a winning program with a great coaching staff, but nothing is a given there. We trained at Byrnes like we do here in college — year round, all the time, doing things other high schools weren't really doing."
At The Citadel, with emotions in check, Pinson's found a system that suits him.
"This system really fits me," he said. "I like the aggressiveness of it, the physicality. I like to be able to come off the ball and hit somebody."
Said Thompson, "It shows how much this place has developed him, and how much he's developed as a football player."
• Citadel seniors Joe Crochet and Nick Jeffreys have been named to the CoSIDA Academic All-America second team, the first time The Citadel has placed two athletes on the squad.
Crochet earned a bachelor's degree in three years and has a 3.88 GPA in graduate school. Jeffreys is a civil engineering major with a 3.80 GPA. Crochet is a two-time Academic All-American, The Citadel's first back-to-back choice since Kenny Caldwell – now the team doctor – earned three straight honors from 1976-78.