Fourth down at The Citadel's 11-yard line with 77 seconds to play. Chattanooga, trailing by six points, had one more shot at the end zone, a last chance to send the Bulldogs reeling to a fourth straight loss.
As The Citadel defense dropped eight players into pass coverage and rushed three at Mocs quarterback Cole Copeland, Bulldogs safety Aron Spann III drifted to his left to help the cornerback on that side.
But time spent in the film room convinced Spann to keep his eyes on Copeland, a true freshman playing in just his third college game.
"We watched film all week on the freshman quarterback, and he really stared his receivers down," Spann said. "We knew in the game he might look his receivers down, and we kind of played off that.
"Wherever he looked, that's where we'd go to."
So as Copeland looked toward the middle of the end zone, Spann came back to his right and stepped in front of the pass. His interception sealed a 20-14 victory on Oct. 21, snapped a three-game skid and might have been the Bulldogs' biggest play of the season thus far.
"Our coaches do a great job of putting us in position," Spann said. "They harp on film study, and that's where really where interceptions come from, knowing your film and playing your technique."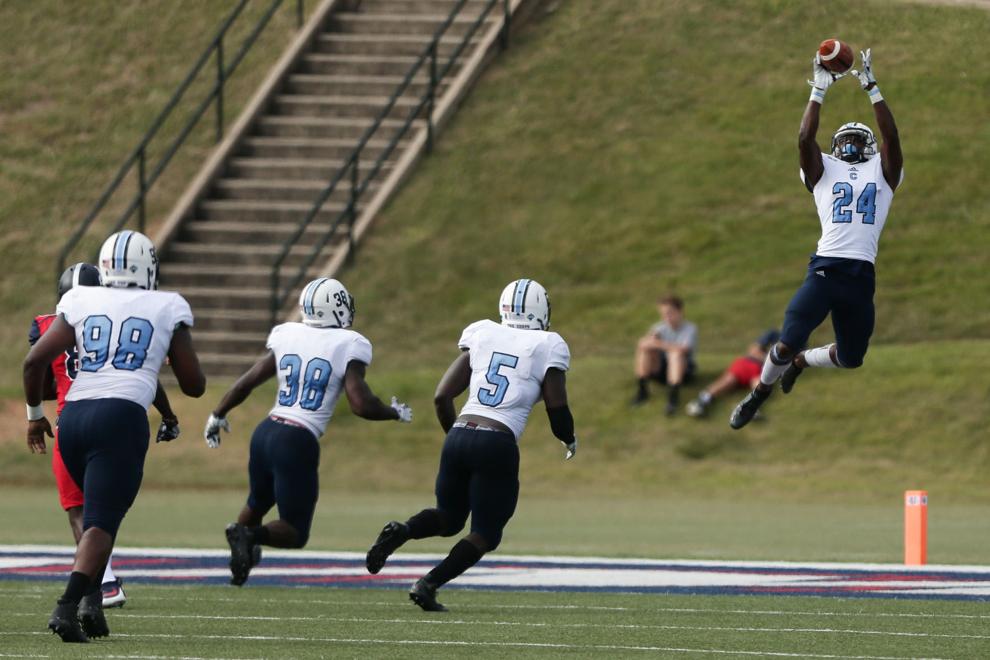 Spann's technique has been pretty good this season. The 6-2, 211-pound junior from Dorman High School in Spartanburg has been a football magnet with five interceptions this season, best in the Southern Conference and tied for first in FCS.
Spann picked off two passes against Chattanooga and one in last week's 21-3 win over VMI, giving him three interceptions in the last two games. He's also fourth on the defense with 36 tackles, has forced and recovered a fumble and defended a team-best six passes, and was named the SoCon defensive player of the month for October.
His play is a big reason The Citadel (5-3, 3-3) ranks first in the SoCon in scoring defense, total defense and rushing defense heading into Saturday's game against Western Carolina (6-3, 4-2) at Johnson Hagood Stadium.
No wonder that Citadel coach Brent Thompson, then the Bulldogs' offensive coordinator, and former head coach Mike Houston fought over who would get Spann — offense or defense — when The Citadel signed him in 2015.
At powerhouse Dorman, Spann had played safety, receiver and wildcat quarterback, making the Shrine Bowl and being voted his team's most versatile player.
"Mike really hand-picked Aron," Thompson said. "You weren't getting him away from Mike when he hand-picked him as a safety. You have to remember, he coached safeties at Lenoir-Rhyne and knew exactly what he wanted.
"We went all in on Aron, and he was as advertised. He played behind some pretty good players when he first got here, but he's always been a steady player for us. He's just always in the right spot and fits things exactly where he's supposed to be."
Spann wasn't always sure the football field was where he was supposed to be. His father, Charles Aron Spann II, introduced him to the game at an early age.
"Age of five, full pads," Spann said. "My mother hated it, but my dad said, 'They are not doing anything but laying on each other at that age, they can't get hurt.'
"I hated it at first, but my dad pushed me and helped me see the game."
One day at youth football practice, Spann made a hit and turned a corner.
"I got slaps on the helmet and the coaches said, 'Good job,' and I liked that feeling," Spann said.
Spann, named after his grandfather and father, takes seriously the "III" on the end of his name.
"That means a lot to me," he said. "It's more than just my name I carry. I wear that 'III' with pride, and I think about my Papa and my dad every day."
Majoring in sports management, Spann wants to be a coach after giving pro ball a shot.
"My position coach here at The Citadel, coach (Joel) Taylor, he's really opened my eyes to the game, seeing things differently and playing hard. He's really helped me to understand."