During an intense 15-day training period this summer, Citadel quarterback Jordan Black found himself doing push-ups and sit-ups at dawn, crawling over obstacle courses and learning the details of hand-to-hand combat.
It wasn't a voluntary workout for Bulldogs football, though it certainly could have been.
Instead, Black was sweating through the Air Force ROTC field training program at Maxwell Air Force Base in Alabama, and preparing for his commission into the U.S. Air Force next year.
"It was pretty intense," said Black, a 6-1, 200-pound junior who will start for the Bulldogs this season. "The Air Force is getting you set up so they can see what kind of leader you will be. They want to find out who the great leaders are, and who is not cut out to be in that position."
The bootcamp-style field training is mandatory for all candidates pursuing an Air Force commission through ROTC. The program is "designed to evaluate military leadership and discipline, determine your potential for entry into the Professional Officer Course (POC), and stratify you among your peers," according to the field training manual.
Officer candidates are required to learn the military chain of command from President to the secretaries of Defense and the Air Force down through the names of the field training staff at Maxwell, and the locations of the major commands in the Air Force.
For Black, aspects of the program such as physical training and inspections were old hat after his experiences at The Citadel. Still, he returned to campus better prepared to lead the Bulldogs' football team, coach Brent Thompson said.
"He really came back a different guy," said Thompson, whose team is in its second week of preseason camp. "I think he really gained a lot of confidence coming out of that, and we're happy he's going to commission as an Air Force officer. That really commands a lot of respect on the team."
Following in the Air Force career path of former teammates DeAndre Schoultz and Cam Scott, Black said the experience did change him.
"It brings out who you really are," he said. "And it gave me confidence in the leadership style that I have. It gave me some confidence I can bring back to these guys, and try to be a leader for them."
Black, from Vidalia, Ga., knows that his role on the team is different this year. He spent the last two seasons sharing time with starter Dominique Allen, who has graduated. Black started the first three games of the Bulldogs' 10-2 Southern Conference championship season in 2016 when Allen was suspended, and over the past two seasons has run for 492 yards and six touchdowns and passed for 683 yards and seven TDs with just one interception.
"I'm out front now," he said. "I'm the guy everybody is looking to. I've got to get the offense going, and sometimes I've got to get the whole team going. (Safety) Aron Spann is doing a great job on the defensive side, and I've got to match his intensity on the offensive side."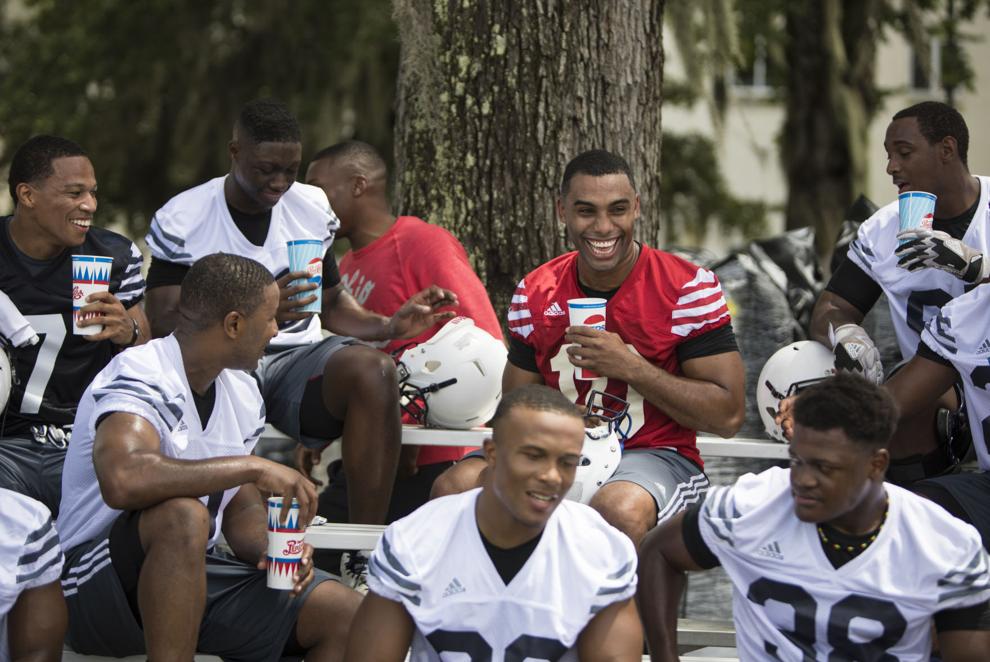 Black has a redshirt football season available for 2019, but is most likely to commission into the Air Force as soon as he graduates next year.
"My family, my dad, they really wanted me to go in to the Air Force," he said. "And I had a couple of teammates from last year that commissioned into the Air Force.
"I talked to the recruiters, and everything about it appeals to me. It sets me up for life, it's a great career. And here at The Citadel, I learned a lot about brotherhood. I think being in the Air Force will have that same family feel to it."
We Out@raleighwebb_2 takes the short pass from @JPB__10 and outruns everybody down the sideline for the touchdown. pic.twitter.com/PCqFsR3ycQ

— The Citadel Football (@CitadelFootball) August 6, 2018
Wilmore suspended
• Promising cornerback Wally Wilmore, who played in all 11 games last year as a freshman, is suspended for the season due to a violation of team rules, Thompson said Tuesday. Wilmore is still enrolled in school and will attend classes this fall, Thompson said.
Day off 
• The Bulldogs are scheduled to have their first off day of preseason practice on Wednesday. New NCAA rules mandate a day off every week of camp for players.
"I told our guys that camp itself won't be that rigorous with the new rule," Thompson said. "So that means our practices themselves have to be rigorous, so we have to come out here with full-on effort.
"I kind of like it and have embraced the new format, because we'll be able to give our guys a rest and go full-steam in practice."