For 15 years, the NCAA banned the state of South Carolina from hosting championship events in the state. The reason: The Confederate flag that flew on State House grounds in Columbia.
When the flag came down on July 10, 2015, Citadel rifle coach Bill Smith was ready.
"Fifteen minutes after that flag came down, I was on the phone," Smith said Thursday. "I wanted the NCAA to know that we had our bid for the championships activated. I told them, 'We want it.'"
Three years later, The Citadel is hosting the state's first "pre-selected" NCAA championship since the ban on hosting such events was put in place in 2001. The 2018 National Collegiate Men's and Women's Rifle Championships are set for Friday and Saturday at McAlister Field House.
Division I-AA football championship games were held at The Citadel's Johnson Hagood Stadium in 1983 and 1984, and state schools such as Clemson and South Carolina have been allowed to host NCAA baseball regional tournaments that were earned on merit, not pre-selected. FCS football playoff games also have been played in the state.
But the NCAA's 2001 ban prevented pre-determined sites in South Carolina from hosting championship events. The NCAA puts on 90 annual championship events in 24 sports in Divisions I, II and III.
State lawmakers voted to remove the Confederate flag from Statehouse grounds in 2015 after the murder of nine black Charleston church-goers at Emanuel AME by Dylann Roof, who was seen in pictures posing with the Confederate flag.
The SEC women's basketball tournament, held in Greenville in 2017, was touted as the "first pre-determined NCAA postseason event" to be held in South Carolina since the flag's removal. A men's basketball regional also was held in Greenville last year after it was removed from Greensboro due to North Carolina's controversial "bathroom law," but no NCAA champion was crowned at that event.
Last April, the NCAA awarded the first and second rounds of the 2019 men's basketball tournament to Columbia's Colonial Life Arena. Greenville will host the tournament's first and second rounds again in 2022, as well as a women's regional in 2020.
Smith, who is set to retire this year after 21 years as The Citadel's rifle coach, had long dreamed of hosting the rifle championships at the military school. The Citadel's Daniel Inouye Marksmanship Center opened in 2007 and is one of the finest collegiate shooting ranges in the country.
"It's great to have the championships here," Smith said Thursday as shooters warmed up at McAlister Field House. "It's an opportunity for our kids to see them in person, and for people in the Lowcountry to see this caliber of shooting."
The two-day event is being held at McAlister Field House instead of the Marksmanship Center so more spectators can watch. The next four NCAA rifle championships will be held at West Virginia, Kentucky, Ohio State and N.C. State, respectively.
The top eight teams in the country qualified for the NCAA championships: Air Force, Alaska Fairbanks, Kentucky, Murray State, Nebraska, Ohio State, TCU and West Virginia. Shooters from Navy, N.C. State, Memphis, Tennessee-Martin, Ole Miss and Army West Point qualified as individuals.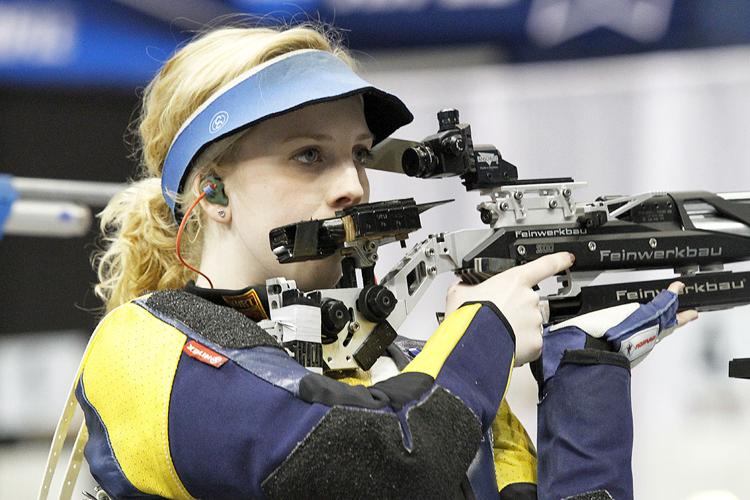 Among the top shooters on hand are West Virginia junior Ginny Thrasher, who won a gold medal at the 2016 Olympics, was the NCAA smallbore champion in 2016 and has shot a perfect score of 600; TCU senior Mindy Miles, a five-time All-American who became just the fifth shooter in NCAA history shoot a 600, and has done it multiple times since; and Kentucky freshman Henrik Larsen of Norway, who was third at the Junior World Championships.
"Most of the top teams, their shooters are on Olympic tracks," Smith said. "They will be competing in World Cup events, and they all know each other and are used to competing with each other."
The 2018 rifle championships are not without controversy. Air Force and TCU received public reprimands, fines and suspensions for coaches after a "misapplication of the standard-match format" at NCAA qualifiers.
"The protocol for the NCAA qualifier matches is clear, and it is up to the head coaches to make sure it is followed," said Melissa Mulloy-Mecozzi, committee chair and current head coach at MIT. "The committee was disappointed with the action of the coaches, but didn't want to penalize the student-athletes further."
The head coaches at TCU and Air Force were suspended from the championships, and those schools will not be reimbursed for travel and per diem for the championships.
West Virginia has won five straight NCAA titles. Individual and team competitions in three-position smallbore will be held Friday, with team competition in air rifle set for Saturday.
The overall team champion is determined by combining the smallbore and air rifle team scores.
Admission to the competition rounds Friday and Saturday will be $8 for adults and $5 for senior citizens, children and students with valid school IDs.