After three hours and 30 minutes of tense baseball on a national stage, it came down to a brief handshake and a hug.
Dan McDonnell's Louisville Cardinals were leaping around TD Ameritrade Park in joyous celebration. Chris Lemonis' Mississippi State Bulldogs were strewn around the field in stunned heartbreak.
McDonnell approached Lemonis, his best friend and former Citadel teammate, with an outstretched right hand. The two hugged and shared brief words.
There wasn't much to say after McDonnell's Cardinals rallied for two runs in the ninth inning to stay alive in the College World Series with a 4-3 victory over Lemonis and Mississippi State late on Thursday night in Omaha, Nebraska.
Louisville's victory in an elimination game kept the Cardinals in Omaha for at least another day, and sent Mississippi State home.
"Yeah, it's hard," McDonnell said afterwards. "It'll be hard to talk about, so I'm going to try not to. I don't ever prepare for the season to end ... But it dawned on me that if we lost today, I would have lost to one of my best friends."
McDonnell and Lemonis were teammates on The Citadel's 1990 College World Series team, and the pair worked together as assistants under Bulldogs legend Fred Jordan.
They helped The Citadel to five Southern Conference tournament titles and four regular-season championships, with five appearances in the NCAA tournament from 1993-2006. And after McDonnell took over at Louisville in 2007, he hired Lemonis away from The Citadel as his top assistant. Together they led the Cardinals to three CWS appearances in eight years.
McDonnell has Louisville (51-17) in the CWS for the fifth time in 13 seasons. Lemonis, in his first season at Mississippi State (52-15), guided his team to a second straight College World Series appearance and is the winningest first-year coach in SEC history.
"Don't get me wrong, everybody knows me, I hate losing," McDonnell said. "... But I thought, well, isn't this ironic, I'm playing against Chris Lemonis tonight. It just kind of gave me a soft spot to go to — if it happens tonight, be thankful that it's your best friend and he still gets to play."
And for much of the night, the game looked like it might go that way. Mississippi State led by 3-0 in the seventh inning.
But Louisville cut the margin to 3-2 with two runs in the bottom of the seventh. Drew Campbell drove in one run with a bases-loaded single, and Justin Lavey plated another with a fielder's choice grounder.
Mississippi State had been 48-0 when leading after eight innings this season. But the Cardinals scored two runs in the ninth for the victory.
An errant pick-off throw and a Danny Oriente single brought in Jake Snider to tie the score at 3-3. Campbell knocked home the winning run, setting off a wild celebration by the Cardinals, who faced Vanderbilt on Friday.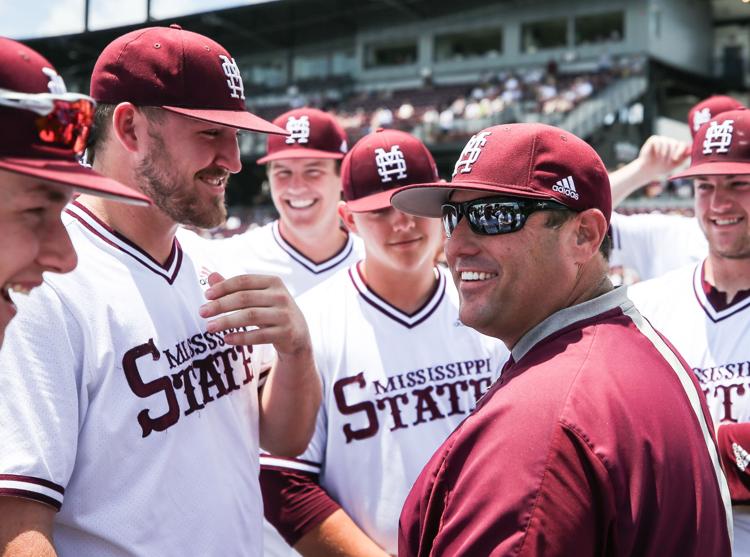 Amid the heartbreak, Mississippi State star Jake Mangum had strong words for his coach, Lemonis.
"You're going to bring the first national championship to this baseball program," Mangum said. "You are. And it's going to be awesome. I can't wait to see it."
And maybe then, Lemonis will get the upper hand on his Citadel buddy.
"I did tell (Chris) again, this is the place," McDonnell said. "If we have to do it, we have to do it in Omaha. We sure hope we don't ever have to do it in an earlier round."
Skole added to national team
The Citadel head coach Tony Skole has been named an assistant coach for the 2019 Collegiate National Team.
The national team will have a Citadel feel with McDonnell as head coach and Lemonis as a taskforce member.
The remainder of the coaching staff includes South Carolina head coach Mark Kingston, St. Mary's head coach Greg Moore and Pittsburgh Pirates coordinator of instruction Dave Turgeon.
"I am very honored and humbled to be selected as part of the USA Baseball National Collegiate Coaching Staff, said Skole. "It is such a wonderful privilege to be able to represent Team USA. I am grateful to Dan McDonnell and everyone at USA Baseball for this incredible opportunity. I look forward to working with and learning from some of the best coaches and baseball minds in our country, and I am really looking forward to the opportunity to coach the best college players our country has to offer."