On The Citadel's pro day in March, Noah Dawkins sat dejectedly on the side of the practice field, a towel over his head.
With NFL scouts watching, the Bulldogs' linebacker had tweaked his hamstring just a few strides into his 40-yard dash. He finished the 40, but wouldn't be able to complete the position drills that followed.
"I was highly upset," Dawkins said. "Because I couldn't do anything further. I did my best to finish some position drills at the end, and tried to show some resilience."
Even though pro day didn't go as planned, the 6-0, 226-pound Dawkins showed enough that day and over his career to earn invitations to two NFL rookie mini-camps.
Dawkins has been invited to the Seattle Seahawks' mini-camp this weekend and to the Cincinnati Bengals mini-camp next weekend.
"I feel great," Dawkins said. "I just wanted to have the opportunity, and now that I have it I want to take advantage of it."
Despite tweaking his hamstring on pro day, Dawkins managed a time of 4.41 in the 40-yard dash. Had he run that time at the NFL Combine, he would have tied for first among linebacker/edge defenders with Mississippi State's Montez Sweat, who was drafted in the first round by the Washington Redskins.
Dawkins had reportedly run a 4.37 the week before The Citadel's pro day, and was included on ESPN analyst Mel Kiper's "big board" of 300 draft prospects before the draft.
"As long as I'm in shape, I feel I should have a pretty good chance," of landing a free-agent deal with either the Seahawks or Bengals, Dawkins said.
At 6-0 and 220 pounds, Dawkins is definitely on the small side for an NFL linebacker, but is close in size to Seahawks linebackers Shaquem Griffin (6-0, 227) and Ben Burr-Kirven (6-0, 230). Bengals' draft pick Deshaun Davis is a 5-11, 230-pound linebacker from Auburn.
Dawkins, from Byrnes High School in Spartanburg, was productive during his Citadel career, ranking second on the team as a senior with 66 tackles and 13½ tackles for loss with a team-high 5½ sacks. The all-Southern Conference pick also intercepted two passes, and led the team in sacks three straight years.
Also Tuesday, the Miami Dolphins announced that they had waived former Citadel All-American cornerback Dee Delaney. Delaney had signed a reserve/futures contract with Miami last February.
CSU player headed to Colts' camp
Former Charleston Southern defensive lineman Johnny Robinson is heading to Indianapolis after receiving an invitation to the Indianapolis Colts' rookie mini-camp.
A two-time all-Big South pick, the 6-1, 2160-pound Robinson was a key contributor to the Bucs' Big South title run in the 2016 season and their second consecutive FCS playoff berth. He is just the fifth Buccaneer in program history to be invited to an NFL camp, joining former teammates Malcolm Jackson (2016) and Erik Austell (2017), as well Charles James (2013) and Maurice Price (2006).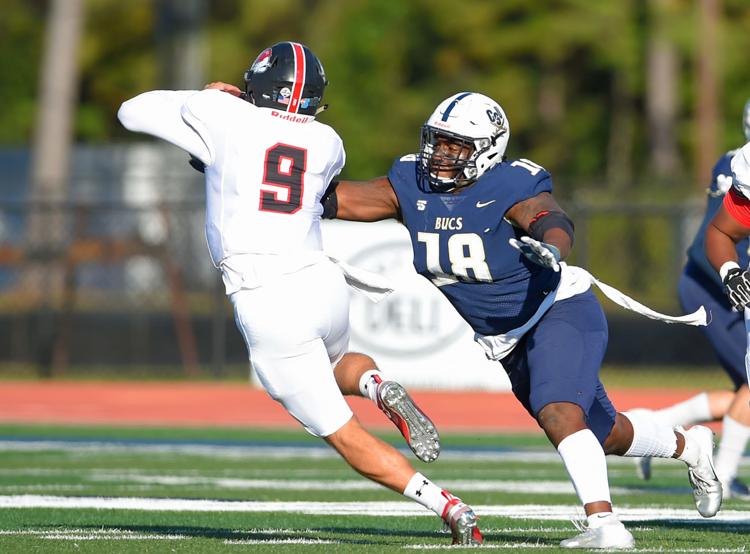 Robinson wrapped up his playing career with 123 career tackles, as well as 9.5 sacks and 23.5 tackles for loss. The Apopka, Fla. native's best season came in the 2017 season, when he finished third in the Big South with 6.5 sacks and added 12 tackles for loss.