The night before The Citadel football team began preseason camp, head coach Brent Thompson met with his players.
Among the subjects addressed that night: Wofford.
"As I told you before, we have this one circled," Thompson told the Bulldogs. "Not because it's the first one, but because every game the last few years has come down to the last three or four minutes. A turnover here, a penalty there, a field goal missed or made, that's been the difference in this game.
"We've been on the wrong end of it the last couple of times, and it's time to get on the right end of it. And it starts tomorrow morning, when we wake up at 5:45 and get our butts ready to practice!"
The game the Bulldogs have had circled on their calendar for almost a year is here at last, as The Citadel will open its 2018 season on Saturday at defending Southern Conference champion Wofford.
It's a game that Thompson himself admits could set the tone for his third season: The winner of The Citadel-Wofford regular-season game has gone on to win the SoCon championship the last three seasons.
"Win or lose, this game will set the season for us," Thompson said Tuesday at his first weekly news conference of the season. "To us, it's a rivalry game. Ever since we've gotten here, we've treated it as a rivalry game. There are the Furmans and VMIs of the world, but this one has felt the most like a rivalry game the last few years."
The Citadel is 2-3 against Wofford since Thompson and former coach Mike Houston came to Charleston from Lenoir-Rhyne in 2014. Houston's 2015 team snapped a 16-game skid against the Terriers with a 39-12 win in 2015 on the way to a share of the SoCon title, and Thompson's first Citadel team followed up with a 24-21 overtime win on the way to a 10-2 record and second league championship.
But Wofford came back to beat the Bulldogs by 17-3 in the 2016 FCS playoffs, and took a 20-16 victory last season in what turned out to be coach Mike Ayers' final game against The Citadel.
This year's game introduces a new wrinkle to the rivalry. For the first time since 1989, someone other than Ayers will coach Wofford against The Citadel. Ayers' retired after 30 seasons with a 21-9 record against The Citadel; the Terriers' new coach is former Pitt defensive coordinator Josh Conklin, a Citadel assistant from 2010-11.
With longtime offensive coordinator Wade Lang still in place, not much will change for the Terriers' version of the triple-option offense, at least not right away. Junior Joe Newman, who came off the bench to lift Wofford to victory in the 2015 playoff win at The Citadel, has been named the Terriers' starting quarterback.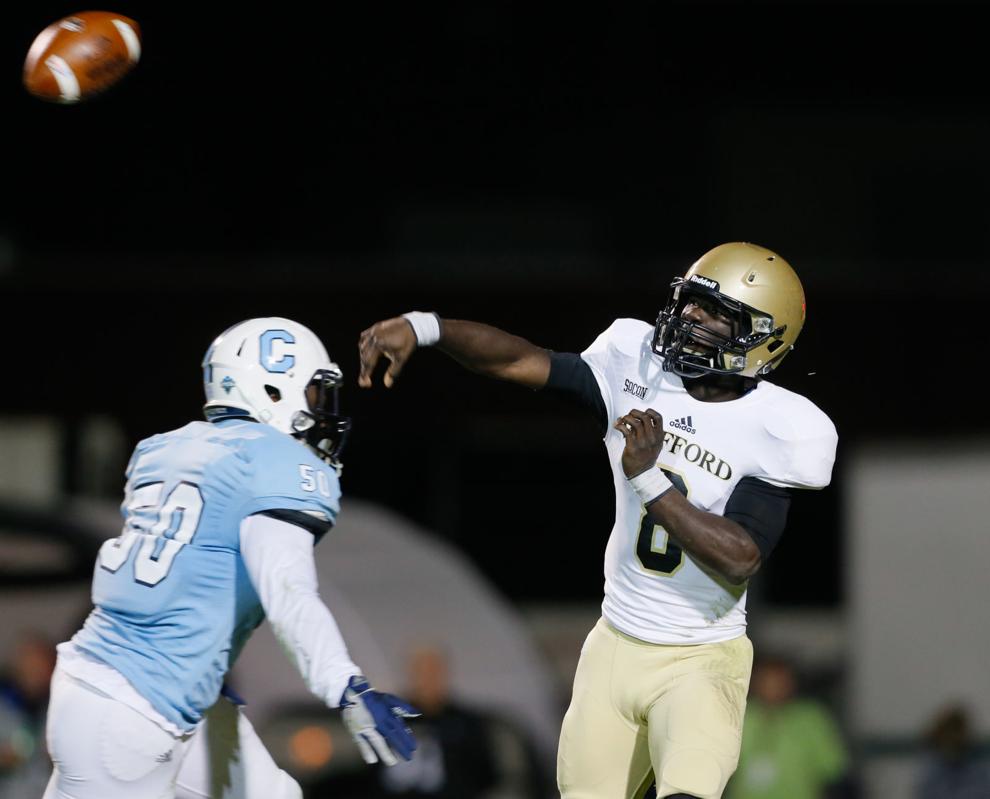 "The formula here is to run the ball and play really good defense," Conklin said this week. "Are there some things we will add? Yes, absolutely. Will there be wholesale changes on offense? No. We run the triple-option out of the shotgun and under center, and that's what we're gonna do."
From a Wofford perspective, opening with The Citadel also is special. The Terriers' began last season with a 24-23 SoCon win over Furman, giving them a vital head start in the league race.
"There is a sense of urgency, no doubt," Conklin said. "Anytime you open with a team like that, it does add a sense of urgency. You look at the implications — it's two contenders, year in and year out, in the SoCon."
Notes
• Thompson confirmed that the freshman class of the Corps of Cadets will make the trip to Spartanburg for Saturday's game ... Citadel graduate Cal McCombs, a former Bulldogs assistant and head coach at VMI from 1999-2005, will join new Voice of the Bulldogs Luke Mauro in The Citadel's radio broadcast booth ... Former Citadel QB Dominique Allen is slated to be the analyst on the Bulldogs' ESPN+ telecasts.
• The Citadel released its depth chart for the season opener Tuesday ... Starting right guard Jonathan Cole is out with an injury and is replaced by junior Harry Easler (6-2, 285) ... Porter-Gaud product Dante Smith, a redshirt freshman, is at second-team A-back ... On defense, junior Khafari Buffalo (6-2, 190), absent from the pre-camp depth chart, is starting at one cornerback across from sophomore Phil Barrett ... Transfers Shawn McCord (St. Francis) and Isaac Stewart (Louisville) are listed as second-team on the defensive line and linebacker, respectively, but should be in the rotation ... Another transfer, Ronald Peterkin (Georgia State) is a co-starter at one safety along with freshman Chris Beverly ... Freshman Matthew Campbell beat out sophomore Gage Russell for the starting punter job.
Citadel Depth Chart
Offense
WR 22 Raleigh Webb 6-2 195 So.; 13 Cole Owens 5-11 175 RFr.
LT 67 Prince Howard-Whitaker 6-3 250 So.; 78 Thomas Crawford 6-3 230 Fr.
LG 52 Jon Barrett Lewis 6-2 295 So.; 64 Harry Easler 6-2 285 Jr.
C 53 Tyler Davis 6-1 279 Sr.; 54 Haden Haas 6-3 295 RFr.
RG 64 Harry Easler 6-2 285 Jr.; 65 Johnathan Toole 6-1 287 Fr..
RT 63 Drew McEntyre 6-3 285 Jr.; 58 Denzel Wright 6-1 240 So.
TE 89 Attorney Gallman 6-1 255 Jr.; 44 Jordan Thomas 6-1 223 Jr.
WR 21 Curt Nixon 6-0 184 Jr.; 81 Dijon Profit 6-1 190 So.
QB 10 Jordan Black 6-1 200 Jr.; 16 Brandon Rainey 6-0 185 So.
A-Back 2 Rod Johnson 5-11 198 Jr.; 18 Dante Smith 5-10 180 RFr.; 28 Nkem Njoku 5-10 195 Fr.
B-Back 8 Lorenzo Ward 5-10 211 Jr.; 5 Clay Harris 6-0 203 Fr.; 32 Emeka Nwanze 6-0 215 Fr.
A-Back 29 Grant Drakeford 5-10 187 Sr.; 26 Keyonte Sessions 5-8 190 So.
Defense
DE 92 Aaron Brawley 6-2 215 So.; 49 Marquise Blount 6-3 223 Fr.
NT 68 Ken Allen 6-1 282 Sr.; 96 Ja'lon Williams 6-2 273 Jr.
DT 98 Joseph Randolph II 6-3 255 Jr.; 88 Shawn McCord 6-2 255 Gr.
KAT 55 Russell Hubbs 6-1 226 Sr.; 40 Jordan Williams 6-2 202 Jr.
LB 4 Phil Davis 6-1 225 Jr.; 38 Noah Dawkins 6-1 225 Sr.
LB 9 Willie Eubanks III 6-2 215 So.; 46 Isaac Stewart 6-2 247 Gr.
BANDIT 25 Sean-Thomas Faulkner 5-11 180 So.; 37 Destin Mack 6-0 190 Fr.; 30 Cliff Barrett, II 6-0 190 Gr.
CB 7 Khafari Buffalo 6-2 190 Jr.; 20 Jay Howard 6-1 180 RFr.
DB 24 Aron Spann III 6-2 212 Sr.; 6 Lane Botkin 6-0 195 RFr.
DB 33 Ronald Peterkin 6-0 185 Gr.; or 17 Chris Beverly 5-10 181 Fr.
CB 11 Phil Barrett 6-0 160 So.; 45 Marvin Marshall 5-11 170 RFr.
Special Teams
PK 86 Jacob Godek 6-0 155 Jr.; 90 Matthew Campbell 6-1 227 Fr.
P 90 Matthew Campbell 6-1 227 Fr.; 93 Gage Russell 5-11 160 So.
H 93 Gage Russell 5-11 160 So.; 19 Brian Murdaugh 6-0 213 So.
LS 85 Patrick Keefe 5-11 190 Sr.; 48 Gunner Covey 6-2 242 So.
KR 21 Curt Nixon 6-0 184 Jr.; 22 Raleigh Webb 6-2 195 So.
PR 21 Curt Nixon 6-0 184 Jr.; 6 Lane Botkin 6-0 195 RFr.