The Citadel began preseason football practice Friday dodging rainshowers, with a splash of late-breaking good news.
The Bulldogs have added a graduate-student transfer from ACC school Louisville. He's Isaac Stewart, a 6-2, 247-pound linebacker who made 50 tackles over the last two seasons for the Cardinals. Last year, he started in a road win at Florida State and racked up a career-best 10 tackles.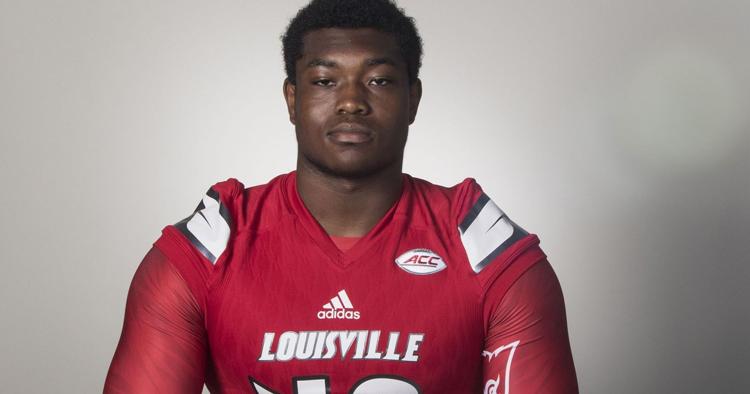 A Shrine Bowl pick from Charlotte's Butler High School, Stewart is the fourth grad-student transfer to join the Bulldogs for the 2018 season, along with defensive lineman Shawn McCord from St. Francis and defensive backs Ronald Peterkin (Georgia State) and Cliff Barrett (Lenoir-Rhyne.)
Third-year coach Brent Thompson hopes the transfers can help make up the difference between 2016's 10-2 record and Southern Conference championship, and last year's slip to a 5-6 mark.
"I think I've got a really good team out here, with some really good leaders," Thompson said after the Bulldogs' morning practice was delayed by rain. "I've got a hungry football team, which is most important. I don't know that we were as hungry last year."
Here are five questions that must be answered if the Bulldogs are to satisfy that hunger this season:
1. Can Bulldogs lose red-zone blues?
Thompson has made no secret that he sees red when reviewing The Citadel's red-zone problems from a year ago. The Bulldogs could not score when inside the opponents' 20-yard line — converting just 15 of 30 such chances in SoCon play, worst in the league, including making only 2 of 8 field goals.
Neither could the Bulldogs' defense stop opponents, surrendering points on 20 of 22 red-zone chances for foes, again worst in the SoCon.
"Having four turnovers (in a loss to Western Carolina) in that situation certainly hurt our percentage," Thompson said. "Field goals are another thing; we've got to put pressure on our kickers to make important field goals. And then being able to stay on-sides; there were a couple of times we jumped off-side and couldn't get the ball in the end zone from the 5 or 6-yard line."
2. Is QB Jordan Black ready to lead?
After sharing the QB spot with Dominique Allen over the last two seasons, Jordan Black is the starter heading into his redshirt junior season. Black played in 17 games over the last two seasons, rushing for 492 yards and six touchdowns and passing for 683 yards and seven TDs with one interception.
Not the power runner that Allen was, the 6-1, 200-pound Black could open up the Bulldogs' triple-option offense in other ways.
"Jordan brings a little bit different dynamic," Thompson said. "He's got quick feet and can make you miss. He's got a lot of game experience, throws it fairly well and is a threat on the perimeter."
Behind Black is sophomore Brandon Rainey, who played fullback last season, along with redshirt freshman (and baseball player) Ryan McCarthy, and freshmen Javonte Middleton and Jalen Smith.
3. What will the backfield look like?
The Citadel will have to sort out a backfield that includes 14 running backs, including six B-backs (or fullbacks) and eight A-backs (slotbacks). That's better than having too few, as the Bulldogs found out last year when high school QB Brandon Rainey was forced to play fullback.
Junior Lorenzo Ward and sophomore Brandon Berry (5-11, 227) are back after playing behind Rainey last year, and have plenty of competition from freshmen Clay Harris, Emeka Nwanze and Sam Llewellyn and sophomore Hoss Smith.
Slotback has two proven performers in senior Grant Drakeford and Rod Johnson, but a whole lot of youth behind them, including Lowcountry products Dante Smith of Porter-Gaud and Dexter Freeman of West Ashley.
4. Has offensive line grown up?
Part of the Bulldogs' red-zone struggles last season can be traced to the offensive line, where true freshmen Jon Barrett Lewis and Jonathan Cole were thrown into the fray at guard, alongside all-SoCon center Tyler Davis.
This season, the entire offensive line returns intact, with junior Drew McEntyre and sophomore Prince Howard-Whitaker at the tackles.
"Our core coming this year is amazing," Black said. "We only lost a couple of guys there, so with that experience, there is no excuse. We know what to do and need to go out there and do it."
5. Can transfers boost defense?
There will be a lot of mixing and matching happening on defense as coordinator Blake Harrell pieces together a unit with a lot of new faces, including the four grad-student transfers.
This is particularly true in the secondary, where senior safety Aron Spann III is the lone returning starter. Sean-Thomas Faulkner, who redshirted last year, and true freshman Von Ramsey are the top two at bandit on the preseason depth chart.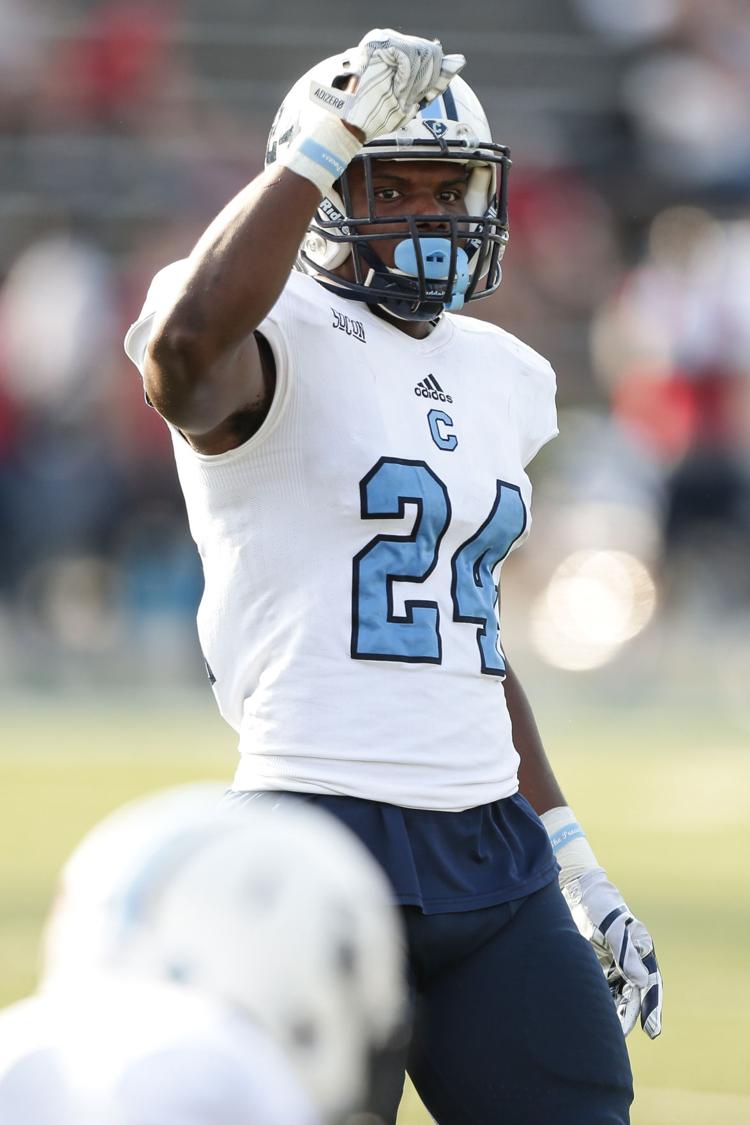 Preseason all-SoCon picks Noah Dawkins and Ja'Lon Williams are paired with experienced starters at their positions, KAT linebacker and nose tackle, on the preseason depth chart.
"We've got a lot of young guys on the defensive side, and then the four fifth-year guys to see where they can fill some gaps and maybe help us out," Thompson said.
Practice continues Saturday, Sunday, Monday and Tuesday before a day off Wednesday. New NCAA rules mandate one day off per week during training camp.
Preseason depth chart
Offense
WR 22 Raleigh Webb 6-2 195 So.; 13 Cole Owens 5-11 175 RFr.
LT 67 Prince Howard-Whitaker 6-3 250 So.; 58 Denzel Wright 6-1 240 So.
LG 52 Jon Barrett Lewis 6-2 295 So.; 64 Harry Easler 6-2 285 Jr.
C 53 Tyler Davis 6-1 279 Sr.; 54 Haden Haas 6-3 295 RFr.
RG 62 Jonathan Cole 6-1 295 So.; 65 Johnathan Toole 6-1 287 Fr.
RT 63 Drew McEntyre 6-3 285 Jr.; 61 Mark Weakland 6-2 265 So.
TE 89 Attorney Gallman 6-1 255 Jr.; 44 Jordan Thomas 6-1 223 Jr.
WR 21 Curt Nixon 6-0 184 Jr.; 81 Dijon Profit 6-1 190 So.
QB 10 Jordan Black 6-1 200 Jr.; 16 Brandon Rainey 6-0 185 So.; 12 Ryan McCarthy 6-3 200 RFr.
A-Back 2 Rod Johnson 5-11 198 Jr.; 18 Dante Smith 5-10 180 RFr.
B-Back 8 Lorenzo Ward 5-10 211 Jr.; 42 Brandon Berry 5-11 227 So.
A-Back 29 Grant Drakeford 5-10 187 Sr.; 26 Keyonte Sessions 5-8 190 So.
Defense
DE 92 Aaron Brawley 6-2 215 So.; 49 Marquise Blount 6-3 223 Fr.
NT 68 Ken Allen 6-1 282 Sr.; 96 Ja'Lon Williams 6-2 273 Jr.
DT 98 Joseph Randolph II 6-3 255 Jr.; 88 Shawn McCord 6-2 255 Gr.
KAT 55 Russell Hubbs 6-1 226 Sr.; 38 Noah Dawkins 6-1 225 Sr.
LB 4 Phil Davis 6-1 225 Jr.; 47 Jeremy Samuels 6-0 230 So.
LB 9 Willie Eubanks III 6-2 215 So.; 50 Caleb Deveaux 6-1 213 Fr.
BANDIT 25 Sean-Thomas Faulkner 5-11 180 So.; 31 Von Ramsey 5-11 190 Fr.
CB 20 Jay Howard 6-1 180 RFr.; 3 Joshua Bowers 5-10 172 Fr.
DB 24 Aron Spann III 6-2 212 Sr.; 30 Cliff Barrett 6-0 190 Gr.
33 Ronald Peterkin 6-0 185 Gr.
DB 6 Lane Botkin 6-0 195 RFr.; 37 Destin Mack 6-0 190 Fr.;
CB 11 Phil Barrett 6-0 160 So.; 27 Jaylan Adams 5-10 165 Fr.
Specialists
PK 86 Jacob Godek 6-0 155 Jr.
P 93 Gage Russell 5-11 160 So.
LS 85 Patrick Keefe 5-11 190 Sr.
KR 21 Curt Nixon 6-0 184 Jr.; 22 Raleigh Webb 6-2 195 So.
PR 21 Curt Nixon 6-0 184 Jr.' 22 Raleigh Webb 6-2 195 So.