Everette Sands was a hotshot redshirt freshman fullback at The Citadel, on his way to All-America status, when he messed up a block in practice.
"Sands, you are reading too many of your press clippings!" barked Bulldogs coach Charlie Taaffe. "Now get your butt back in line!"
That's how Sands will remember Taaffe, who won more games than any coach in Citadel football history.
"He was very demanding," Sands said. "But he made us better people. He was the epitome of a great coach."
Taaffe, who coached at The Citadel from 1987-95, died Tuesday night in Orlando at the age of 69, a family member announced Wednesday on Facebook. He died after a "short battle with widespread cancer," the announcement said.
"It's a sad, sad day for The Citadel family," said Citadel baseball coach Tony Skole, a two-sport standout at the military school who played defensive back for Taaffe. "Coach Taaffe was an amazing man, an amazing coach and father figure to a lot of us.
"The impact that he had on myself and all my teammates' lives, and everyone who came in touch with him, was amazing."
Taaffe was the coach who demonstrated that The Citadel could compete and win in the modern era of college football.
The Bulldogs had not won a Southern Conference title since 1961 when he was hired, but Taaffe used the wishbone offense to lead The Citadel to a league championship and the No. 1 ranking in Division I-AA in 1992. He won the Eddie Robinson award as the I-AA national coach of the year in '92.
"I think Coach Taaffe is the standard around here," said current Bulldogs coach Brent Thompson. "He had quite the career record here and he found a way to sustain a lot of success. He was able to win a championship in a very challenging Southern Conference.
"As far as I am concerned, he is probably the guy that is most responsible for us and our staff being back here. Having the ability to run this offense here, and continue to build upon what he had already started here many years ago, really speaks to everything he was able to accomplish here."
Taaffe, who began his college playing career as a quarterback at Clemson and graduated from Siena, was the offensive coordinator at Army when former Citadel athletic director Walt Nadzak hired him to coach the Bulldogs in 1987.
Taaffe brought the wishbone offense with him to The Citadel, kicking off one of the most successful eras in program history.
From 1988 through 1992, the Bulldogs went 38-20 with victories over South Carolina, Arkansas, Army (twice) and Navy (twice), and three I-AA playoff appearances.  In 1992, The Citadel was 11-2 with wins over Arkansas and Army, won the Southern Conference title for the first time since 1961 and was ranked No. 1 in the nation in Division I-AA.
Jeff Bleamer, now an assistant coach at Cane Bay High School, was the offensive line coach for Taaffe, who was 55-47-1 in nine seasons.
"He was demanding of his players and coaching staff, and that's what I loved about him," said Bleamer. "Everything had to be by the book and perfect, and that's why he was so successful. He insisted we do everything the right way."
Taaffe was more than an offensive guru, Sands said.
"More than anybody I've known in my coaching career, he had the ability to know where everyone on the field was supposed to be," said Sands, now an assistant coach at Coastal Carolina. "One day in practice, he yelled at the right tackle on offense for messing up, then turned to the left corner on defense and said, 'Good job.'
"How he did that, I don't know, but he had the ability to see the whole field."
Toughness and competitiveness were his hallmarks as a coach, Skole said.
"We felt like we could tackle the world every time we took the field," Skole said. "And to just see the energy of Coach and his staff. They poured themselves into this place and into their players, and that was always very inspiring to me."
Taaffe also was attuned to the human side of his players and coaches.
"We got yelled at," Sands said. "But afterwards, he'd put his arm around us, and you know he cared about you."
Said Bleamer: "It was the hardest I ever worked in my life. He was two different people on and off the field. On the field, it was my way or the highway. Off the field, we were one big happy family."
Taaffe's final season at The Citadel was in 1995, when the Bulldogs lost their last nine games in a row to finish at 2-9.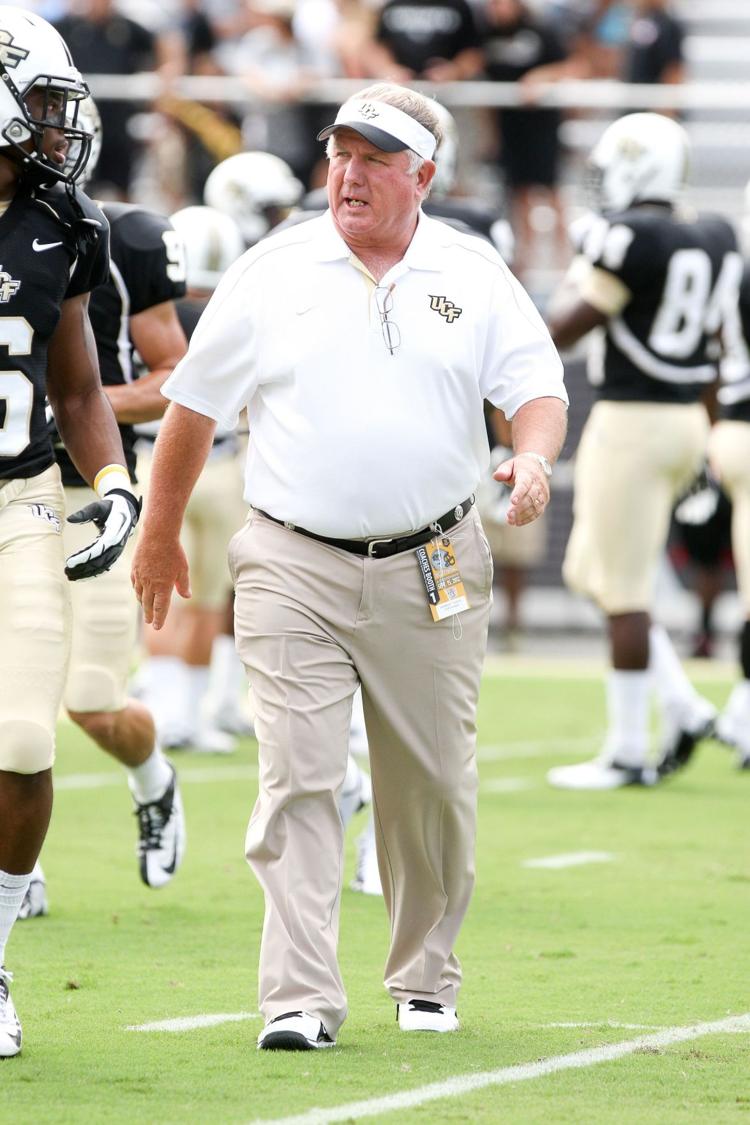 He went on to coach in the Canadian Football League in Montreal, leading the Alouettes to the league championship and twice being named CFL coach of the year.
He then was hired as the offensive coordinator at Maryland by Ralph Friedgen, helping the Terps to records of 10-2, 11-3 and 10-3 from 2001-2003.
He also was offensive coordinator at Pitt and head coach for Hamilton in the CFL before finishing his career as offensive coordinator at Central Florida from 2009-2014. In 2013, UCF went 12-1 with a 52-42 win over No. 5 Baylor in the Fiesta Bowl.
After retiring from UCF, Taaffe worked in broadcasting and ran a quarterback training program, working with NFL players such as Blake Bortles and Paxton Lynch, among others.
Before Taaffe passed away, Sands said, a group of former Citadel players established the Charlie and Jan Taaffe Scholarship, which will go to a walk-on player on the football team. Those interested in donating should contact The Citadel's Brigadier Foundation, he said.