Forty-three years later, the stench still lingers for Brian Ruff.
Ruff, an All-America linebacker at The Citadel in the 1970s, recalls getting dressed out for the second of the Bulldogs' two-a-day football practices in the heat of August training camp.
"You'd come back for the second practice, and your shoulder pads were still wet from the first one," Ruff said. "It was nasty and awful. I don't have any good memories of those practices, except for when the last one was over. That was a good memory."
Sweat and shoulder pads are still a big part of football, and laundry techniques have improved a lot since Ruff's days as a Citadel great. But much else about preseason training camp has changed over the years, evolving from a test of manhood to a focus on efficiency and recovery.
"It's changed a lot, and as a coach you have to approach it differently," said Citadel coach Brent Thompson, whose team wrapped up training camp this week and now heads into game-week mode for the Sept. 1 opener at Wofford. "And we as coaches have embraced that this year."
The NCAA eliminated two-a-day practices in preseason camp last year, and this year a new rule requires a day off for players once every seven days.
Citadel quarterback Jordan Black, a junior, remembers doing two-a-days his freshman year.
"I'll never forget those two-a-days," he said. "You come out for the first practice in the morning, and it's already hot. And then you come out for the second practice, and it's even hotter and more intense."
Those second practices were more a test of survival than a productive workout, said senior center Tyler Davis.
"By the second practice, you are just trying to get through it, and you are not really doing anything good with it," he said. "My freshman year, I was not in the shape that I am now. So it was like, let me get through the first one, then before the second one I'll eat as much as I can and make it through the second practice."
During Ruff's heyday in the 1970s, training camp was a way to get players back in football shape after a long offseason.
"Where we had it easier was after the season, the offseason workouts," Ruff said. "These kids now have these voluntary workouts at 5:30 a.m. in the summer. If you want to play, you show up.
"We didn't have that. We'd work out some during the week, but not close to what happens now."
The offseason program, with 80 to 90 players on campus for eight weeks during the summer, means preseason camp is more about football and less about conditioning.
"Now, it's about recovery and quality practice time," Thompson said. "But at the same time, my expectations go up for those practices. Before, when we had two-a-days and even three-a-days, your expectations for those practices would diminish as camp goes on."
Citadel coaches emphasize stretching, sleeping and hydrating during the players' down time, and the mandatory day off makes a difference, as well.
"It's good for player safety," said senior safety Aron Spann. "Less hits to the body, less stress on the body. I feel like now you can get everything you need out of one practice. You put everything into it, it's faster and more physical, and you don't make as many mental mistakes."
Thompson also carves out time during training camp for nightly sessions with guest speakers on many topics. Former Citadel baseball player Bo Thompson, now with the Charleston County Sheriff's Department, talked about relating to police. A speaker from My Sister's House addressed the topic of domestic violence. Former Citadel football player Carver Wright talked about life after football.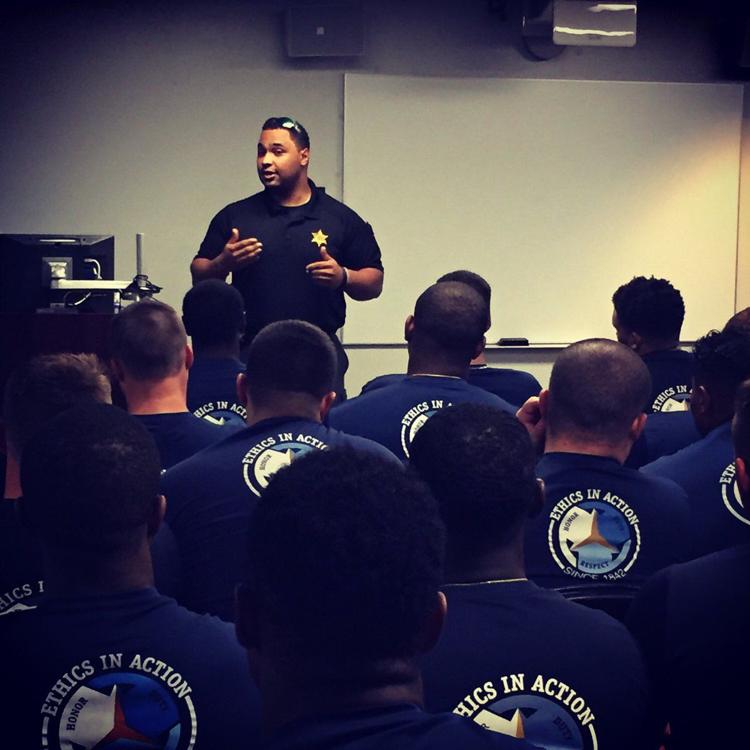 "That's something that's really important," Davis said. "Domestic violence, interactions with police, those are big issues in our country, especially for young men our age. It shows the coaches care about us as people and as young men in society and not just football players."
Still, the main point of training camp is to get ready — as it was in Brian Ruff's day — is to get ready to win football games.
"We have only 25 practice opportunities, and we have to take advantage of every single minute of every single day," Thompson said. "Whether it's rest, recovery and nutrition, or meeting time or film time or practice time, we'll lose football games if we don't take advantage of every minute."
The Bulldogs will begin to find out how well they did on Sept. 1 at Wofford.
Notes
• The Citadel will host its annual Meet the Bulldogs at 10 a.m. Saturday inside Johnson Hagood Stadium. The event, which is free and open to the public, gives fans a chance to meet and get autographs from players in the football, soccer and cross country programs. The two-hour event also features give-aways, activity stations on the field, photo opportunities, face painting and playing in a jump castle.
• Thompson said this week junior Lorenzo Ward will start at fullback (B-back) against Wofford, but freshmen Clay Harris and Emeka Nwanze could also be in the mix.
"Lorenzo will be the starter, no doubt about that," he said. "He's solid and knows where to go, and is the best of the three in blocking right now. But Clay and Emeka can do some things the other ones can't do. We'll definitely use them a lot, but whether we use them in the first game or not will be determined in the next few days."
In the secondary, defensive backs Ronald Peterkin and Lane Botkin have missed some practice time, but should return soon, Thompson said.