Charleston Southern University has vacated 122 victories across three sports, as well as three Big South Conference titles won by its men's basketball and football teams, due to NCAA rules violations.
The Buccaneers were forced to vacate 51 wins and two Big South regular-season titles in men's basketball; 18 victories and the 2015 Big South championship in football; and 53 victories in softball, according to a review of those sports' record books.
The school also expects to vacate wins in baseball over parts of three seasons, with sports such as women's soccer, women's tennis, track and cross country also affected. Those totals are still being processed by the school's sports information office.
In its October report, the NCAA found that CSU improperly certified 55 student-athletes in 12 sports over a six-year period, a Level II violation.
Charleston Southern is not required by rule to announce the vacated victories, but has updated its record books in men's basketball, football and softball to reflect the penalties.
New Charleston Southern athletic director Jeff Barber would not comment on the vacated victories. When the NCAA penalties were announced in October, he said, "Upon my arrival to CSU in June of 2018, I was made fully aware of the NCAA situation.
"The entire university fully cooperated with both the NCAA and the Big South Conference. I feel extremely confident that the necessary steps have been taken and we will continue our due diligence to operate at the highest level of compliance that we possibly can."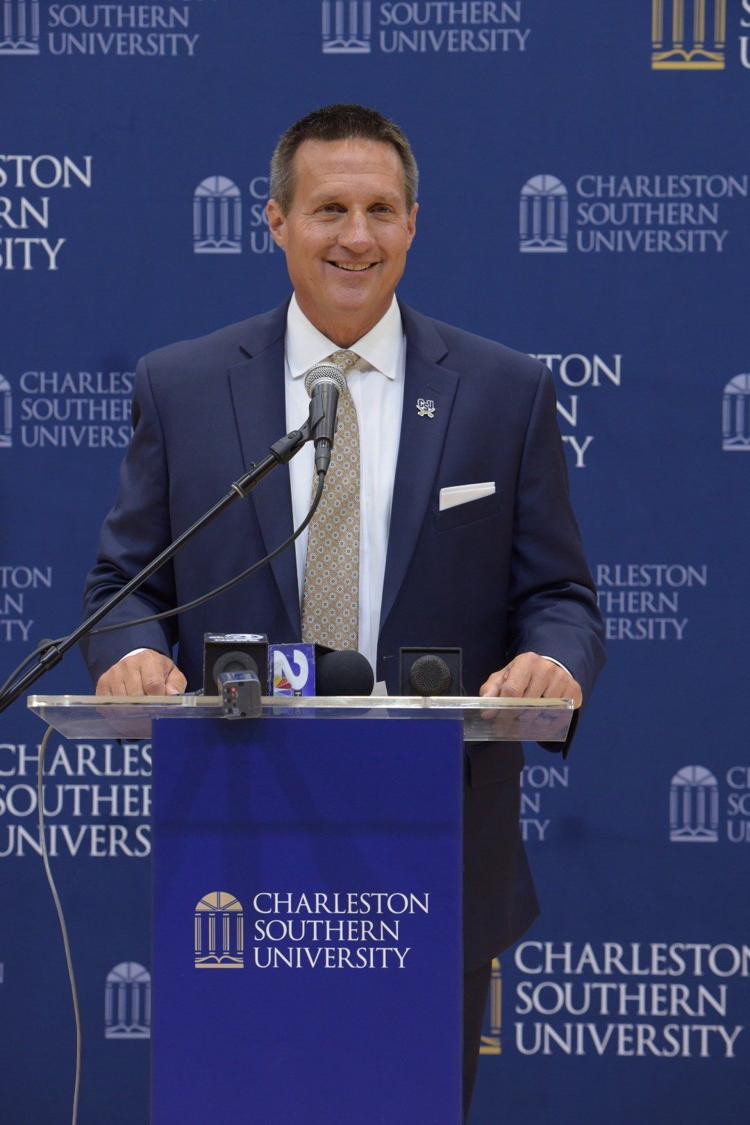 The NCAA placed Charleston Southern on a two-year probation beginning Oct. 18, citing a "failure to monitor its athletics program," and failure or unwillingness to comply with needed corrections in its compliance department.
The penalties also included a reduction of football scholarships by six over a two-year period, and a fine of $5,000 plus one-half of one percent of the school's athletic budget. In addition, the NCAA ordered the school to vacate wins and championships won in several sports from 2011-2017.
After combing the official game rosters for contests played with ineligible athletes, CSU vacated two Big South Conference regular-season championships in men's basketball and one Big South title in football.
The basketball titles vacated were won during the 2012-13 and 2014-15 seasons, both due to playing a player or players who would have been declared ineligible if proper procedures were followed. The basketball program also vacates 19 wins in 2012-13, 13 wins in 2013-14, and 19 wins in 2014-15.
The vacated basketball victories include a 101-73 win over The Citadel in 2012-13 and a 66-65 overtime win at Ole Miss in 2014-15.
The football program has vacated eight wins from the 2014 season and 10 wins from the 2015 season, while also vacating the football title in 2015. The vacated wins include three over The Citadel.
The softball program is vacating 53 total wins — 31 in 2015 and 22 in 2016.
The ineligibility issues discovered dealt primarily with junior college transfers who were allowed to play despite a lack of complete certification of transferred courses. In a few instances, athletes who were not taking the NCAA required 12 hours of study during their respective seasons also were permitted to play.
CSU was cited for using "an informal eligibility process, reassigning non-compliance staff to assist with certification and failing to develop formal rules education."
The NCAA also found that 34 football players were allowed to improperly use scholarship book monies for items not related to books, such as jewelry, clothing and computers in the CSU bookstore. Those violations resulted in game suspensions during the 2016 season.
Jeff Hartsell contributed to this report.