Charleston billionaire Ben Navarro has taken over the Volvo Car Open.
The businessman and philanthropist bought the 46-year-old WTA Tour event, along with the operations of Family Circle Tennis Center and Volvo Car Stadium. The deal was completed Wednesday with Navarro's purchase of 100 percent of Charleston Tennis LLC, converting it to a locally owned and operated organization.
California-based sports and media-focused investment firm Moorad Sports Partners had owned 70 percent of Charleston Tennis LLC, with Meredith Corp. owning the other 30 percent.
"I'm buying out Meredith and Charleston Tennis LLC," said Navarro, who declined to divulge the cost of the deal. "Bob Moran will still run the tournament." Moran is the longtime tournament director.
According to a spokesman for the acquisition, Navarro "will have 100 percent ownership ... no additional or existing partners."
The entity taking over Charleston Tennis LLC is Beemok Sports LLC. The transaction will not change any day-to-day operations at the world-class Daniel Island complex, according to the spokesman.
Navarro is the 55-year-old CEO/founder of Charleston-based Sherman Financial Group and the founder of education nonprofit Meeting Street Schools.
He also owns the Live To Play Tennis Club on Mathis Ferry Road in Mount Pleasant, which has been the site of two USTA national junior tennis championships, as well as five International Tennis Federation women's pro circuit tournaments, including next month's LTP $25K event.
"I look forward to building on the current tournament tradition that is already 47 years in the making with the (2019) Volvo Car Open," Navarro said. "Bob Moran and his team have created a tennis legacy in Charleston with the event and its facilities. Our goal is to continue to grow the tournament's impact, promote junior tennis in Charleston and make the sport more accessible for all.
"Personally, Charleston Tennis LLC's mission of giving back and making a positive influence on our community align with my family's values and beliefs."
All four children of Ben and Kelly Navarro have been/or are currently involved in tennis, led by nationally No. 2-ranked junior girls player Emma Navarro, who has committed to Duke and was a doubles semifinalist in the recent Junior U.S. Open. She is a junior at Ashley Hall School.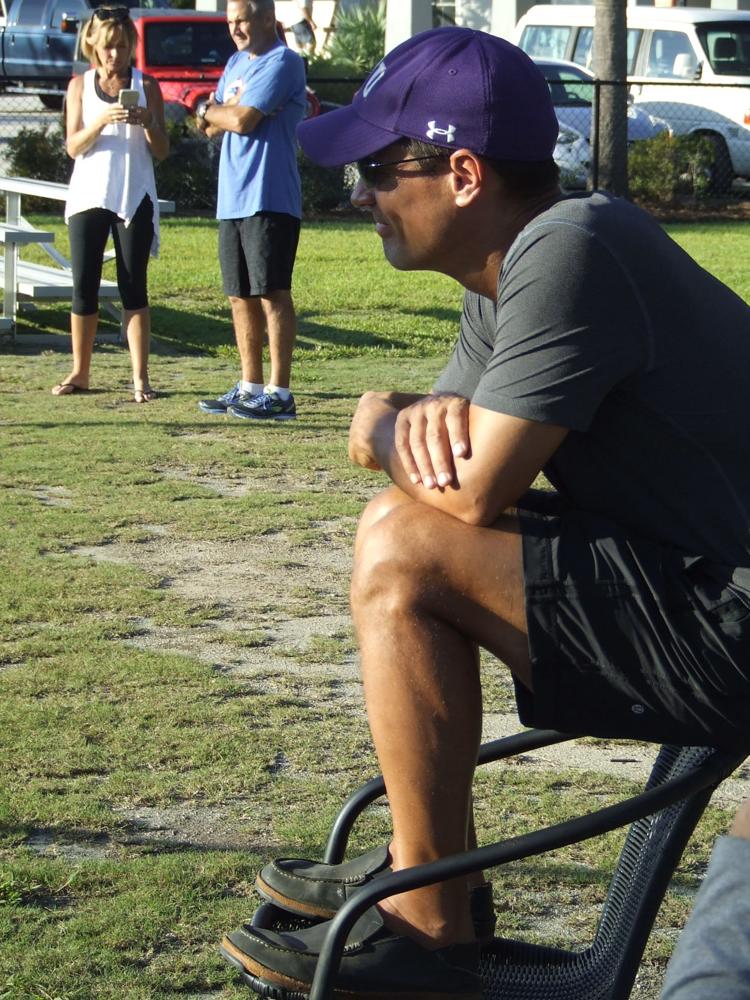 Coincidentally, Emma Navarro earned a wild card into the main draw of another of her dad's tournaments, the 2019 Volvo Car Open, by winning the singles title in this summer's National Girls 18 Clay Courts Championships at LTP Tennis.
Younger sister Meggie also is a highly ranked junior player, while former Academic Magnet standout Earl Navarro is a freshman at Duke, and oldest son Owen attends New York University.
Earlier this year, Ben Navarro was a finalist in the bidding to purchase the National Football League's Carolina Panthers. Navarro's father, Frank Navarro, served as the head football coach at Princeton and Columbia universities.
Moran looks forward to the VCO being a locally operated tournament.
"I've had the pleasure of getting to know Ben over the last year through his commitment to growing tennis here in Charleston," said Moran, president of Charleston Tennis LLC.
"His club LTP Tennis has hosted numerous ITF and junior tournaments culminating with the U.S. Girls Clay Courts National Championships, held this past July. I'm blown away with not only Ben's commitment to tennis, but his love for this community. His work with Meeting Street Schools is truly inspiring.
"Our team is excited to get started building towards the 2019 Volvo Car Open and working with Ben and his team to create an even bigger and better experience for our players, fans and partners. With this commitment and investment to build world-class experiences by our new owner, and the support of our title sponsor, Volvo Car USA, we will continue to remain a vibrant part of the Charleston community for years to come.
"The opportunity to partner with someone so passionate about tennis and our community is a perfect fit," added Moran.
WTA Tour CEO/chairman Steve Simon endorsed the new VCO ownership by Navarro.
"Rooted in the WTA's rich history as one of the very first tournaments in 1973, it is a pleasure to see both the tradition and growth of this event continue," Simon said.
"We are delighted to welcome Ben's ownership to the Volvo Car Open and look forward to the positive impact this will have on the continued success of one of the premier women's tennis events in the world."
The city of Charleston built Family Circle Tennis Center and the 10,200-seat stadium now called Volvo Car Stadium for the Family Circle Cup's move to Daniel Island from Hilton Head Island in 2001. The city originally leased the complex to Family Circle Magazine for 15 years. The lease has been renewed until 2029.
Charleston Tennis LLC was formed by Meredith more than a decade ago to handle all operations at FCTC. Meredith Corp. purchased Family Circle Magazine in 2005, a deal that included the WTA tournament.
The Moorad group acquired 70 percent of Charleston Tennis LLC from Meredith on July 1, 2017 for $9.1 million, which included $600,000 up front and $8.5 million spread over eight years. Meredith retained a 30 percent stake in Charleston Tennis LLC at the time.
The VCO is the largest women's only tournament in North America. The tournament contributes a direct impact of $30 million into the local economy each year through visitors, hotels, restaurants, travel and tourism.
The tournament is telecast around the world by the Tennis Channel. The 2019 Volvo Car Open will take place March 30-April 7.
Sherman Financial has offices on Madison Avenue in New York City and on Meeting Street in Charleston. More than 90 percent of Sherman's revenue reportedly comes from subsidiary Credit One Bank, one of the nation's largest credit card issuers.