When Jonathan Amon was a toddler, it seemed to his parents – Joseph and Diane – that their youngest son always had a soccer ball at his feet.
When he was six, he was playing impromptu two-on-two games in the family's Summerville backyard against his three older brothers – and winning more times than not.
By the time Jonathan was 10, he was already a prodigy on the Lowcountry soccer club scene. At 15, he left the United States for Europe to pursue his dream of playing professional soccer at the highest level.
On Thursday, Jonathan, now 19, is hoping to make his first appearance with the U.S. Men's National Team when it plays Colombia in an exhibition match at Tampa Bay's Raymond James Stadium. The match will be televised nationally by FS1 beginning at 7:30 p.m.
The U.S. will then face Peru on Tuesday in Hartford, Conn., in the team's second friendly in less than a week.
This is the first time Johanthan, a former Charleston Battery Academy alumnus, has played for the U.S. national team.
"I was really excited when I got the call, I couldn't keep a smile off my face," the soft-spoken Jonathan said in a telephone interview from Denmark, where he is a midfielder for FC Nordsjaelland, a club in the Danish Superliga. "I'm going to put my best foot forward and try to prove myself."
The chances of Jonathan, who plays as a winger for FC Nordsjaelland, getting on the field for the U.S. are good with Christian Pulisic and Weston McKennie out with injuries.
"We don't have a lot of players like Jonathan in our system," U.S. U-20 coach Tab Ramos told international soccer website Goal. "His speed and his ability to take people on is special, and he's only 19 so we haven't seen his best yet."
Like son, like father
Joseph Amon Sr., came to the United States in 1980 from Nigeria on a student visa, spending a year at Alabama A&M (Huntsville) before ending up in Summerville in 1984.
Like most boys growing up in Nigeria, he played soccer and was a standout forward for his high school team.
"Soccer is the country's No. 1 sport," Joseph Sr. said.
His passion for soccer was passed on to his sons – Emmanuel, Joseph Jr., Benjamin and Jonathan. Early on, Joseph Sr., decided to turn the backyard of their Summerville home into a training pitch for his sons.
He cleared trees from the property, planted Bermuda grass and put sand down to make the yard level. At one end, he placed a goal and on the other a rebounding net so the boys could shoot. He taught them the fundamentals of the game, but knew he needed to take their training to another level.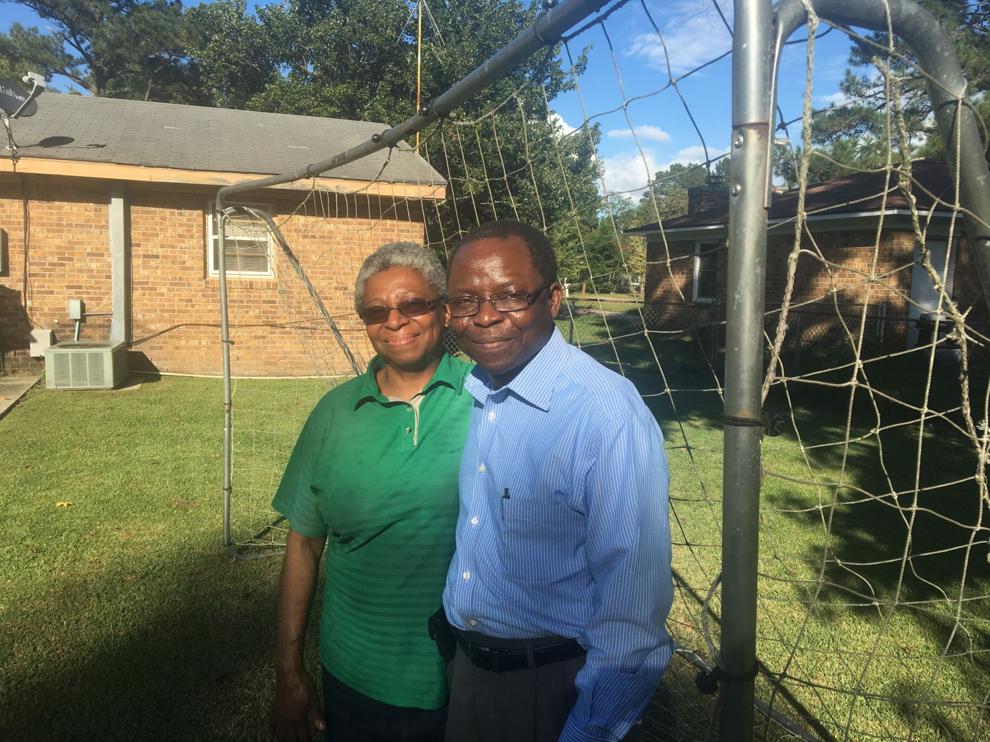 Armed with a stack of instructional soccer DVDs, Joseph Sr. went to work.
"I'd take my laptop outside and show them the video and tell them to practice what they saw," he said. "I wanted them to see good players going through the drills so they'd know how to do them properly."
After school, on weekends and during summer when their father was at work, the Amon boys would go out back and hone their skills. Joseph Sr. would leave a clipboard with each drill listed on it for them to check off when completed. When he'd come home from work, he'd take inventory on the day's workout.
"There was times when I had to push the other boys a little bit to practice," Joseph Sr. said. "But I knew I didn't have to ask Jonathan. He loved the game. He had a passion for it, so I never asked. I knew he would do it."
The battles the Amon brothers had during those days were crucial in Jonathan's development.
Joseph Jr., who would go on to play soccer at North Carolina and Clemson, would pull no punches against his little brother, hoping to toughen him up.
"It was tough love," Joseph Jr. said. "I was physical with him, hip checks, grabbing him. I didn't let him have anything, he had to work for everything he got. You could tell early on that he was special.
"He has a God-given ability. It's not something you can teach, you either have it or you don't. By the time he was 10 or 11, he was starting to give me trouble."
'This kid is a phenom'
Joseph Sr. got the boys involved with the local Summerville soccer club scene. It didn't take long for them to catch the eye of Clark Brisson, a former University of South Carolina All-American striker and one of the area's top youth coaches.
"I remember watching Joseph Jr. and thinking he was really good," Brisson said. "Then I saw Jonathan and he was maybe six or seven. He was the smallest kid on the field and he was chipping balls over the goalkeeper's head. All the parents were clapping and saying, 'oh, that's very good' and I'm like, 'no this kid is a phenom. You don't do that at his age.'"
When the Charleston Battery started their own youth academy, Jonathan, who was 13 at the time, was already an established star in the area.
"You could see his quality even at that age," said Charleston Battery coach Mike Anhaeuser.
Matt Parmer, one of the club's coaches, remembers Jonathan being the smallest player on the field and opposing coaches asking how old he was before the matches started.
"They were always like, 'oh, he's so small, is he going to be OK out there,'" Parmer said. "By the end of the match, they were usually pulling their hair out trying to figure out how to stop him."
Jonathan began training with the Battery when he was 15, going up against men twice his age. Anhaeuser tried to sign him to an "academy" contract that would allow Jonathan to train full-time with the club and even play in matches.
Major League Soccer's Orlando City FC even made a run at signing Jonathan to their own academy team, but Joseph Sr. had bigger plans for his youngest son.
'If he goes to Denmark, he won't come back'
With the help of Ken Schmidt Nielsen and Charles Dennis, Jonathan was invited to attend a soccer camp in Denmark after his sophomore year at Summerville High School.
"Ken told me that if he went to Denmark, he wouldn't come back," Joseph Sr. said.
In Denmark, he caught the eye of Søren Krogh, a teacher at the prestigious KIES School, a boarding school in Copenhagen famous for developing soccer and handball stars. Krogh was also a coach for FC Nordsjaelland. Jonathan signed with the club's academy later that year.
Jonathan being 4,500 miles away from home was a concern for the family. But Joseph Sr. knew Jonathan was where he needed to be if he was going to develop.
"I was concerned to have him there by himself," Joseph Sr. said. "The KIES School is a boarding school, so I knew they'd be watching over him and that gave me comfort."
Jonathan would see his family only once or twice a year. He got homesick and missed his mother's cooking, especially her pecan coconut pie.
"You go from seeing your family every day to seeing them once or twice a year," Jonathan said. "I missed them at first, but I knew I had to be in Denmark."
At the academy, FC Nordsjaelland feared Jonathan would get noticed by a bigger clubs with deeper pockets before it could sign him. As an American, he couldn't sign a professional contract until he turned 18.
So they hid him away, sending him to a soccer camp in Ghana for a month and not letting him play in many games with their academy teams. Two days after turning 18, he signed with Nordsjaelland.
Last season, Jonathan appeared in 10 matches, scoring two goals. He has two goals and an assist in eight matches already this season.
"This is what I love to see – a 'street player' who challenges when he has the ball no matter who is in front of him,'" Nordsjaelland head coach Kasper Hjulmand told reporters recently.
"I do not think he knows the opponents. He just drives on as it was in the schoolyard. He can beat a man in a phone booth and I just love seeing the playful, immediate and somewhat innocent way it's done. He is insanely good. Of course, Jonathan still needs to improve, but I see a super potential, which I'm looking forward to working on."
Back home in Summerville, the family gathers  to watch Jonathan's matches on television. There's a six-hour time difference and the games are called in Danish.
"Sometimes we have to get up early," Joseph Sr. said. "We don't understand what they are saying, so I just listen for Amon or Jonathan. They say it a lot."
Bigger clubs from Europe, especially in Germany, have already started to scout Jonathan, whose contract with Nordsjaelland runs through 2022.
"Jonathan is a huge Manchester United fan, so his dream would be to play for them," Joseph Sr. said.
If that happens, Amon would become the first Lowcountry native to play in the English Premier League.