CHARLOTTE — It was more than a decade ago, but it's as much a part of the two football coaches as the national championship rings each has. No matter what Will Muschamp and Mack Brown do with their present and future, they'll always be intertwined by the curious, unique and fateful decision Brown made when both were at Texas.
The Case of the Head Coach In Waiting sounds like a Hardy Boys mystery, but it's no novel under a mountain of dust in the corner of the attic. It was a novel concept at the time, though, and the way it turned out has been debated ever since.
"When there's a head coach in waiting, there's a lot of questions that go with it. First is, 'When is coach Brown leaving? Second is, 'Do we really want this guy taking over our program?'" Muschamp said. "And they're fair questions, and they're hard questions."
The two met in Charlotte on Friday as part of a promotion for the Aug. 31 Belk College Kickoff, when Muschamp's South Carolina Gamecocks will battle Brown's North Carolina Tar Heels. The game has long been in the works, but it got a lot more interesting when Brown was hired as UNC's coach for the second time, each stint bookending his time at Texas.
Brown hired Muschamp as the Longhorns' defensive coordinator in 2008, tabbed him as the head coach in waiting within 10 months and publicly labeled it a mistake years later. The error wasn't in hiring Muschamp — he constructed elite defenses that were the best in the Big 12 in 2008 and '09.
But naming him the future head coach and then seeing Texas stumble in 2010 led to questions about the program's stability. Then Muschamp bolted to become Florida's head coach, leaving Texas with no return on its investment.
Many people saw it as the turning point in Brown's Texas tenure. Others argue Muschamp had little to do with the demise of Brown or the Texas program.
"That doesn't hold water. The downfall still happens," said Mike Finger, columnist for the San Antonio Express-News. "The Will Muschamp stories have nothing to do with Texas' problems developing quarterbacks or recruiting quarterbacks."
Riding to the rescue
Much like Brown did when restoring Texas from the malaise of the David McWilliams/John Mackovic eras, Muschamp immediately turned things around when he was hired as Texas' defensive coordinator. The Longhorns had good defenses in the previous years, but had problems keeping the guys who constructed them.
They didn't want to lose another great assistant right when they were about to get back in the championship race.
"It was clear that Muschamp was the next hot commodity," Finger said. "But you couldn't just give him a big raise. They had to show commitment."
The season wasn't even over before Brown made his move.
"Coach Brown came into my office and just kind of presented it to me," said Muschamp, who was on his eighth coaching stop in 13 years. "Any time you can try and offer yourself some security for your family and to be at a place where you enjoy working, that's something I really did enjoy. It was a very unique situation so we pretty much jumped at it."
It was curious, as Brown was only 57 and just three years removed from a national championship. He even pointed out that he had eight years left on his contract and it wasn't going to be any retirement tour. He would coach until he felt it was time to go and then it was Muschamp's turn.
Texas finished 12-1 that season. The next was grander, as the Longhorns earned a shot against Alabama for the national title.
Quarterback Colt McCoy hurt his throwing arm on the game's first drive. The Longhorns lost 37-21.
The questions began to simmer.
Do we really want him?
The defense was fine. The offense was suffering.
A home loss to a UCLA team that would win four games started it. A narrow defeat in the Red River Rivalry. Another bad loss to another bad team (Iowa State went 5-7 in 2010).
"You can't trust your team," Brown said then. "You can't trust your coaches when they're not getting things ready to go."
Brown was frustrated and later admitted he let the Alabama loss linger through the next year. He apologized to the team and coaches for his post-Iowa State comments but the questions were coming more often.
Has Mack lost it? Is it Will's time? Does Texas really need Mack or Will instead of some fresh blood?
"When you're winning, it's a good thing. In our third season, we didn't have a good year," Muschamp said. "Any time you face some adversity, it's frustration coming out. Until you've been in that head coaching chair, you really don't know. Certainly having been in it now going into my eighth season, I understand his frustrations."
"In retrospect, with how bad they were offensively, it's hard to say things would have been much different had they never given Will that tag," Finger said. "It was just unrealistic to think somebody could be a head coach in waiting as long as they expected to. Mack did not expect to retire in the next two to three years. It was unrealistic to think he would ride that cache forever and unrealistic to think Will wouldn't leave. But it didn't bring down the program."
The questions didn't bother Brown or Muschamp much because they simply didn't hear them, engrossed as they were in the grind of the season. When the 5-7 year ended, Muschamp began to hear the chatter, but he wasn't looking to leave. And Brown was blaming himself for not getting over the Alabama loss, not for the coach-in-waiting tag.
Fate arrived in the city that never sleeps. Muschamp and his wife, Carol, were in New York for a postseason award ceremony where Texas defender Sam Acho would receive the Campbell Trophy. It was a Wednesday.
"We were touring New York City, walking around, and (Florida athletics director) Jeremy Foley called me. He wanted to come to Austin to interview," Muschamp said. "I went back to coach Brown, he and I talked about the opportunity, and he encouraged me to interview for the job."
Muschamp interviewed on Saturday. That night, he was offered the chance to be head coach at Florida.
"I was covering a Texas basketball game that night and was completely blindsided by it," Finger said. "I heard nothing from the Texas side at all, with as many leaks as it has, as many people who like to talk, was kind of stunning.
"But it made sense. Sure, Will was the head coach in waiting at Texas, but he could have Florida now."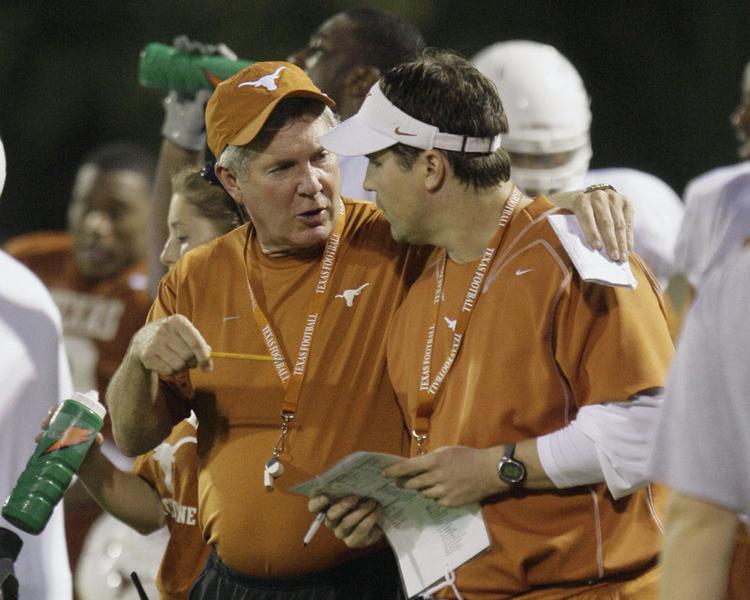 Mistakes?
In 2016, three years after Brown's Texas tenure ended with an 8-5 season, he told The Oklahoman that the head coach in waiting tag was a mistake.
"That sent a message to people that I was ready to get out of coaching, and that wasn't why we did it," he said. "Since that time, it wasn't as much fun because there was a thought, an underlying thought, that I was wanting to get out of coaching because of the move that I made."
The tag made no difference until Texas had a bad season. When Muschamp left, he did it for the opportunity at Florida, not because of animosity toward Texas.
That the Longhorns under Brown never got back to national prominence wasn't due to the label. As Finger said, it was more they weren't good offensively and some high-profile QBs didn't pan out.
Muschamp lumped himself into the struggle of 2010 and never thought his status as the next head coach had anything to do with it. Again, they won — and won a lot — immediately after that announcement.
"We all shared responsibility," Muschamp said. "It was just something that seemed to be a very positive, stability-offering situation for everybody. We were rolling, and then it becomes difficult when you're 5-7."
Lingering questions include what would have happened if McCoy doesn't get hurt and Texas beats Alabama for the national championship. Does Brown retire on top and Muschamp takes over?
No sense asking or wondering. All that's known is what happened. Brown didn't get to end it the way he wanted, and Muschamp's stint at Florida didn't work out.
The two have periodically spoken since Texas, and reunited when Muschamp was at Auburn and Brown was one of the TV announcers for the Auburn-Kentucky game. Muschamp heard the UNC-Brown reunion rumblings during last year and congratulated him when it happened, although he knew he'd be facing his old boss very soon.
"Will and I have been friends a long time. We won a Fiesta Bowl in one of those years and played for a national championship in another one of those years," Brown said. "Never like to coach against your friends but that's just part of the deal."
He's also kept an eye on his former assistant.
"When you take the head coaching role instead of the defensive coordinator role, you get the entire program. So you get everybody's issues and you usually don't get to enjoy everybody's positives," Brown said. "I think Will learned so much at Florida and he's probably taken some different tactics at South Carolina that have worked really, really well. He's much more settled now. He's still passionate, but he's controlling everything now where at Texas, he just had the defense. So he could go crazy, and go wild and butt his head on the sideline, get the blood coming down."
They won't be any of that on either side Aug. 31. But it will bring memories of the time when, if some things had gone differently, Muschamp would have started his head coaching career wearing the orange of Texas instead of Florida.