COLUMBIA — Kevin Garnett was going to be a Gamecock.
Well, most likely.
"We were really blessed because he was really good friends with Hagen Rouse and he was real good friends with William Gallman. I'm not saying yes, he would have come, or no, he wouldn't have," Mac Credille says. "In my heart, I'm going to believe because of those two guys and the ties that he had to South Carolina, it's a very good possibility he would have made it here."
C'mon, Mac. Kevin Garnett? The future no-doubt Hall-of-Famer? The man who when he retired three years ago, had earned more salary than any other NBA player ever?
That guy was going to be a Gamecock?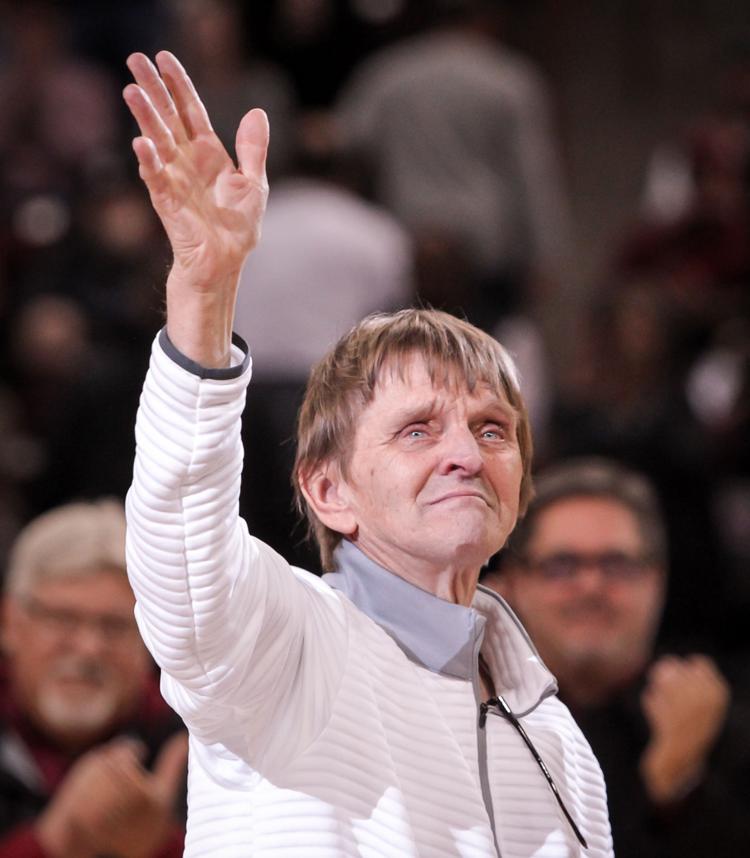 There's no sly smile, no wink as Mac tells the story. He says it with such conviction, borne of 43 years service as USC's equipment manager, that you know it's got an awful lot of truth to it. And Mac, who was closer than anyone else to Gamecock basketball and is as vital to the program's history as any coach or player, was there.
Who you think set up the gym for Garnett's visit?
"It's kinda funny, the court wasn't down at the (Carolina) Coliseum back then and we really didn't have a place to play. So we took the team right beside the president's office on the Horseshoe and played in the Navy ROTC armory," Mac said. "They kept it very low-key because he didn't want anybody to know."
Besides the jaw-dropping wonder of the story and a vicious wince over what might have been — Garnett would have been a freshman for the 1995-96 season, a year before the Gamecocks won their only SEC regular-season championship — one wonders how many more yarns Mac can spin. A familiar sight trundling carts of jerseys and Gatorade through the bowels of Carolina Coliseum and Colonial Life Arena, clad in a collared shirt and khakis with a ring of keys dangling from his belt and a familiar, "Hey, buddy!" when he passed, Mac's knowledge is unsurpassed. 
He knows. Everything. Where every skeleton is buried. Where every legend began.
He was born George McBride Credille Jr., but he's Mac, always Mac, forever Mac. His life and career have been about being there at USC, with a towel or a tale, whenever he's been needed.
That was Mac holding court at Legends Weekend, when every former player was gathered around telling him he was the best. It's Mac who has a men's basketball manager scholarship named for him. It was Mac who Sindarius Thornwell credited before the Gamecocks began their stunning run to the 2017 Final Four, saying, "We all have a relationship with him, and how much he loves and cares for the program, and the work he puts in, goes unnoticed. And if we win it will really just be for Mac."
It's Mac who Heisman Trophy winner George Rogers, the most recognized athlete in USC history, called the pride and joy of South Carolina.
"Mac saves all of us on a daily basis," Frank Martin said in January, recalling his first summer at USC when he, as a complete stranger to South Carolina basketball and all its high school coaches and players, was trying to meet as many people as possible. "We had team camp weekend, Friday night, 100 teams here. The last game ended at 10 p.m. I walk out, walk through the Coliseum … there's no one in the gym but Mac.
"There's paper cups everywhere, tape everywhere … and he's on his hands and knees drying up a wet spot. I walked up, 'Mac, c'mon, it's 10:30 at night, it's OK.' He looked at me dead in my eyes and said, 'Coach, this is my job.'
"I've opened the locker room door to go change and he's sleeping on the couch because he was in here till 4 in the morning doing laundry so everybody, coaches included, could have clean clothes the next day."
Mac, 67 in October, retired in December. But he's not really away.
The practice gym needed to be set up for camps this summer so he was back at Carolina Coliseum, bustling and helping as usual. His main gig these days is helping his wife take care of her family and the two toddlers she babysits.
But the stories?
Oh, the stories.
• Mac knew Bobby Cremins wasn't staying at USC before anyone. "I spent the first two days with him. He'd come in at 9 a.m. and leave at midnight. That Friday, he leaves at noon. I took his luggage to his car and of course, he doesn't come back. I know that was the hardest decision he ever made. And I know the heartache that's caused him since he left."
• Mac knew that Eddie Fogler was already high on the Gamecocks' wish list even before they hired the ill-fated Steve Newton. When Cremins departed, Fogler's visit to USC was kept in utmost secrecy, a car with tinted windows driving him into Carolina Coliseum.
"Only reason I was there was to turn the lights on and shut the door. Then he got out, saw me and said, 'I know him, he showed me around before.' I said, 'Maybe I'll keep my job.'"
• Mac knew that Johnnie Wright was brought to USC with the intention of replicating the 1975 backfield, that of Kevin Long and Clarence Williams, who each rushed for 1,000 yards that season. Wright played three years alongside Rogers and had 903 yards in 1978.
"That's the way they were designed to run. Johnnie was more of a skinny running back, but he was hurt a lot."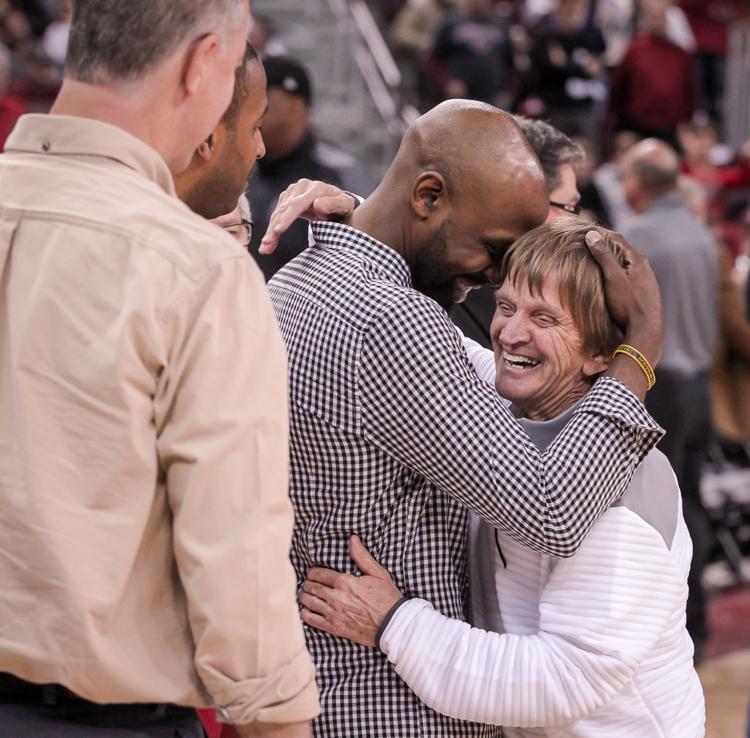 Mac was born in Columbia to a war-hero father he never knew — George Sr. died from a heart attack when Mac was just three weeks old — and was raised by a loving family who "just made sure I was OK."
An opportunity to work with the JV basketball team in high school turned into a lifetime career, aided by late Midlands prep legend Harry Parone, a father figure who was the best man at Mac's wedding.
That turned into a job at USC's Blatt P.E. Center, which became an invitation to join coach Jim Carlen's football support staff in 1975. "We go down the field and score to take the lead and of course, Lou Holtz is the coach over there," Mac said of his initial game against N.C. State. "Jeff Grantz comes off the field and looked at coach Carlen and said, 'I'm really sorry, we scored too quick.' Of course he was right. They came down the field and scored and we lost."
Mac pulled double duty with football and basketball until the early 1990s, when he crossed over to basketball full-time. He's been there for five coaches (six counting Cremins) and seen what most of the world has seen.
"Every one of the coaches, one or two things hadn't happened, who knows what would have happened," he said.
• Newton got in hot water for junior-college transfer Cortez Barnes living in a USC dorm while not being officially cleared for admission. "You know it's against the rules," Mac said, "but try to be realistic. The kid's going to turn down a room?"
• Darrin Horn, after winning USC's last SEC East championship in his first year, was gone after his fourth. "Once Ramon Galloway left, he basically lost his whole starting five (Bruce Ellington, Galloway, Murphy Holloway, Anthony Gill, Damontre Harris). Who can win after that?"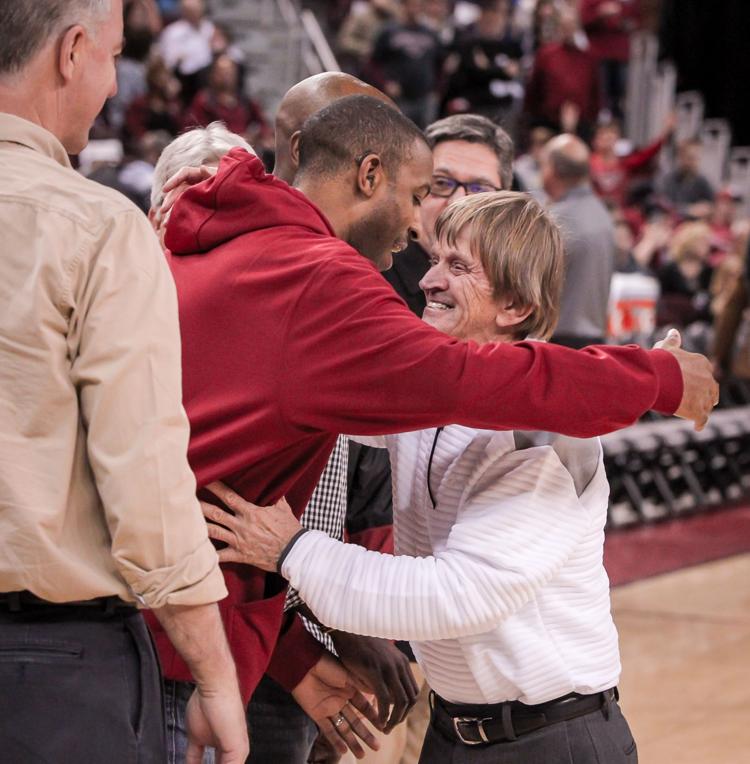 The end of Horn's tenure led into Martin's rough start at USC. But that led into his glorious fifth year, when it ended in a spot not many ever thought possible.
And that started with Mac. Heading into the coaches' locker room in Greenville before USC's first game of the 2017 NCAA Tournament against Marquette, former assistant coach Matt Figger was waiting. He told Mac some unexpected news.
"Figgs said, 'You're going to talk to the team this morning,'" Mac recalled. "I said, 'No, I do not want to do that!' He said, 'I'm gonna make you do it.' We finally agreed."
Mac spoke from his heart. He looked at senior Justin McKie, whose father BJ is USC's all-time leading scorer but has to wear a shocking NCAA Tournament loss to 15th-seed Coppin State for the rest of his life. He told him his dad would never get this chance again, and wouldn't it be great for son to get what Dad never could?
"I told them, 'You know what? I'll probably get in trouble for saying this, but don't even worry about winning or losing, just go have a good time. And if you win, you'll do something no other team has done in a long time and everybody will love you and never forget you.'"
And in classic Mac style, he had a kicker.
"And if you lose, heck, I think we've done that before."
That one got a write-up in the paper after the Gamecocks beat Marquette. Dawn Staley, on her way to the national championship, kidded Mac about it, saying she never got a game dedicated to her.
"When you know the ins and outs of each program, and not just the programs, but specifically he knows players and how they like things," she said when Mac retired. "One of our staff members forgot our scouting reports when we were at the SEC tournament. Made one call. Mac. Got it the next day."
Those are the stories that make Mac, well, Mac. The guy that's been there for all of it, from every time glory was right there for the taking, only to be harshly snatched away, to the moment when USC was standing there, one of the last four teams still dancing.
He'll still be there, front row, at most every game, most every sport, forever. One just doesn't fade away after 40 years of loyalty, of giving every bit of heart and love he had as any kid that ever wore the uniform.
"I can honestly tell you if it hadn't been God's grace watching over me and taking care of me, I wouldn't be where I am today," Mac said, choking back his emotions. "I'm not the smartest guy in the world but I try hard and I care about people."
You can cheer for a guy like Mac. So many did at Colonial Life Arena on Feb. 9, when during Legends Weekend he was introduced alongside the players and coaches he served. He was presented with his own framed jersey.
Mac deserved that No. 1.