COLUMBIA — Seventh Woods is coming home.
Finally.
Three years after he chased his lifelong dream of playing at North Carolina over the lure of South Carolina, the once-fabled Palmetto State phenom is a Gamecock. Woods, who announced his transfer from the Tar Heels in April, posted an Instagram story of himself holding his brand-new USC student ID card.
His commitment was confirmed by a source close to the program.
The Gamecocks were thought to be a strong possibility for Woods as soon as he left UNC. He and Gamecocks head coach Frank Martin built a close relationship during his recruitment, so close that USC battled UNC for his services in the hours leading up to his announcement. Woods prepped at Hammond School, a mere seven miles from USC's Colonial Life Arena.
There was only one problem with getting Woods at USC this time around. The Gamecocks only had one available scholarship and needed a big man, not a point guard, after forward Felipe Haase transferred to Mercer. The USC used that scholarship on Tennessee Tech graduate transfer Micaiah Henry.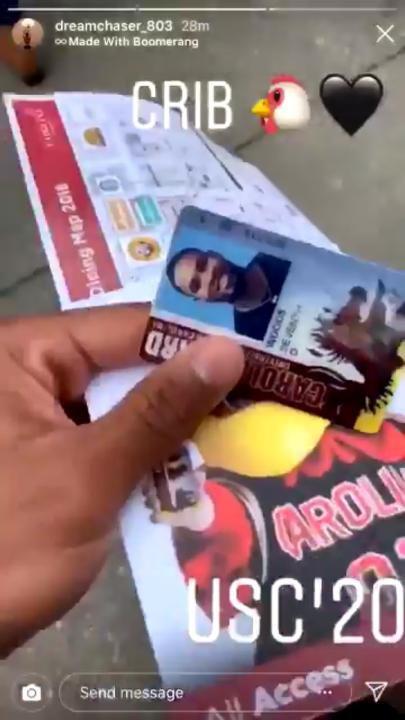 Woods is ineligible for the 2019-20 season after transferring. He will pay his own way at USC this year and play his final season in 2020-21 on scholarship.
The Gamecocks are set to have two open scholarships after this year, when Henry and Maik Kotsar depart. They could have a third if sophomore A.J. Lawson heads to the NBA, where he is projected by some as a first-round pick.
Woods was a celebrity at age 14 thanks to an Internet highlight reel that showed him dunking all over his opponents, but he never lived up to his immense promise at UNC. While he did win a national championship with the Tar Heels in 2017 (coincidentally as USC was in the same Final Four), Woods' career-highs were each set last year, when he averaged 2.5 points and 2.1 assists.
Nagging injuries sapped his production — a broken wrist, knee injury and sprained ankle occurring throughout his last two years of high school and before his freshman year at UNC. Then he had a stress fracture in his foot that held him to 20 games as a sophomore, which triggered criticism from coach Roy Williams.
Williams noted that Woods made "poor decisions" and also said he could call him Fifth or Sixth since Seventh hadn't shown up yet. He was beaten out for the starting point guard spot last year by Coby White and with two other highly rated guards coming to UNC next season, it didn't appear as if his minutes would rise.
A fresh start and a year to get healthy could be exactly what Woods needs. And there is a pedigree to follow — Larry Davis chose UNC out of Denmark-Olar High, was a backup guard on the Tar Heels' 1993 national championship team, then came home to help USC win its only SEC regular-season championship in 1997.