Alshon Jeffery was linked with Sterling Sharpe before he lined up for his first South Carolina Gamecocks snap. Jeffery wore No. 2 as a recruiter's magnet at Calhoun County High School. He expected to keep wearing his favorite number as a Gamecock.
One slight problem: head coach Steve Spurrier didn't consult Sterling Sharpe before telling Jeffery he could have No. 2. It was retired at South Carolina in Sharpe's honor in 1987, just after Sharpe completed a remarkable college career.
Sharpe rejected the idea.
So Jeffery, while wearing jersey No. 1 from 2009-11, helped the Gamecocks win their first SEC East title and notch the first of three straight 11-2 seasons. He is South Carolina's leader in receiving yards (3,042) and is tied with Sidney Rice for tops in touchdown catches (23).
Sharpe remains third in receiving yards (2,497) and catches (169). Only running backs George Rogers and Brandon Bennett and wide receiver Robert Brooks have more all-purpose yards as a Gamecock than Sharpe (3,947), who was a terrific punt and kick returner while playing for Joe Morrison from 1983-1987 (he redshirted in 1984).
So the biggest question within a list of top 10 South Carolina wide receivers:
Who is No. 1, the guy with jersey No. 2 or No. 1?
Perhaps there is no right answer but there is separation between the top two and all the arguments below:
1. Sterling Sharpe
Joe Morrison's run-and-shoot offense with Todd Ellis throwing and including Stratford High School graduate Harold Green at running back was innovative and receiver-friendly.
But Sharpe, who grew up with his brother Shannon in rural poverty near Glenville, Ga., was a team leader. He impacted games in many ways, leading the Gamecocks in receiving, punt returning and kick returning in 1987.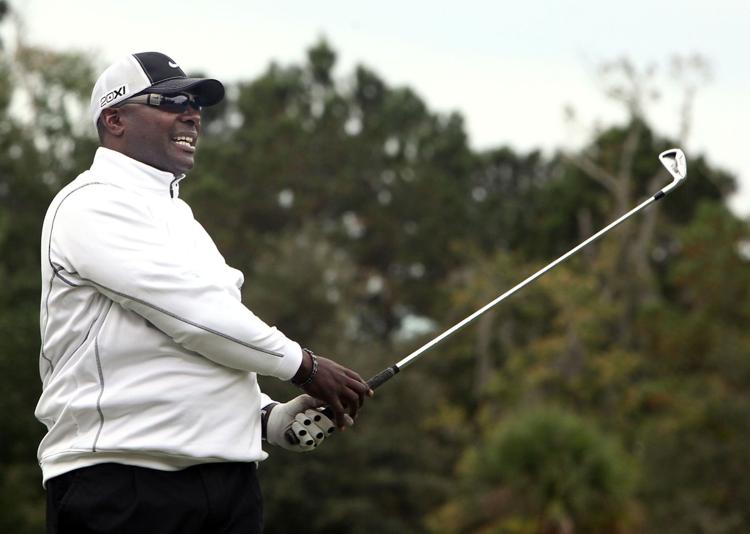 In one of the most sadly ironic plays in NFL history, Sharpe's first-ballot Pro Football Hall of Fame track as a Green Bay Packers All-Pro was derailed by a collision with Atlanta Falcons safety Brad Edwards, a former Gamecock teammate. Sharpe went on to a broadcasting career and was his brother Shannon Sharpe's Hall-of-Fame presenter.
2. Alshon Jeffery
He is etched into Gamecock lore, out-muscling Alabama defensive backs for a pair of touchdown catches in that 35-21 upset of the No. 1 Tide at Williams-Brice Stadium in 2010. Always a winner, the 2018 Super Bowl champ had 12 100-yard receiving games at South Carolina, a school record.
The 6-3 go-to guy opened up the running game for Marcus Lattimore, who made safeties cheat up to benefit Jeffery.
3. Kenny McKinley
The late McKinley is honored inside Williams-Brice Stadium as South Carolina's career leader in catches (207 from 2005-08). A native Georgian, he took full advantage of Steve Spurrier's efforts to open up the Gamecock offense, served as a 2008 team captain and played in three bowl games.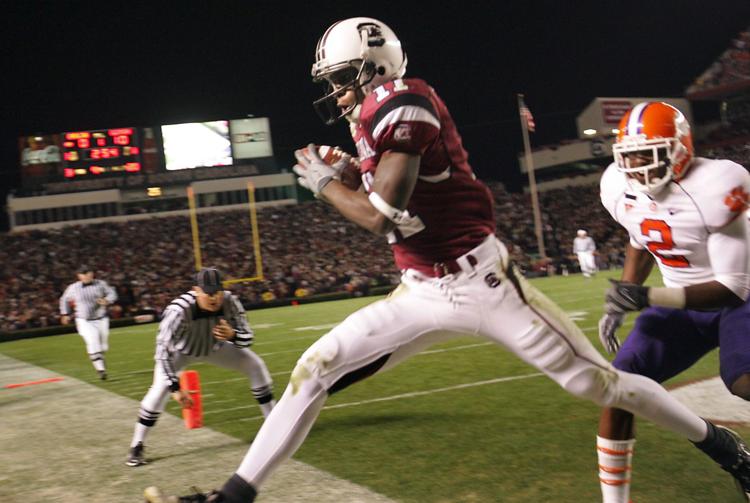 McKinley's 77 catches in 2007 set a school single-season record broken three years later by Jeffery. And talk about smooth consistency: 43 straight games with a catch remains a South Carolina record.
4. Deebo Samuel
It's more than just good hands that made Samuel a San Francisco 49ers' second-round draft pick in May. He scored 28 touchdowns at South Carolina, fourth on the career list. He is eighth in all-purpose yards. He can return kicks, run from scrimmage, throw touchdown passes.
Samuel is eighth among Gamecocks in career receptions (148) and 10th in receiving yards (2,076)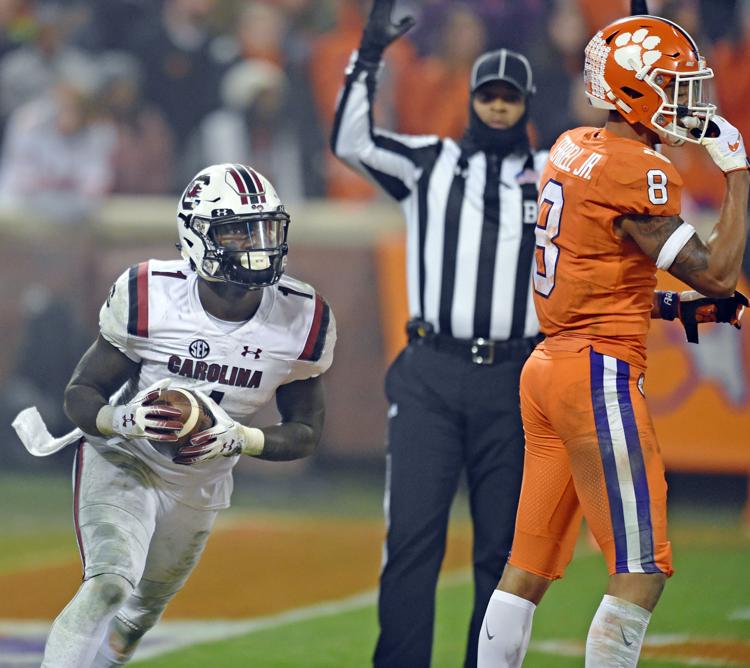 5. Robert Brooks
Before he popularized The Lambeau Leap, Brooks led South Carolina in catches three years in a row. From Greenwood High School to Green Bay, he made clutch catches — like the one-handed touchdown trick in a 1988 win over Georgia. Brooks, who followed Sharpe at South Carolina and in Green Bay, is tied for No. 3 at South Carolina in touchdown catches (19), No. 6 in catches (156) and No. 6 in receiving yards (2,211).
Most impressive: No. 3 in all-purpose yards (4,301) behind only George Rogers and Brandon Bennett.
6. Sidney Rice
Sidney, we hardly knew ye. Because Lou Holtz redshirted Rice as a freshman after he injured a knee just before an early-season game vs. Georgia, the Gaffney High School graduate played only two college seasons. That's all it took for Rice to catch 142 passes (No. 10 on the South Carolina career list) for 2,233 yards (No. 5) and 23 touchdowns (tied with Jeffery for No. 1).
The Minnesota Vikings' second-round pick in 2007 played seven NFL seasons. But for Gamecocks' sake, a two-year player was not quite as valuable as a three-year or four-year star.
7. Bryan Edwards
And not done yet. The senior from Conway is already No. 5 on the school receptions list at 160. That's 47 behind leader Kenny McKinley, and Edwards snagged 55 passes last year.
The big target is also seventh in receiving yards (2,192) and tied for ninth in touchdown catches (16).
So far.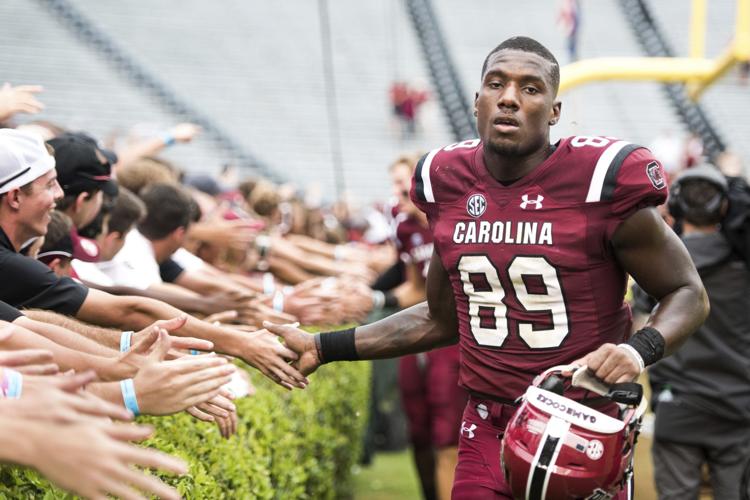 8. Fred Zeigler
From tiny Reevesville in Dorchester County, Zeigler went on to become a prominent Columbia attorney. He caught 146 passes for the Gamecocks from 1967-69 and left college as South Carolina's career leader in catches (now No. 9).
Think relative impact: Zeigler caught 59 passes in 1968, nowhere near the 88 Jeffery caught in 2010 but 21 more than anyone else in garnet caught in any previous season. The record stood until Sharpe snagged 74 balls in 1986. Zeigler was also Tommy Suggs' favorite target in 1969, catching 52 passes as South Carolina won the ACC championship, still the school's only conference title in football.
9. Pharoh Cooper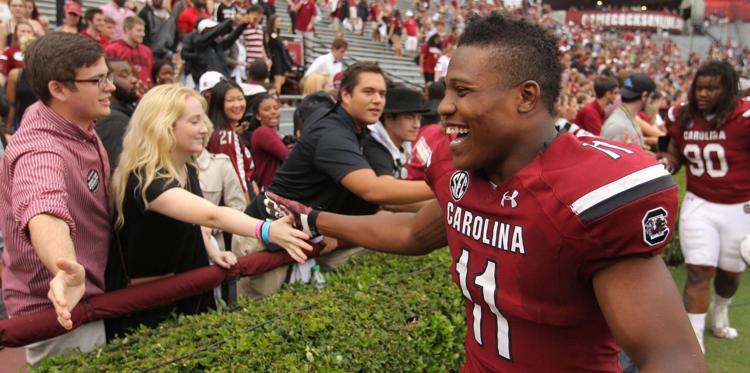 How versatile? He threw a 26-yard touchdown pass to Brandon Wilds in a 31-17 victory over Clemson in 2013. The Havelock, N.C., native led South Carolina in receiving twice, punt returning three times and kickoff returning once on his way to the Arizona Cardinals. He is No. 11 on the career receptions list (138), No. 10 in receiving yards (2,163).
10. Zola Davis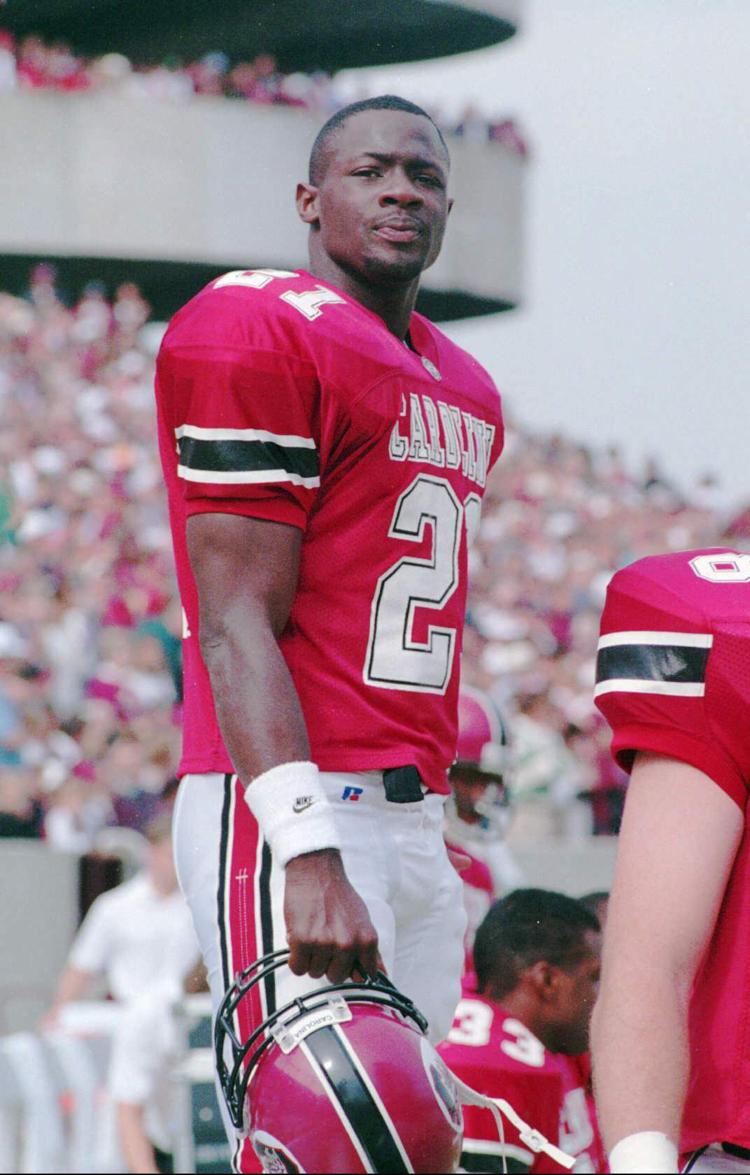 The Burke High School graduate gets the edge over Jermale Kelly and Bruce Ellington (Berkeley High School). He was a favorite target of Steve Taneyhill and Anthony Wright from 1995-98, finishing his Gamecock career as a team captain. And with 164 catches (No. 4 on the career list), 2,354 receiving yards (No. 4) and 17 touchdown grabs (tied with Sharpe at No. 7).
Davis caught 14 passes for 206 yards against Vanderbilt.
Follow Gene Sapakoff on Twitter @sapakoff