COLUMBIA — As long as they woke up, does it matter how much time it took them to do so?
South Carolina won the game. If that's all that can be taken from Saturday's 24-7 victory over Vanderbilt (and there is much more), well, at least there's that.
Rotten first quarter with terrible penalties at even worse times, another offensive production that made me wonder if there is an actual defined plan, then a dominant defensive game and just enough points to get by. The Gamecocks kept their bowl hopes alive and for a season that I expected to top out at 6-6, they're still on track to hit that.
I realize there are many of you who are grumbling that USC should look much better than it does or how they're surviving rather than winning, but that's the situation. Critiquing the way the Gamecocks win instead of simply being glad they won is like claiming you can't listen to such a maudlin 90s band like Third Eye Blind but then downloading that three-song EP only the fan club knows about.
7 Takeaways from Gamecocks-Vanderbilt:
1. A switch to the same
The big offensive tweak was moving play-caller Bryan McClendon to the pressbox and putting quarterbacks coach Dan Werner on the sideline (McClendon moved to the sideline from the box nearly an exact year ago). The idea is that Werner could talk to Ryan Hilinski when he comes off the field and McClendon can get a broader view of the defensive alignments.
Did it work? By the numbers, sure. The Gamecocks had nearly a perfect split between 235 passing and 205 rushing. They played three running backs, plus a "runner" in QB Dakereon Joyner, and overcame the loss of Shi Smith with another Herculean game from Bryan Edwards and contributions from Xavier Legette, Josh Vann and OrTre Smith.  
But …
USC had three possessions touch within the Vanderbilt 10-yard-line and got 10 points. The Gamecocks couldn't pick up a fourth-and-1 inside the 25 (yes, there appeared to be a bad spot, but c'mon).
Kevin Harris' touchdown run in the second quarter was great but notice how USC was lined up ready to go tempo after Edwards had another could-have-been touchdown catch? They didn't seem to want to wait for the review, which is more puzzling than Ben Foster not getting Oscar-nominated for "Hell or High Water."
And check out that toss. Harris doesn't have on his flypaper gloves and that ball's an Andrew Pinnock all over again. 
Playing Joyner as they did seemed more predictable than shaking things up (good to use him, but it's obvious he's going to run; teams know he's the backup quarterback and USC can't risk him getting hurt at wide receiver). Employing Deshaun Fenwick and Harris was definitely effective, but how much of that was going against the SEC's worst defense?
There never seems to be a cohesive offensive plan. It's more, "These first 10 plays should hopefully get a touchdown, and then we'll wing it."
2. Dave Grohl fans
Fenwick talked to Will Muschamp about transferring because he was at-best fourth on the depth chart, and Muschamp talked him out of it. It's a credit to Fenwick and to Joyner that they both decided to stay instead of taking the easy way out.
Fans chirping that Muschamp should have seen Fenwick's ability earlier are the same that refer to foliage as "foil-age" and think one of The Who's greatest hits was called "Teenage Wasteland." He was behind Rico Dowdle, Tavien Feaster and Mon Denson and it's really hard to rep four backs. 
Be thankful that he's producing now, and that he (and Joyner) are jamming to the Foo Fighters' "I'll Stick Around."
3. Bryan Edwards
That man's so good Jerry Rice calls him just to ask what time it is.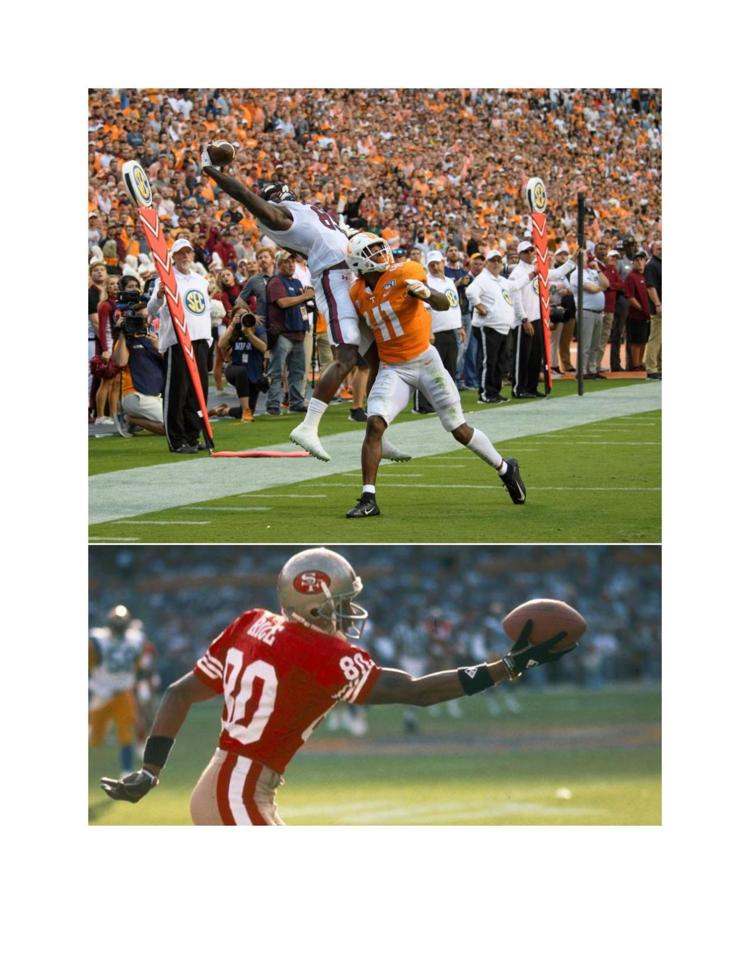 4. Anchored down
USC allowed 95 Vanderbilt yards in the first quarter and 94 in the following three. Vanderbilt was without its best receiver and down to its third-string quarterback, but that's still impressive.
The tackling has improved, Aaron Sterling had two sacks, USC had six tackles for loss and the Gamecocks picked off two passes. That can only help going forward … and if the offense keeps sputtering along on two healthy sparkplugs out of six, the defense is going to need that confidence.
5. A Steve Shaw Special
He's the head of SEC officiating. The Gamecocks had an axe sharper than Paul Bunyan's to grind after the officiating in the Florida game, and expressed that.
Not saying there's a vendetta against USC, but 11 penalties to two on Vanderbilt?
Perhaps the Gamecocks need to find ways to disguise their holds better than a Commodores offensive line that couldn't do squat for three quarters, yet All-American USC defensive lineman Javon Kinlaw only had one tackle.
6. Medic!
It's the law of USC football these days (and really, most USC sports). There are going to be injuries, and several of them.
The Gamecocks lost four more Saturday night. Shi Smith and Jaylen Nichols were out before the game, and Nick Muse and Josh Vann joined them during it. Muschamp announced Sunday night that Muse (torn ACL) and Vann (broken hand) are out for the season, although Vann could return for a bowl game. 
It's football and injuries happen. The Gamecocks certainly seem to have more than their share. All this focus on nutrition, hydration, rest and practice habits and they still occur.
It's really a mystery how other schools avoid it.
7. Rope-a-dope
The Gamecocks had to win Saturday to feel good about their bowl chances and did so. They need to do it again next week.
Who knows where Appalachian State's mind is after blowing a potential Cotton Bowl bid this week? The Mountaineers will certainly want to win at Williams-Brice Stadium but will the Georgia Southern loss turn into another defeat?
USC can win that game. It can also win at Texas A&M on Nov. 16, as the Aggies look rather ordinary. Those two wins equal a bowl game and the quieting of Muschamp rumors.
The Gamecocks are a flawed team and I realize that this season simply ending in a bowl will cause some teeth-grinding. But, and I ask in all sincerity, when has USC football ever been at a point where it can discount going to a bowl game?
Here, enjoy some Green Day.