It's no contest if you add up all the national championships the elite group would eventually compile in the SEC or elsewhere.
The SEC's collection of head football coaches going into the 2009 season included five national title winners and 12 total championships: Nick Saban (6), Urban Meyer (3), Steve Spurrier (1), Les Miles (1) and Gene Chizik (1).
Ten years later, the title total for active SEC coaches has been reduced to Saban's six, Texas A&M head coach Jimbo Fisher's 2013 crown won at Florida State and a lot of prayers (and the Aggies weren't even in the SEC in 2009).
Arkansas, once formidable under Bobby Petrino, is a major rebuilding project for Chad Morris.
Ole Miss, back-to-back Cotton Bowl winners under Houston Nutt, will be hard pressed to reach the Independence Bowl this year.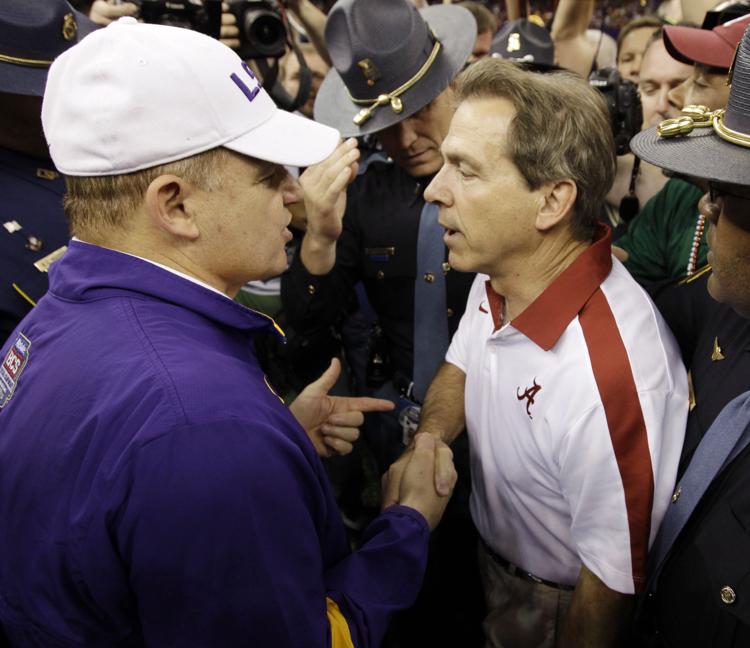 Side-by-side SEC football coach comparisons make for such great summer reading.
The 2009 vs. 2019 run-down, including 2012 additions Missouri and Texas A&M:
SEC WEST
Alabama
2009 Nick Saban, 2019 Saban. Edge: Even.
Arkansas
2009 Bobby Petrino, 2019 Chad Morris. Edge: Petrino
Auburn
2009 Gene Chizik, 2019 Gus Malzahn. Edge: Malzahn (Chizik won a national title but Malzahn was a big part of that and gets points for endurance)
LSU
2009 Les Miles, 2019 Ed Orgeron. Edge: Miles
Mississippi State
2009 Dan Mullen, 2019 Joe Moorhead. Edge: Mullen
Ole Miss
2009 Houston Nutt, 2019 Matt Luke. Edge: Nutt
Texas A&M
2009 Mike Sherman, 2019 Jimbo Fisher. Edge: Fisher
SEC EAST
Florida
2009 Urban Meyer, 2019 Dan Mullen. Edge: Meyer
Georgia
2009 Mark Richt, 2019 Kirby Smart. Edge: Smart
Kentucky
2009 Rich Brooks, 2019 Mark Stoops. Edge: Even (Brooks was 16-39 in SEC games and 3-1 in bowl games over seven years, Stoops is 17-31 in the SEC and 1-2 in bowl games over six years)
Missouri
2009 Gary Pinkel, 2019 Barry Odom. Edge: Pinkel
South Carolina
2009 Steve Spurrier, 2019 Will Muschamp. Edge: Spurrier
Tennessee
2009 Lane Kiffin, 2019 Jeremy Pruitt. Edge: Kiffin (Kiffin was 7-6 in his lone tumultuous year at Tennessee and Pruitt remains unproven)
Vanderbilt
2009 Bobby Johnson, 2019 Derek Mason. Edge: Even (Johnson was 12-52 in SEC games in eight years at Vandy, Mason is 9-31 in five years)
Total 
The 2009 class defeats the 2019 class, 8-3, with three ties.
Not surprising. The SEC in 2009 was in the midst of its seven-year national championship streak (2006-2012).
Case closed?
Maybe not quite.
Strange things happen to group pictures.
Petrino and Nutt
The Class of 2009 didn't look as good going into the 2009 season as it does a decade later.
What looked formidable on paper in 2009 was diminished when Nutt's Ole Miss tenure ended with vacated wins and Petrino was forced out at Arkansas after the revelation of an improper relationship with a staff member.
LSU power brokers tried to fire Miles before finally succeeding.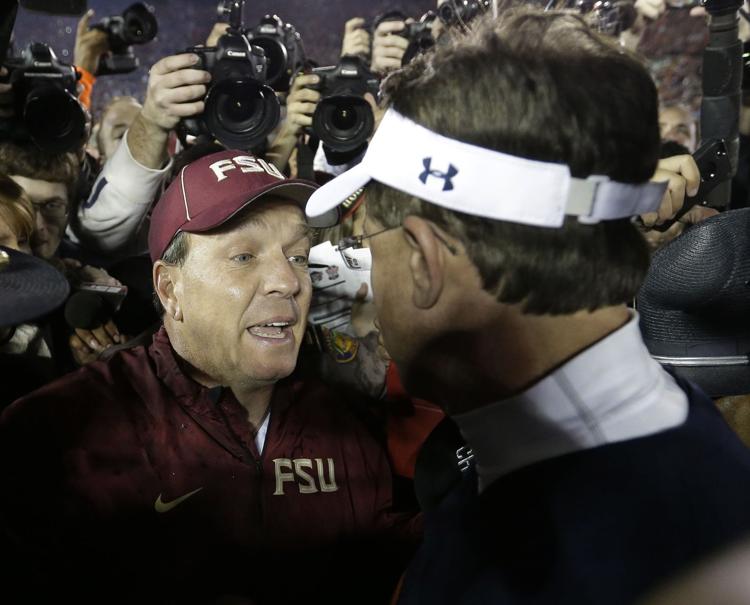 Mostly, a lot of the punch in the 2009 group came later, which means potential is important when evaluating the Class of 2019.
For instance, eight SEC teams finished in the top 25 of the Sagarin computer poll in 2018 (1. Alabama, 4. Georgia, 8. Mississippi State, 12. Texas A&M, 13. Florida, 14. LSU, 15. Auburn and 18. Missouri).
Only six programs now in the SEC were in the top 25 in 2008 (1. Florida, 6. Alabama, 10. Ole Miss, 18. Georgia, 19. Missouri and 21. LSU).
Of course, the SEC is all about major achievements, not mere computer ranking mentions.
Begging the question: Which 2019 head coaches have eventual College Football Playoff potential with their current programs?
Playoff possibilities
Handicapping playoff possibilities, if not this year, at some point during the mostly tenuous tenures of these coaches:
Near lock
Nick Saban, Kirby Smart
Knocking on the door
Jimbo Fisher
In the mix
Gus Malzahn, Dan Mullen, Ed Orgeron
Outside shot
Joe Moorhead, Chad Morris, Will Muschamp, Barry Odom, Jeremy Pruitt, Mark Stoops
No chance
Matt Luke, Derek Mason
Remember Spurrier's Gamecocks, ye of moderate faith.
The Head Ball Coach entering the 2009 season hadn't won more than eight games in a year at South Carolina. He was 1-3 against Clemson. But unprecedented Gamecock glory was just around the bend, the start of a five-game win streak against the arch-rival Tigers during a stretch that included an SEC East title and three straight 11-2 seasons.
In the final analysis, however, the best way to judge the SEC's 2019 head coaches isn't a comparison to 2009.
It's what we think looking back from 2029, when Nick Saban is retired and Steve Spurrier is coaching in another start-up spring pro league.
Follow Gene Sapakoff on Twitter @sapakoff