HOOVER, Ala. — Unlike most head coaches that dropped by the Wynfrey Hotel for SEC Media Days this week, Will Muschamp took a rip at his starting quarterback.
The black designer loafers were fine. Muschamp didn't have a problem with Jake Bentley's jacket and tie, either. Never mind that they were both (North) Carolina blue.
But those "high-water" pants.
And no socks.
"What is that?" Muschamp asked reporters Wednesday.
The coach, however, has zero problems with Bentley's quarterback strides this summer. Bentley might lose to Clemson for a fourth time in 2019 but he's already topped Tigers star Trevor Lawrence in the "Air It Out" competition at the prestigious Manning Passing Academy.
Now if Bentley can just keep improving, the most talented of Muschamp's four South Carolina teams should find relative success within one of the nation's toughest schedules. Which means seven regular-season wins.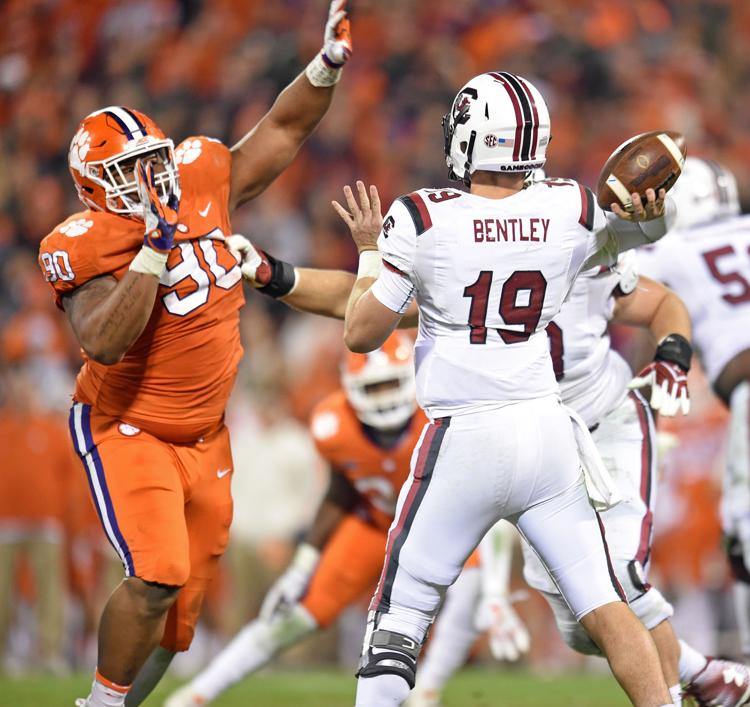 "Success for me," Bentley said, "is success for the team."
The 6-4, 220-pound senior has been a starter since mid-way through his freshman season in 2016. He has made gradual progress each year. He is 19-13 as a starter.
The big question for Bentley, for Gamecock Nation, for NFL talent evaluators: Is one more helping of gradual progress enough?
Or must Bentley make a more significant leap?
'Awesome' Manning camp
It was Bentley's third trip to the Manning Passing Academy, run by former NFL quarterbacks Archie Manning and Peyton Manning, New York Giants quarterback Eli Manning and football analyst Cooper Manning. Bentley's camp triumph came on June 29 at Nicholls State University in Thibodaux, La., when he nailed three moving golf carts with precisely thrown balls.
That beat more than 35 of college football's top quarterbacks, including Lawrence and Oregon's Justin Herbert (Alabama's Tua Tagovailoa was nursing a hamstring injury and stayed home).
"It's just an awesome experience every year," said Bentley, who roomed with Alex Hornibrook, a former Wisconsin and current Florida State quarterback. "To pick the brains of Eli and Peyton and then to be with the 40 quarterbacks that are there. We all face similar chances and experiences so just getting to be with them and see what they have to say is always good."
Archie and Cooper Manning texted Muschamp with praise for Bentley. They particularly liked his footwork, an area of off-season emphasis.
Sure, golf carts and Georgia defensive backs are different things.
South Carolina doesn't play Nicholls State this year.
But Bentley's Manning Fest fun was hardly stunning. The draft-eligible quarterback ranking put together by draftscout.com for Phil Steele's preseason college football preview has Bentley at No. 9.
It's more the frustrating inconsistency that bugs Gamecock fans and digs into Bentley's NFL standing. A school-record 510 passing yards in a 56-35 loss to eventual national champ Clemson at Death Valley was followed by a 28-0 loss to Virginia.
Even if South Carolina was missing key players Deebo Samuel and Zack Bailey for the Belk Bowl, that was unacceptable.
"The biggest thing I've told Jake is, 'Let's just take care of the football. Be more consistent with our decision-making as far as taking care of the ball,'" Muschamp said. "He's worked extremely hard in the off-season and I'm looking forward to his senior year."
Bentley agrees that the 14 interceptions of 2018 "can't happen" to a veteran SEC quarterback.
Car parts and socks
Other parts of the summer drill:
• Lots of time at QB Country in Mobile, Ala., with instructor David Morris, a former Ole Miss quarterback. Morris and Gamecocks quarterbacks coach Dan Werner are on the same page and speak regularly.
• Soaking up the wisdom of Bryan McClendon. The Gamecocks' offensive coordinator recently showed players a photo of every part included in a nice car.
The engine doesn't run, McClendon explained, without the $200 battery and $7 transfer wire.
"That hit me that everything's important," Bentley said. "Whether (wide receiver) Bryan Edwards is the battery or a third-string lineman is the $7 transfer wire."
But not every wardrobe item is critical.
Bentley joked Wednesday that he simply forgot his socks.
If that's Muschamp's primary issue with his quarterback for the rest of 2019, the Gamecocks will probably look sharp most Saturdays.
Follow Gene Sapakoff on Twitter @sapakoff