COLUMBIA — South Carolina's football team took a major hit Friday when senior tight end Kiel Pollard announced his playing days are over. Pollard cracked his neck last week in practice, and while an initial diagnosis had him back on the field in four to six weeks, a second opinion revealed it's unsafe for him to continue playing.
"Last week I did something that every football player knows not to do, I ducked my head while blocking. As I waited on the exam table I thought everything was straight," Pollard wrote in an Instagram post. "This week that changed when I found out that last Tuesday would be my last time playing football. Not that I'm not able, but that it's not safe for me to do so."
USC coach Will Muschamp said Saturday that Pollard was working through a stinger.
"However, during an MRI, the doctors discovered a cyst on his spinal cord, which appears to have been there since he was a child," Muschamp said in a statement. "The severity of the situation and the possible long-term consequences from that medical condition forced him to give up his playing career."
The injury further weakens a spot where the Gamecocks were already thin.
Muschamp said last week that Evan Hinson, Pollard's listed backup at one tight end spot, was out six to eight weeks due to a heart ablation procedure. Hinson had surgery Wednesday.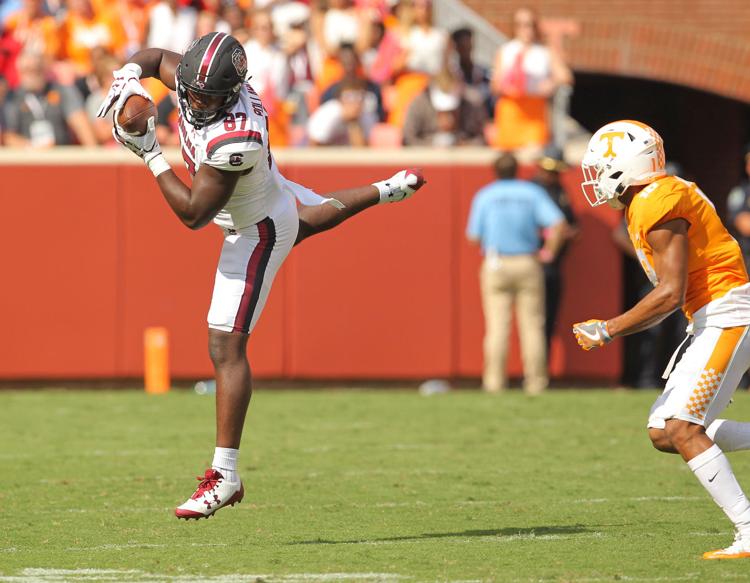 The Gamecocks, who often run sets with two tight ends, still have Kyle Markway, a seasoned veteran whose fourth-quarter catch set up Parker White's game-winning field goal over Missouri last year. Behind him is Will Register, a redshirt freshman who played in four games last year, and five others who have never played a down.
Nick Muse transferred to USC from William and Mary and hopes to be eligible this year, but an answer on his appeal to the NCAA has not been released. 
Pollard caught 15 of his 17 career passes last season for 181 yards and two touchdowns. He's long been noted as one of the Gamecocks' "glue" guys, a joyous presence in the locker room and an intensely hard worker.
"Please don't feel sorry for me because football has been good to me. Football has provided me with a great education in which I will be graduating in December this year!" Pollard wrote. "I am smart enough to know God doesn't give anyone a gift that he doesn't plan on using! So with that being said one chapter ends and another begins! 87 out."
Former AD McGee dies
Former South Carolina athletics director Mike McGee died at his ranch in Montrose, Colo., on Friday. He was 80.
McGee, who preceded Eric Hyman (who preceded current AD Ray Tanner) served at USC for 12 years (1993-2005). Under his watch, USC increased its athletic revenue from $18 million to nearly $53 million, built new athletic facilities and became a major player in SEC sports, particularly due to McGee's gift of finding the right coach.
Four of McGee's hires — Curtis Frye (track and field), Todd Sherritt (diving), Boo Major (equestrian) and Shelley Smith (women's soccer) — are still coaching at USC with Frye and Major combining for four of the school's seven team national championships. A fifth coach McGee hired, Tanner, won two baseball national championships before stepping into the AD's role.
"I owe so much to Dr. McGee for trusting me to lead his baseball program when he hired me in the summer of 1996," Tanner said in a statement. "I learned so much from him about athletics, administration and life, in general. He's not only a legendary coach and administrator but a Hall of Fame person as well."
McGee also hired National Coach of the Year Eddie Fogler to replace Bobby Cremins when Cremins was hired, then quit three days later in one of the men's basketball program's darkest days. Fogler wound up coaching the Gamecocks' only SEC champion.
He retired in 2005 to his ranch in Colorado, where he could raise horses and dote on his numerous grandchildren. His final gift to USC before leaving was the hiring of football coach Steve Spurrier, who replaced Lou Holtz and became the school's career winningest coach.
A plaque to McGee recognizing his accomplishments hangs at Colonial Life Arena, which was constructed during his tenure.