IRMO — On a beautiful day in a beautiful house on a beautiful lake, there are no smiles.
It's hard to, understand, and it will never get easier. Despite oldest son Kelly and youngest Ryan each 20 minutes away, the first an aspiring doctor and the second a freshman quarterback at South Carolina, he's not here.
His framed jersey hangs over the mantle, signed by his teammates and flanked by photographs when he was at his most peaceful. He's on the wall facing the kitchen, too, riding the shoulders of teammates and adoring fans, on top of the world after writing the kind of football success story every kid that ever threw a sort-of spiral in the backyard dreams about.
Mark and Kym Hilinski are still settling on Lake Murray, six months after moving from Southern California. The floors need re-doing and more pictures are braced against the baseboards, waiting for their moments on the wall hooks. The dining-room table is covered with framed photos. There's a Three Brothers paddleboard wedged beside it and a glass jar filled with blue, red and black rubber wristbands by the fireplace.
He never lived here. They never had to run up the stairs and holler at him to quit rasslin' his brothers. He never bounced into the sun room, dripping chlorine from the pool, tracking wet footprints on the hardwood so he could get a Gatorade from the fridge.
But he's there. Always. As much as his memory might bring a smile, his own so beatific and boundless, it doesn't stay.
"It's a house," Mark says. "It's not a home without Tyler."
Maybe you knew his name was Tyler Hilinski and he was the quarterback at Washington State. Maybe you also knew​ his brother Ryan Hilinski enrolled in January as the Gamecocks' next great quarterback hope.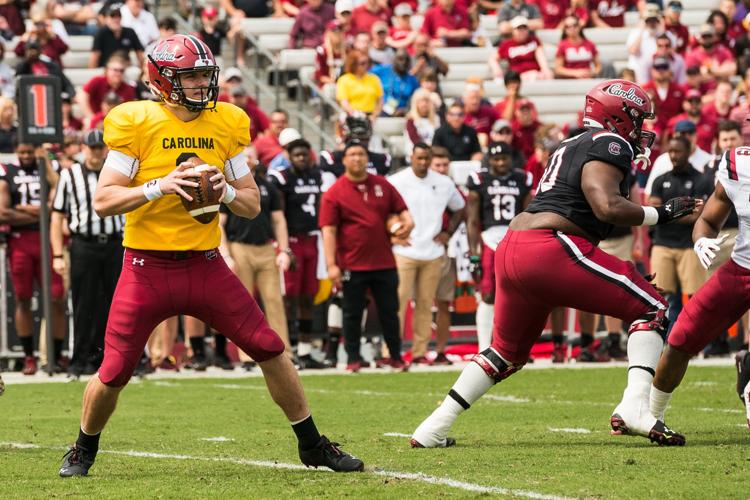 What you don't know, and what they don't, either, is why Tyler did it. All they know is having to live with it, every day, promoting the foundation they set up to both honor him and fight the illness that kidnapped their middle son.
In a new city, a new state, 2,400 miles from what they knew, Mark and Kym are discovering what they will know from now on. They don't want to turn down anybody who requests them to speak about Hilinski's Hope, the organization they began to promote mental health wellness in college athletics. They don't want anybody to go through what they went through in January 2018, and have continued to live every day since — that their son wasn't coming home.
"We still don't know how that happened. How a family this close that spends so much with our kids, communicating with our kids, sharing with our kids … " Mark began.
"How he couldn't tell us," Kym finished. "How he couldn't say, 'Mom, I'm not feeling right. Dad, I've been thinking about this.'"
Always there: Hilinski's Hope
You're going to live forever when you're 21. When you're a football hero, you're going to live twice forever. There's never anything anybody could do to forget the day they watched you under center, the Cougars down 31-10 with eight minutes to play, and led them to a 47-44 win in triple overtime.
That was Tyler. On the shoulders in that picture in the kitchen with the caption, "Unbridled." His number 3 emblazoned on the Hilinski's Hope wristbands in that jar, that Kelly wears by the dozen on his forearms, hoping somebody will ask him why he wears so many so that he can tell his brother's story, and encourage them to tell it to whoever they may know that may know someone else who's suffering.
Hilinski's Hope is there. Mark and Kym started it so it would always be there. They're not doctors, and they're across the country from where they were when it began.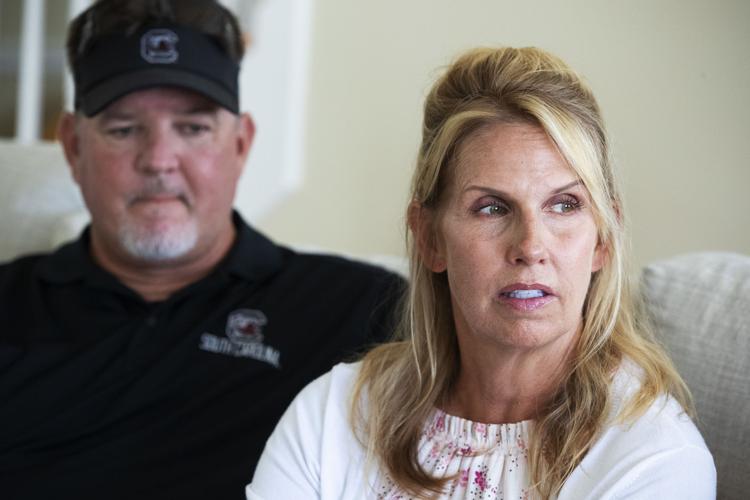 But the message remains the same.
"Kelly told us this right after Tyler passed, 'I'm not going to let my brother die twice.' That really stuck with us. We realize that with Tyler being a happy, loving, beautiful, successful, smart kid from a good family that loved him so much, if somehow he could pass without us knowing, then it could happen to so many people," Kym said. "We don't want to see that happen. So soon after, we realized we needed to honor Tyler with it, and help other people with it."
You know "it." The details of Tyler's suicide are there for anyone to find, but nobody can answer why? Yes, he was found to have Stage One CTE, the brain condition heavily tied to football head injuries. But nobody can say if it was that, or something else, or a combination of many things that caused what happened in those final hours, before Tyler picked up that rifle.
Depression is so infuriating. It comes from out of nowhere, with no cause, no reason, just there, making you think the only way out is to get out.
Hilinski's Hope, with Mark and Kym running it and Kelly and Ryan promoting it, hopes to help. Anybody, not just those Supermen who fill our Friday nights, Saturday afternoons and Sundays with their gridiron glories.
"We hear the term differently now, mentally strong and mentally tough. What does that really mean? You have to be sick to think that leaving by suicide is going to be better for anybody. There's no other way to explain it," Mark said. "At 21 years old, life is fixable, period. That choice shouldn't be an option. And we want to make sure that if talking about it and telling Tyler's story is impactful enough for you to share yours, or if you know somebody that's going through that struggle, we want to give you the tools to get him or her out of it, and talk to a professional. The silence is what hurts the most."
Their story was, of course, known long before they got to Columbia. That's a tribute to their sons' notoriety and their bravery to speak about it. Fans being fans and Gamecocks being Gamecocks, Ryan's ability to compartmentalize everything that has happened to him before his 18th birthday endeared him before he ever threw a varsity pass.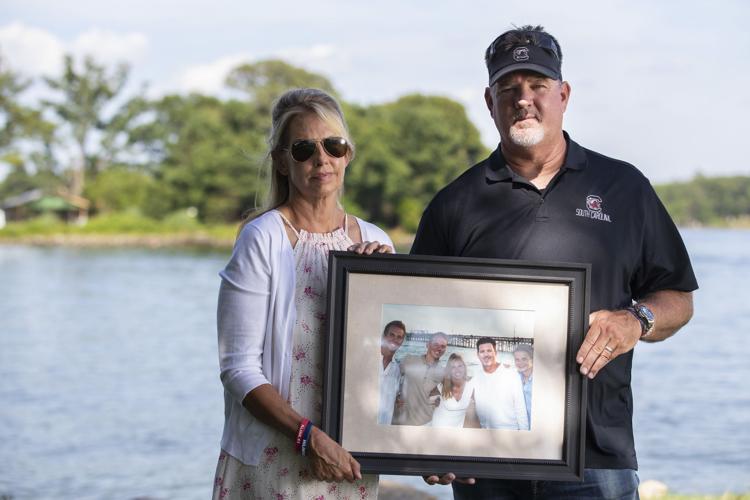 That ability has amazed everyone — coaches, teammates, parents. He enrolled early to get a head start on spring practice and has somehow found time to earn excellent grades (classroom and playbook) and speak to anyone who needs it about Tyler, mental health, his family's journey, anything that's asked of him.
"I knew he was smart and good and loving and caring, and not just to his teammates. He's there for everyone," Kym said. "I do worry, Mark does too, that he's taking on too much. When you're that young and you've been through so much. The death of your best friend … how do you move forward? But he's done it so well."
The battle fighting mental illness has been upgraded at USC, counselors available in the same room as team trainers. There's no hurdle or hallway, no extra door or building three blocks away; if a player needs to talk about something besides his ankle tape, it's right beside him.
Redshirt freshman Lavonte Valentine, a football and track athlete, recently Tweeted about his struggles with depression.
Ryan, at the house, immediately read the Tweet to his parents and picked up the phone, calling Valentine.
Weakness, even in football, can't be discouraged anymore. Talk. DM. Text. Fortnite. Just reach out.
"We're still learning," Mark said. "Kym still gets e-mails and texts that start with, "'I started this text 18 months ago and I'm just sending it … '"
Those come to Tyler's cell phone. The renters of his apartment found it eight months after his suicide, hidden in a heat duct. It took another few weeks to let the authorities search it before it was given to Mark and Kym, with all the data intact, after breaching the new password Tyler had installed: S-O-R-R-Y.
It's never turned off. The number is on Kym's card, beside hers, just in case somebody, anybody, needs help.
They spoke at the Atlantic Coast Conference's Mental Health and Wellness Summit in Durham, N.C., in May.
Ryan threw out the first pitch at a Seattle Mariners game Saturday, a few days after returning from the SEC's student-athlete leadership conference, where mental health wellness was a main topic.
A special moment before tonight's game as the family of former @WSUCougarFB QB Tyler Hilinski threw out the first pitch.

The Hilinski family, along with WSU and the Mariners invite you to remember Tyler's legacy and the importance of mental wellness. pic.twitter.com/AZuAT02niU

— Seattle Mariners (@Mariners) July 7, 2019
Over the next two weeks, Mark and Kym will speak to the UCLA football team and a South Carolina high-school coaches' conference.
That's their life now. Kelly and Ryan frequently visit their parents, where they eat a meal, take a boat ride, watch a movie, go for a walk. Tyler's always there.
"We're going to need that for years to come. We still try to figure things out," Kym said. "It's never going to be easy, but it's our life now."
Pitching in to help
Those closest are doing their part to help. Surrounded by good neighbors and in touch with all USC fans due to Ryan, the Hilinskis have been welcomed in South Carolina. Those they've never met have helped immensely as well — donations continue to pour in for Hilinski's Hope.
"The fans and the family we had in Washington, the entire Pacific Northwest, kind of kept us out of the hole. Those guys were unbelievable," Mark said. "We're really excited — that's a tough word — we're really happy that South Carolina has done every bit as much. They've welcomed us, the local community, the coaches and staff and faculty, have given us nothing but support and asked us what they can do to promote and help Hilinski's Hope."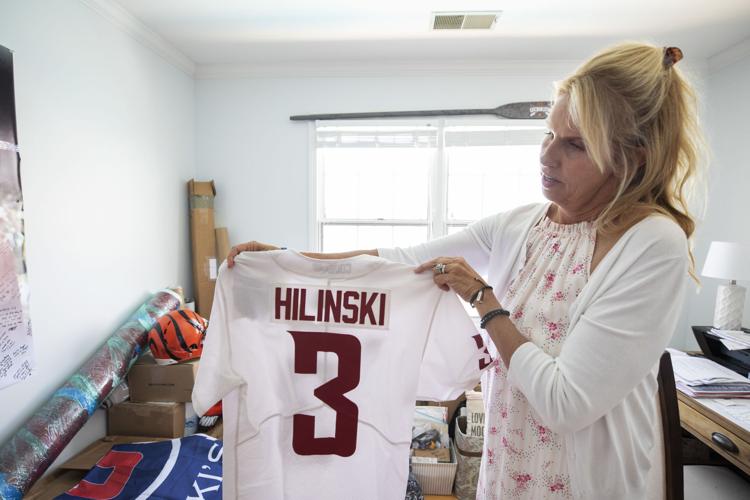 You'll see them at every game this fall. They were at the spring game as well. Feel free to approach them, talk about football or family. Or anything else that may be on your mind.
"It's different, but we keep telling ourselves, different doesn't mean bad," Kym said. "People are so kind to us, life has slowed down a little bit for us, which is not a bad thing either. I think (Ryan) graduating early and us moving out here with everything we've gone through, it was a good idea. Good for all of us, really."
The sun from the lake-view window shone on a patchwork quilt Kym made. It's pieced together from Tyler's T-shirts, team gear, pajamas and workout clothes. At the top are three hand-stitched hearts, representing her three boys. She ends her text messages with three hearts as well, the middle one unpierced, full and glowing just like its brothers.
Three hearts are where home is.
The National Suicide Prevention Hotline is 1-800-273-8255. Kym Hilinski can be reached at kym@hilinskishope.org