COLUMBIA — The buzzing started as soon as the announcement was made.
Alex Huntley is a terrific prospect in his own right. The four-star defensive tackle from Hammond School chose South Carolina last weekend over suitors like Georgia, LSU and Oklahoma. His pledge thrust the Gamecocks' 2020 recruiting class to 14th in ESPN's latest rankings, with plenty more star power out there.
USC doesn't have to look far for another prospect that could propel its recruiting class into historic territory. Huntley's teammate is defensive end Jordan Burch, recently crowned the country's No. 1 recruit by one service.
Huntley's commitment was celebrated, then re-celebrated.
That second wave envelops what the first pledge could mean for a potential second, especially when Hammond is less than six miles from Williams-Brice Stadium; Hammond's quarterback is Jackson Muschamp, Will's son; and the Skyhawks are coached by Gamecock alum Erik Kimrey, who threw one of the most famous passes in school history.
Of course, South Carolina's two biggest rivals, Clemson and Georgia, are in the mix. Burch has been heavily involved with both schools and at least one recruiting web site favors the Tigers.  
But it's recruiting and crazy things happen, so assuming all that plays in favor of USC landing Burch is at best tentative. Kimrey said each player is approaching his  recruitment individually.
But it can't hurt.
"Boogie draws people to him," Kimrey said. "In terms of him being able to recruit for his own class, I would imagine he'd be helpful."
Huntley earned the nickname Boogie when he was a baby, according to Kimrey, because he crawled so fast his family remarked "watch that baby boogie." He hasn't stopped moving fast.
Huntley is the fifth four-star recruit to pledge to USC, joining running back MarShawn Lloyd (Maryland), tight end Michael Wyman (North Carolina), offensive lineman Issiah Walker (Florida) and Myrtle Beach quarterback Luke Doty. The steadily rising class could wind up challenging USC's historic class of 2007, which was ranked as high as fourth in the country.
That class brought in Chris Culliver, Antonio Allen, Patrick DiMarco, Melvin Ingram and Stephen Garcia, among others. The early commits helped recruit the last commits, which is what Huntley and the others are vowing to do this year.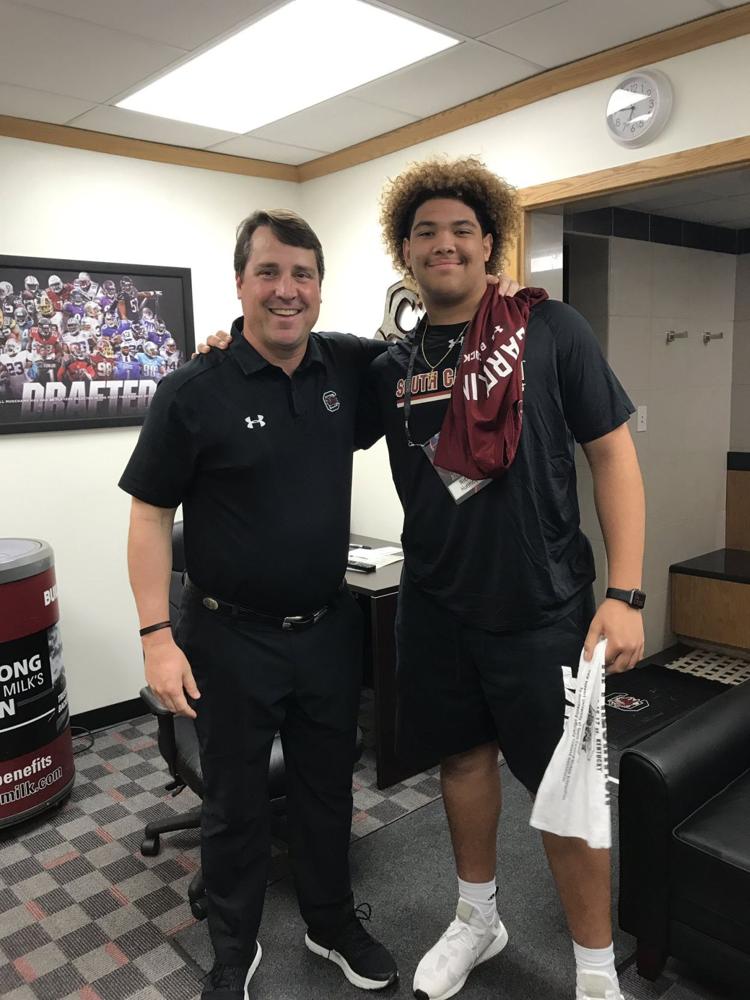 He's a guy that also plays basketball, lacrosse and won the state championship in the shot put. He was elected student-body president and even took a hunting class, "because he wanted to do something uniquely Hammond," Kimrey joked.
"Greatest leader I've ever coached," Kimrey said. "He's got a charismatic personality, so how he goes, the team goes, and he usually goes really, really well. In my mind, he's a locker-room changer. Once he gets acclimated and gains a presence on the field, he's going to be the kind of guy you want in your locker room."
And on the field?
"I think he's a Sunday (NFL) guy. He's an absolute monster and he's highly underrated," Kimrey said. "Does a great job of using his hands while using his feet. We use him as tight end at some sets just to cave down the entire side of the line because he can block, too."
The Gamecocks landed a prize prospect very early in the recruiting cycle and aren't content with stopping there. They only have 12 pledges for the next class. 
"The thing that really struck me about him was his love for this city and this university. For a young man that could have gone all the way across the country to Stanford or anywhere else really, for him to say, 'You know what? I've got no reason to leave Columbia,'" Kimrey said. "That speaks volumes to the vision of this administration and what they're building, and the job coach Muschamp is doing."
Huntley's message can help convince others. He'll be around one of those others every day.