South Carolina basketball coach Frank Martin wants Seventh Woods to spend a season away from the "microscope" before he takes the court for the Gamecocks.
Woods, a YouTube star since his days at Hammond School in Columbia and twice named the state's Mr. Basketball, transferred from North Carolina to USC earlier this month. At a news conference Wednesday, Martin indicated that USC does not plan to file for a waiver for Woods to be eligible to play in the 2019-20 season.
That means the 6-1 guard would sit out next year and have one season to play for the Gamecocks in 2020-21.
"My conversation with him throughout the whole recruiting process was sitting out," Martin said Wednesday. "He's been under a microscope since he was 13 years old. I don't know how he's done it and and kept his sanity.
"Every time he dribbled, the crowd was sold out and every critic was out there criticizing everything he did wrong. I have no idea how that young man has been able to keep the class he lives with under those circumstances. I'm telling you, I wouldn't have done it. I would have insulted somebody along the way."
In three seasons at North Carolina, Woods played in 94 games and averaged 8.7 minutes and 1.8 points, helping the Tar Heels to a national championship in 2017. As a USC redshirt next season, he can practice and work out with the Gamecocks.
"The whole thought process was, let's redshirt and kind of get out of that spotlight for a bit and take a deep breath," Martin said of Woods. "Let's regain, the kids call it, his swag, which made him pretty darn good.
"And then the most important part, let's he and I get to know each other as a player and coach. We got to know each other as people in the recruiting process, but let's get to know each other as a player and coach. When he's eligible, he doesn't have another year. He can maximize who he is."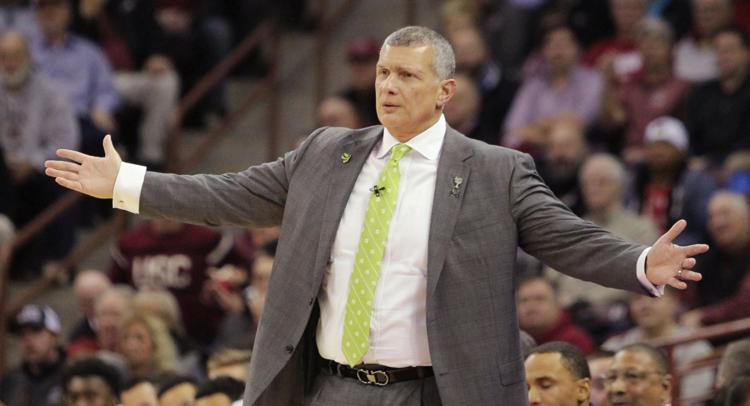 Other items from Martin's news conference:
• Martin said he would not schedule a Division II opponent next season. He's made a habit in recent years of bringing in-state teams such as Coker, Francis Marion, Lander, Limestone and North Greenville to Colonial Life Arena.
It pained Martin to make that decision.
"I went against what I'm all about to make that decision," he said. "At the end of the day ... we prepare our teams for the NCAA Tournament. To go to the NCAA Tournament, there is criteria in place where it does not count non-Division I games.
"... Our job is to prepare our team for the NCAA Tournament. That is what we fight our tails off to get into."
The money and exposure that went to in-state Division II schools when they played at USC will now go elsewhere, he noted.
"I know this, it's a lot more expensive for our school, and there is a school outside this state that's getting that money."
• With the NBA draft looming Thursday, Martin said there's been some buzz about former USC star Chris Silva, a 6-9 forward.
"There is some genuine interest in Chris right now," Martin said of the all-SEC player. "My phone has been really busy the last 48 hours, and it's mostly been about Chris. There is a lot of realization because he's had some great workouts, and people have been able to engage him.
"... There is some genuine information gathering for Chris that has taken place over the last week, and a lot of phone calls over the last couple of days. He's got some momentum on his side right now."
• USC's incoming freshmen have begun working out, and Martin has been impressed with 6-1 freshman guard Trae Hannibal from Hartsville.
"He's got a chance to be a star," Martin said.
• Martin will be part of Sports Illustrated's coverage of Thursday's NBA draft, where South Carolina natives Zion Williamson and Ja Morant are expected to be the top two picks.
"I hope it's powerful, not just for basketball, but for this state," he said.