COLUMBIA — The question of if a change needed to be made has been instead answered by a change that had to be made.
South Carolina quarterback Jake Bentley injured his foot in a 24-20 season-opening loss to North Carolina last week, and is unlikely to play Saturday when Charleston Southern visits. His backup, true freshman Ryan Hilinski, is set to start, a source close to the team has confirmed.
The length of time Bentley will be out is unknown, and should be addressed when coach Will Muschamp has his usual weekly press conference at 12:30 p.m. Tuesday. Bentley has been a mainstay at the weekly press conferences but it is unknown if he will appear Tuesday.
Muschamp didn't mention Bentley in the injury portion of his Sunday teleconference, but did say there were a couple of unidentified players that were banged up. He said he didn't have any information then but would know more by Tuesday.
The Gamecocks practiced Sunday and took Monday off.
Bentley was pressured numerous times against the Tar Heels and had to scramble to try to evade tacklers, but also looked tentative and unsure when throwing the ball. He badly overthrew Shi Smith for the lead-taking touchdown with the Gamecocks trailing late in the fourth quarter, and threw the last of two interceptions two plays later.
He walked into the post-game press conference with no visible signs of struggle.
Hilinski won the backup job over North Charleston's Dakereon Joyner in preseason camp but has never thrown a varsity pass. Yet he has had glowing reviews since he enrolled in spring.
"He progresses, Ryan's extremely bright, he's extremely intelligent, he works hard at it, as far as the film work and different things are concerned," Muschamp said last week. "He's prepared himself right the entire time. I've been very pleased with that."
Joyner, who repped at receiver during the last of preseason camp and played receiver against UNC, is expected to be Hilinski's backup for Charleston Southern and longer, if Bentley is indefinitely shelved.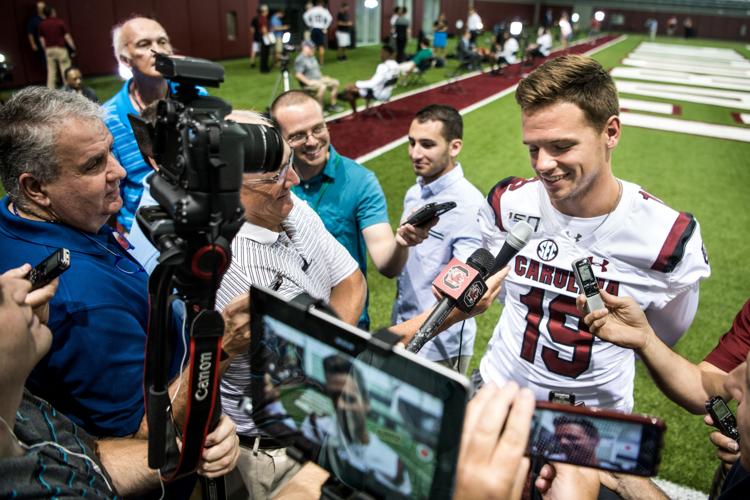 Muschamp will address the QB switch Tuesday, but that won't be the only change that's made. Personnel, as well as mentality, all need to change.
The Gamecocks lost because they didn't perform very well, and they lost because the coaching staff wouldn't get out of its familiar rut.
USC played conservative. Knowing that Bentley gets more comfortable the faster he plays and the experience at receiver, the Gamecocks deliberately chose to run the ball and sit on the lead. As a result, when he had to throw to win the game, protection broke down and Bentley sailed his throws, the most damaging when he had Shi Smith wide-open to re-take the lead.
Bentley denied the offense was holding back, but he only attempted eight passes over 8 yards. "I think any play that we run should be a successful play," he said.
USC wanted to salt the game with its running game but couldn't, the middle of the line not giving any kind of push, then letting Bentley get pressured in the fourth quarter. That brings up the second part of change.
Whatever trust was gained in a month of preseason camp has to by and large be thrown away. The Gamecocks thought they had a veteran lineup but have to examine every player they threw out against UNC.
"Yeah, we will," Muschamp said of renovating the offensive line, and also of the defensive line and secondary. "We're going to look at some different combinations. We had a practice and shuffled some guys around and we'll continue to do that before Tuesday's practice."
Redshirt freshman center Hank Manos was overwhelmed (granted, it was his second career start). Not many in the defensive front could make a tackle.
"They think they're going to butt guys down in this league, and that doesn't happen," Muschamp said. "We had right at 18 or so missed tackles for 100 yards after contact, and that's unacceptable."
The game appears as if it will be played although Hurricane Dorian is closing in on South Carolina. Charleston Southern plans on being at Williams-Brice Stadium, releasing a statement Monday that while campus is closed and other athletic events are cancelled, the football game "will proceed as planned."
Security officials being available, water access and other factors will determine that as the storm approaches.
Injuries
Receiver OrTre Smith (shoulder), cornerback A.J. Turner (shoulder) and safety J.T. Ibe (pectoral) all practiced Sunday and should be ready to play Saturday. Receiver Randrecous Davis (ankle) ran but didn't fully participate in Sunday's practice.
Offensive lineman Jaylen Nichols also practiced after missing Saturday's game.
Still in limbo
Tight end Nick Muse is still waiting on word from the NCAA about his appeal for immediate eligibility. Muse transferred from William & Mary in June and hoped to avoid sitting out a year due to his academic situation.
"No, we haven't heard a word," Muschamp said. "Obviously, they knew we had a game Saturday, so the timetable's all up to the NCAA."