COLUMBIA — Dawn Staley doesn't have to say much to Mikiah "Kiki" Herbert Harrigan when she sends the willowy forward onto the floor. There's a trust, a confidence so solid that Staley hardly ever has to encourage Herbert Harrigan or correct what she's doing.
That's the way it should be between coach and senior. Yet it nearly wasn't in April.
"I didn't ever have a problem with Kiki, and I really don't think Kiki had a problem with me," said Staley, women's basketball coach at South Carolina. "Once we got on the phone, we figured out it wasn't anything. I was still surprised, like, 'Where did this come from? You didn't talk to me, I didn't know you were feeling this way.'"
Even over a two-day stretch in April in which three other Gamecocks transferred (none were unexpected), the news of Herbert Harrigan also wanting to transfer was stunning. A fan favorite who was producing more and more throughout her career, Herbert Harrigan had blossomed from scoring the final point of USC's 2016-17 national championship season to averaging 10 points and starting 21 games as a junior.
Her senior year was going to be special. She would be able to show off the indefensible jumper that made her an All-SEC candidate and not have to wait her turn anymore behind the Gamecocks' other high-volume scorers. It made no sense for her to leave, probably have to sit out next year and then play her final season. 
"Our communication just wasn't there at one point, and that's part on me," Herbert Harrigan said. "That was pretty much it."
Herbert Harrigan had been suspended by Staley for the first half of USC's NCAA tournament opener last season. Her best friend on the team, Bianca Cuevas-Moore, was suspended for the entire game. Staley said then it wasn't anything that would linger, and Herbert Harrigan played the next game.
Yet after talking with her family, Herbert Harrigan said she felt she couldn't meet her goals of playing in the WNBA if she stayed at USC. Staley held her end-of-season meetings with each player and knew something was up when she met with Herbert Harrigan.
"She was crying and came in and basically said she wouldn't be here, she wanted to transfer," Staley said. "I wished her well, but I also asked, 'Why are you crying? You made the decision, you should feel good about it.' She never really answered and said, 'I'm leaving,' and I wished her well, and told her to let me know if I could help."
Staley isn't new to this. This is her 20th year of coaching. Sometimes young people have to find their own way, and sometimes they make unwise decisions.
She wasn't going to beg Herbert Harrigan to stay, although she knew how valuable she could be to the team. So she tried to comfort her now ex-player, told her good luck and waved goodbye.
It lasted two days. Staley contacted Herbert Harrigan's former AAU coach, and they arranged a group call.
As Staley thought, Herbert Harrigan didn't want to go. As Herbert Harrigan thought, Staley didn't want her to go.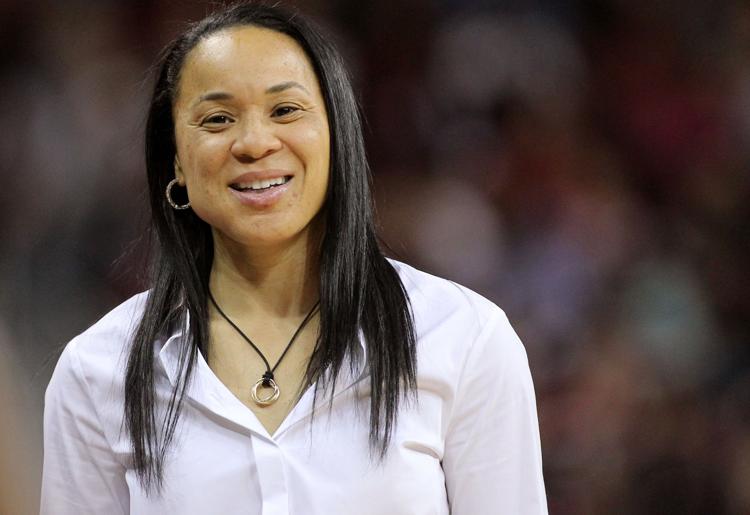 "She just said, 'Kiki, I don't want you to leave,'" Herbert Harrigan said. "We never had a bad relationship. Now we just communicate more regularly and we have a great relationship."
Three days after that, the news was official — Herbert Harrigan had a change of heart and Staley said that each was working toward better understanding the other. As part of that, Staley recommended a book that she had read and would re-read while Herbert Harrigan read it as well.
The focus of the book — leadership, discipline, being part of a team — has stuck. Herbert Harrigan is still headstrong but it's useful in helping coach the Gamecocks' younger players, instructing them as she was instructed as a freshman and fine-tuning her practice habits to push her toward her WNBA goal.
"There used to be a lot of fat in her practice. Now it's all lean," Staley said. "Her practices have been incredible. We don't have a player like her on our team.
"Her ability to score with the basketball, her jumper is incredibly efficient, her ability to get to the basket is like no other post player on our team. She's more committed to defense at this stage of her career. There are very few times I have to say something to her about anything other than basketball."
Herbert Harrigan had 8 points, 7 rebounds, 2 assists and 2 blocked shots (her specialty) on Sunday as the  Gamecocks (ranked 8th at the time) upset then-No. 4 Maryland on the road. USC (2-0) plays at Dayton on Wednesday.
"Leadership is something we kind of took on on our own, knowing we've been here four years," Herbert Harrigan said. "I took it as more of a focus not to get inside of my own head. Just relax."
There are no hard feelings, just "championship behavior" that Staley has seen from her entire team. It starts at the top, with the seniors, and Herbert Harrigan is posting all gold stars.
"Kiki had to get Kiki right. But in getting Kiki right, I thought the example that she set in practices, in the weight room, it made her grow up a lot quicker and mature a lot quicker," Staley said. "She wanted to make sure she was making her mark."
Staley's USC program was the best place for her to do it.