COLUMBIA — It was just Charleston Southern.
It was just a win that South Carolina really needed to get.
The Gamecocks blew away the Buccaneers 72-10 Saturday, unveiling new quarterback Ryan Hilinski and all of the offensive bells and whistles they clearly had but didn't show last week. Reeling from a 24-20 loss to North Carolina with fans questioning the program's direction under Will Muschamp, USC (1-1) would have played an intrasquad scrimmage if it meant forgetting the harsh week that was.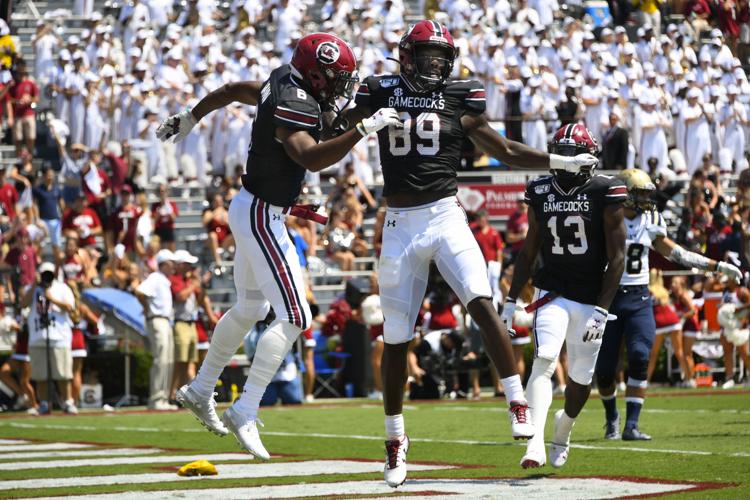 CSU (0-2) did just fine. The Gamecocks overwhelmed a hapless opponent with a school-record 775 yards and the most points ever scored under a Muschamp-coached team.
"All in all, it was a good day, and it should have been a good day, considering the opponent," Muschamp said. "I think we're much better than how we played last week."
What went right
After all of the offensive uncertainty last week, the Gamecocks did whatever they wanted to do Saturday. They hung 44 points on CSU in the first half and were so at ease that their fourth-string running back, freshman Kevin Harris, scored three touchdowns.
It opened a lot of possibilities for No. 2 Alabama next week, and the rest of the season. USC could play up to four running backs. It could put Dakereon Joyner (65 all-purpose yards and a completed pass) in one of several spots on the field.
"I'm definitely excited," Joyner said. "I'm just here to be the best guy I can be. I think I'm doing a good job of doing that."
The defense looked night-and-day different in making tackles and wrapping up, doing very well in the open field several times. The Gamecocks also intercepted three passes.
What went wrong
For everything the Gamecocks did well, there was the softly blinking light in the back of everyone's mind.
USC played well and dominated because it should have. While the Gamecocks historically have struggled with teams they should probably blow out and Saturday looked great from that standpoint, all of the stats were against an FCS team that shouldn't have stayed on the field with an SEC team.
Were it not for last week's loss, USC would be feeling terrific going into a chance to make a statement. But because of UNC, all of the brilliance Saturday was met with a shrug because the Gamecocks need to do that when it counts.
Turning point
Bryan Edwards hauled in a 60-yard pass from Hilinski to make it 35-3 with 10 minutes to play in the second quarter. Hilinski had slightly underthrown him earlier on the same route.
"He's one of those guys that's always on to the next play," Edwards said. "He said, 'I missed you, I'm gonna get you on the next one,' and that's what it was."
Looking ahead
The Gamecocks host No. 2 Alabama at 3:30 p.m. next week. It's the first of five games USC will play against teams currently ranked in the top 12.