ATLANTA — Life throws curveballs, and Grayson Greiner is in charge of catching them, along with whatever other selections Detroit's pitching staff hurls at him.
That's his job, the one skipper Ron Gardenhire tabbed him for when the season began.
Like most rookies, Greiner's first season is strikes and gutters.
But he's there, a rather sizable target behind the plate, almost every day. And if he caught the first curve Major League Baseball threw at him, what are several thousand more?
"Get called up and handed an orange uniform with 'Tigers' on it," mused Greiner, the third of three generations of South Carolina Gamecock athletes. "But I'm livin' the dream."
One of the most popular players that came through Ray Tanner's (and then Chad Holbrook's) program, Greiner — known by all as "Gary" — cut a distinct figure at Founders Park from 2012-14. His pedigree had him famous before he ever played a game, after granddad Bill Killoy was USC's placekicker from 1947-50 and father Mark Greiner was in the same Frank McGuire recruiting class that brought in Alex English.
Then he showed up at a massive 6-foot-6, making folks wonder how he could crouch behind the plate as well as he did, and started for three seasons while showing off a live arm and an Incredible Hulk power stroke. People swear that the game-winning home run he smashed in the 10th inning at Mississippi State six years ago was still going up when it hit the light pole in left field.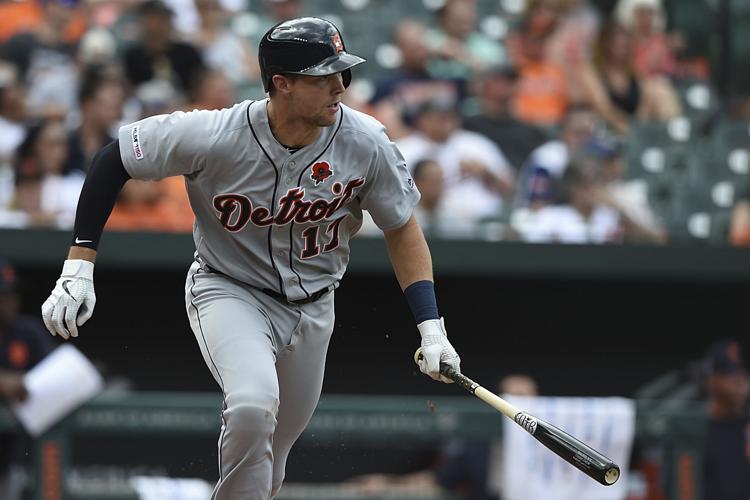 The Tigers were in town for a three-game series against the Braves last weekend and Greiner was his usual. He superbly handled his pitchers and didn't hit much, but when he did, they went a long way. His only two hits of the stand were homers, the first on the first pitch he saw Friday that sent his personal cheering section into a tizzy.
"He did a really, really nice job with our pitcher," Gardenhire said after (former Alabama pitcher) Spencer Turnbull spun six innings in an 8-2 Tigers win. "And a big home run. He's from around this area, too, and he had a big smile on his face."
That never leaves despite some struggles. Of course he'd like to be hitting .300 with 10 homers and helping lead the Tigers out of the early American League Central hole they're in.
But he's working through it.
"I've had my struggles, and the main thing is how to deal with the struggles at the highest level," he said. "These guys are really good up here. If you show weakness, they'll expose you real quick. I'm trying to learn on the fly about how to minimize those and just be more consistent every day. I've gotten a lot more comfortable behind the plate dealing with the pitching staff."
Through 39 games Greiner is hitting .179 with five homers, 14 RBIs and 11 walks. But his manager loves his defensive skills and his pitchers like how he helps them out.
"One thing that is absolutely 100 percent constant is what he does behind the plate. That's why he was drafted and why he's playing today and always be why he's on the field," said Mark Greiner, who watched his son on an extended road trip from Baltimore to Atlanta to Detroit. "The guys like throwing to him and upper management really appreciates what he does back there."
There were around 75 family and friends packed into one section of SunTrust Park for the Saturday game; there were 20 or so Friday and Sunday. They were geeking about that first homer almost as much as Greiner was about playing at SunTrust Park.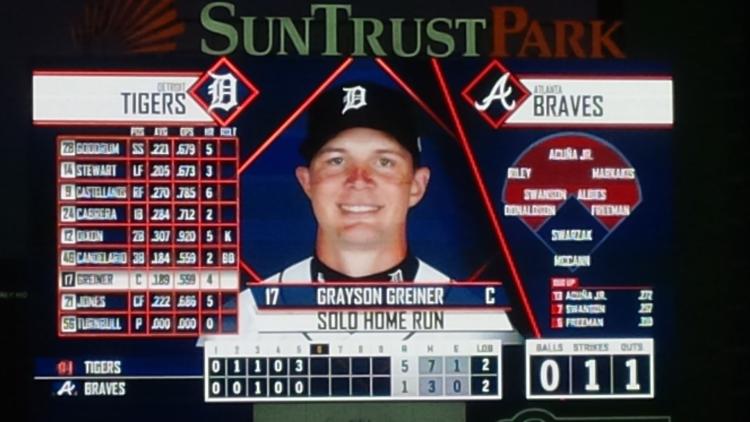 "I grew up watching the Braves," Greiner said. "I was a huge Chipper Jones fan."
Jones was apparently supposed to be on the field Saturday, something Greiner and his father discussed.
"He said, 'If I see him, I might faint,'" Mark chuckled. "That was his idol growing up."
Call it not taking anything for granted. Greiner's not some wide-eyed kid reverently approaching the stars he used to watch, but he's also not the jaded journeyman only looking for his next paycheck.
It took him a while to get here, and a 30-game call-up last season gave him a crash course in how to handle it. Gardenhire wanted him as his everyday catcher and Greiner is finding his way through it.
Stability meant he could have wife Madison and 15-month-old Hudson with him in Detroit, instead of them staying in Columbia while he toiled in the minor leagues. His parents could take vacations to see him play, starting with a Toronto-New York jaunt to open the season and Atlanta as a midpoint on the next one.
He's already the answer to a trivia question. Greiner tied Pete Koegel and Don Gile as the tallest players to ever catch a major league game, although their service was limited to a combined 31 games. He's well past that.
"I don't think I made my debut before I heard that," Greiner said. "I went on a podcast or something and the other two guys there were the other two catchers who were 6-6."
His height — "He probably would have been pretty good at basketball," Mark says — has always gained notoriety but he landed in the perfect place for it to really pay off. Gardenhire managed the 6-5 Joe Mauer for years and sees the similarities.
"The hardest thing is trying to stay small. With guys on base I have a tendency to get wide," Greiner said. "I try to give my pitchers a small target. Long legs and arms can get in the way of throwing down to second, so that's something I've had to work on."
And he's passed down the length, bulk and power swing to his son. Somehow Hudson picked up a lefty stance, but he's already got the juice, as the Greiners' TV found out the other day.
"Plastic bat, just smashed it," Greiner said.
The initial butterflies have long since scattered, a look at the Angels' lineup early in his career settling him down. "First five in the order were Ian Kinsler, Mike Trout, Albert Pujols, Justin Upton and Shohei Ohtani," he said. "And I was catching when Pujols hit his 2,000th RBI."
Then came Gardenhire's endorsement and his ticket to stay in the big leagues. Greiner keeps it close, along the advice/credo Tanner used to always tell him.
"All about riding the wave and trying not to get too high or too low," he said. "That's baseball."