COLUMBIA — As groundbreaking as the milestone was, there was no time to savor it.
"It was just another game, another day. It had ended, but all we thought was, 'There's still things left to do here,'" South Carolina pitcher Colby Holmes remembered. "It was cool while it lasted, probably something that's going to remain for a really long time. But we just said, 'Let's start it over.'"
Ten years ago Saturday, USC lost to Arkansas, 2-1, in a College World Series bracket semifinal. The Gamecocks knew they would have to win three games in two days to keep alive their dream of three straight national championships.
They did, reaching the CWS Finals, but lost to Arizona. Only then could they fully realize what they'd done.
Back-to-back national championships were no small accomplishments. Yet during the run to them, the Gamecocks set a record that will likely stand forever.
From 2010-12, USC won 22 straight postseason games, including 12 straight in Omaha. In 2011, the Gamecocks became the first team to go 10-0 in a single postseason.
"Looking back, you just kind of go, 'Wow.' With a question mark, not an exclamation point. More like, 'Really?'" said the head coach of those teams, Ray Tanner, now USC's athletics director. "You just hope to stay alive."
There was nobody better at it than the Gamecocks, and there likely will never be a team that comes close to matching their mark. The record for consecutive postseason wins that USC broke was 15. As this year's CWS got underway on Friday, Texas A&M and Ole Miss were tied for the national lead in consecutive postseason wins with five each, and the Aggies were tripped 13-8 to snap their run.
"It's hard to win back-to-back championships. It's another level of hard to get there three times in a row," USC right fielder Adam Matthews said. "To go 22 games without losing, and in the postseason? That will never be done again."
As Tanner said, it began with USC just trying to stay alive. The Gamecocks lost their first game of the 2010 CWS, 4-3, to Oklahoma during an 11-hour day at the ballpark, a four-hour rain delay before the first pitch and another two-hour delay in the middle innings.
USC was exhausted. Frustrated at letting a one-out, bases-loaded situation in the ninth yield one run.
But there was still a chance.
"We got hot at the right time, in all aspects of the game. Our offense was incredible, our pitching staff was incredible," Holmes said. "Got to give credit to coach Tanner. He was essentially the genie in the bottle."
The Gamecocks whipped Arizona State, 11-4, in their first elimination game to set up a rematch with Oklahoma, and again it looked bleak as the Sooners took a 2-1 lead in the 12th inning.
Yet Jackie Bradley Jr. held off on a 2-2 pitch that could have been called a charitable strike. Even today, Bradley Jr. answers incredulous questions of how he could hold off on such a close pitch by saying "It was a ball." 
On the next pitch, he hit a shot that eluded Oklahoma's diving 6-foot-5 first baseman Cam Seitzer, which drove in the tying run. Brady Thomas won it two batters later.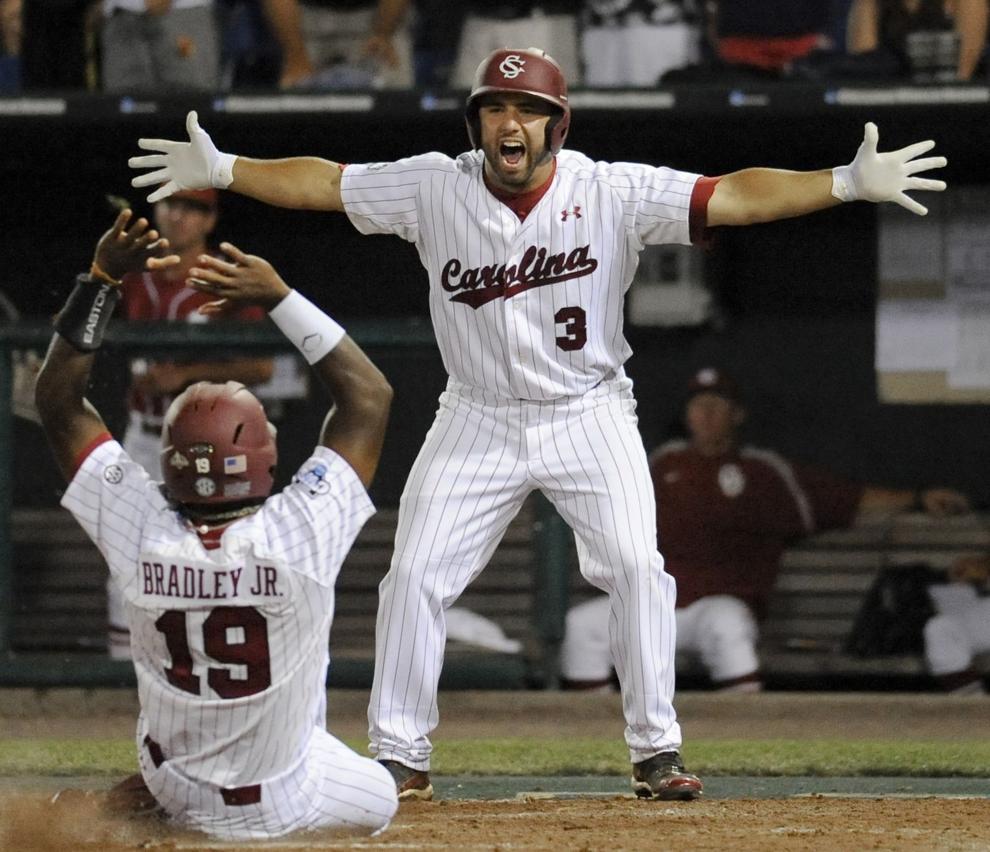 With depleted pitching, Tanner rolled the dice the next day and chose a left-hander who hadn't started a game all year. Michael Roth spun a three-hit complete game, against archrival Clemson no less, on his way to becoming the most dominant pitcher in CWS history.
The Gamecocks won their next three games and their first national championship. The streak stood at six. And the thought immediately turned to winning another one.
"I remember the 2011 season and then the postseason, we were so focused on taking it one game at a time. We had a great group of guys who knew how to play together, how to fight together, we were all friends," Matthews said. "We knew we were good, we had the swagger to go out and compete the next day. We knew people were intimidated to play us."
The opponents fell like dominoes. The Gamecocks topped Georgia Southern and Stetson (twice) to win their own regional and prepared for a rematch with Clemson in the Super Regional. Yet Connecticut, featuring two first-round draft picks, stunned the Tigers at the Clemson regional and it was the Huskies who came to Columbia.
The Gamecocks swept them and headed back to Omaha. The CWS was in its first year at TD Ameritrade Park after 60 years at Rosenblatt Stadium, but the Gamecocks' good fortune from the old stadium carried over.
Five straight wins. Another national championship. A run filled with many of the same "Did you see that?" plays as the first, if not more.
"That really was amazing," Tanner said, of the bases-loaded, no-out situations that ended with no damage or the outs recorded at the plate, three of which came in Game 1 of the CWS Finals against Florida. "We were in jeopardy how many times?"
The Gamecocks topped the old record for consecutive wins in that Game 1 and started setting their new record in Game 2, which clinched the second championship.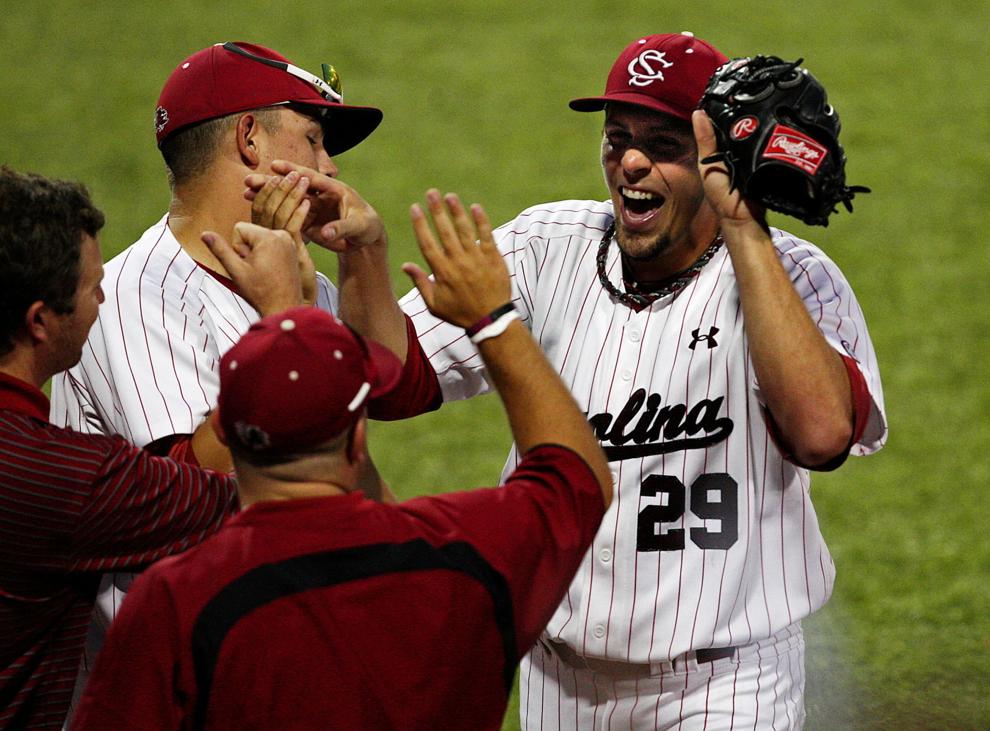 "After we won, we mentioned it a little bit, like 'Do you really understand we went through the postseason without a loss?'" Holmes said. "It was never discussed in depth. We brought it up, but shut it down real quickly."
Changes to the roster were afoot through graduation, although Roth and closer Matt Price would return. USC found junior-college third baseman LB Dantzler to take over for Adrian Morales.
"My roommate, Chase Vergason, got in a little bit of trouble before the season. He pretty much guaranteed we were going to win three straight." Dantzler said. "Kind of after that, we refocused and it was just about winning."
USC again hosted a regional and after a drubbing of Manhattan, faced Clemson. The score was deadlocked at 4 in the 12th inning, when Joey Pankake and Evan Marzilli reached base.
Up came Dantzler with a chance to play hero. He did, lashing a bullet to right field that was off the wall and easily deep enough to score Pankake.
The streak was at 18 games. Dantzler didn't know much about it, being one of the new guys.
"Watching the highlights, I think it was Kyle Peterson, his commentary was, 'They continue to believe they can't lose in this tournament.' I remember thinking, 'That was the most stressful game of my life, what is he talking about?'" said Dantzler, who now sells insurance in Charleston. "When they did a little special on it, I thought it (the streak) has got to be pretty good.'"
The Gamecocks again beat Clemson to advance to the Super Regionals, where they plowed Oklahoma in two games. Up next was Florida in Omaha, but USC had little trouble with the Gators in a 7-3 victory.
The postseason streak stood at 22 against Arkansas two days later. USC recorded four hits and walked three times.
But only one run crossed the plate. The Razorbacks scored two, and the streak was over.
"It was kind of a, 'What do we do now?' feel. But you go back to the 2010 run, they lost pretty early there and ran off a ton in a row to start it," Dantzler said. "That vibe that year was, 'We'll flush it.'"
The Gamecocks fought back to again make the championship series, but the dream of three straight titles died as Arizona was a little bit better. But nobody forgot how dominant USC had been.
"I think that maybe on campus in the summertime, (former sports information director Andrew Kitick) mentioned it to me, and I said, 'What are you talking about?' With the 22 games, I didn't know what he was referring to," Tanner said. "I was just trying to win inning to inning, not to mention game to game. You just don't think about things like that when you're in them."
Reflecting on it a decade later, though, Tanner and his players realized how remarkable it was and how that record will almost certainly remain unblemished.
Forever.
"With watching how college baseball is today, I honestly don't know that it could be broken," Holmes said. "That was unheard of at that time, and today, it's so back-and-forth, who's going to do that?"
"To get hot in one tournament and rattle off six in a row, that's impressive. But to follow that with 10 straight in 2011, that's incredible," Dantzler said. "And then even though we didn't win it in 2012, what we did was still pretty impressive."
Tanner, who stepped down as coach after the 2012 run to become USC's athletic director, still keeps tabs on college baseball. He sees the parity that has taken over, with the transfer portal offering a complete reset to any team from year to year.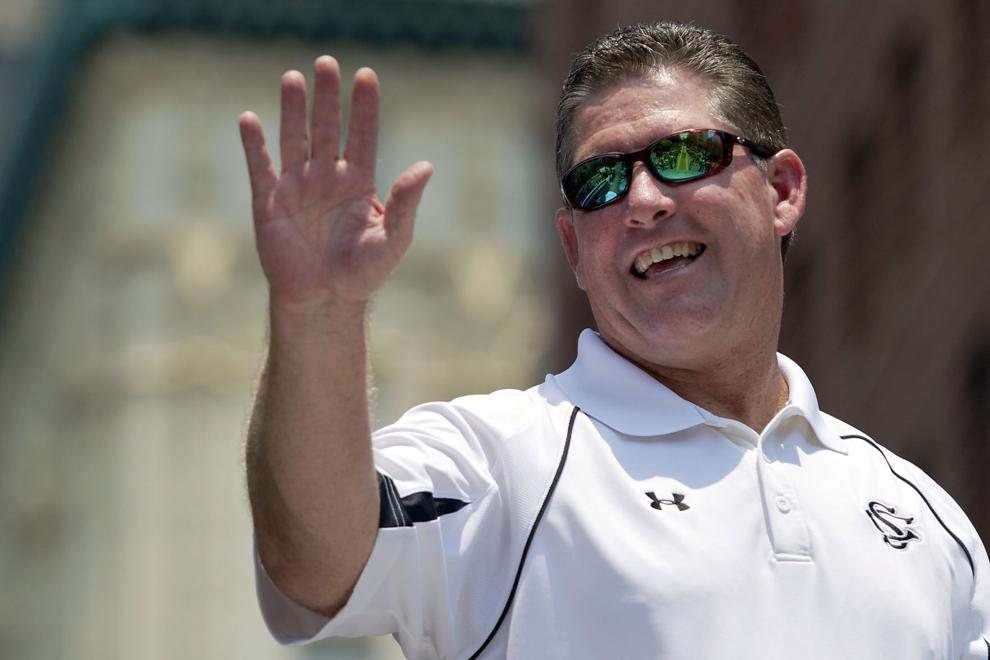 "Somebody may get that streak, but it'll be hard. Streaks are made to be broken, but it's going to take a team of sophomores that stay together, maybe avoid the draft, keep a pretty good nucleus for that to be a possibility," he said. "We had a group that did that. And like we saw in many of those games, they all had that belief that until the 27th out is made, there's a chance."
One last chance in 2010 became two championships and nearly a third, with a seemingly untouchable record set along the way.