COLUMBIA — What can South Carolina do when it's missing its only trusted receiver?
Or when eight of the 11 starting defenders from the season opener weren't playing in Saturday's 45-16 paddling from No. 9 Georgia, with a ninth, leading tackler Ernest Jones, sitting the second half with a bum ankle?
It's not like anyone would question it if the Gamecocks said they couldn't play, because there's an available handy excuse that's affected almost every other team in the country. And it's not like even USC fans would mind calling off games, because it's best to just get this season over, hire a new coach and start restoring hope.
Can't do that. Especially not with so many that want to wear that uniform so badly.
"Just challenged the guys, another opportunity to go fight, and we're going to find out who wants to fight," interim head coach Mike Bobo said. "If you want to fight, they'll be on the plane going to Lexington."
Takeaways from the final home game:
Heart
Trailing 45-10 in the fourth, USC had the ball on its own 2-yard-line. The game was over.
The Gamecocks refused to accept it.
They marched 98 yards in 11 yards and scored a touchdown, because football is still fun, ya know?
"That last drive kind of showed it right there," quarterback Luke Doty said. "That last drive kind of showed the belief and fight we have on this team."
Bavarian Motor Works
USC started on the 2 on that final drive because Quan White fumbled the kickoff, retrieved it from the end zone and barely got it out before he was tackled. The Gamecocks had a PAT blocked.
Scholarship kickoff specialist Mitch Jeter cranked two kickoffs out of bounds.
The new coach will have to overhaul a lot of things and special teams will be a big one. If only there was a candidate who grew up learning from his father, who believed so strongly in special teams affecting games that it gave Virginia Tech football a nickname …
The Green Line
You know when watching football how the TV crews always put a neon-green line on the 35 during a potential game-winning drive, showing the reasonable spot to get within field-goal range?
If Parker White returns next year, they need to paint one on each 32-yard-line of Williams-Brice Stadium.
That's a 49-yard field goal. White is 54-of-70 from 49 yards or closer for a 77.1 percentage, which would be second in school history.
It isn't because he's 1-of-9 from 50 yards or more, which makes his overall percentage 55-of-79 (70 percent), not even in the top five of school history. That includes a missed 53-yarder on Saturday.
It isn't White's fault. It's something he can't do. As Clint Eastwood said in "Magnum Force," a man's got to know his limitations.
It's a pity his coaches don't know it.
Mist coming in
Late in the game, sinister and foreboding wisps of cloud began to seep over the field.
It was either fog or the USC administration changed its mind about Hugh Freeze.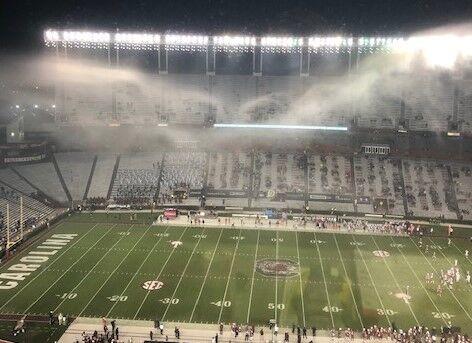 Medic!
The Gamecocks were down four more players after last week's loss to Missouri and lost an additional four on Saturday.
Will Muschamp fired former strength coach Jeff Dillman evidently in part because of the number of soft-tissue injuries. The Gamecocks have avoided the soft-tissue injuries with new man Paul Jackson, but now they're getting more severe injuries.
Still on the lip
Kevin Harris needs 72 rushing yards to hit 1,000 for the season. The Gamecocks tried to get him there Saturday, but Georgia's defense was just too strong.
Kentucky's defense is first in the SEC against the pass and sixth against the run. There may be an answer there.
To Quit or Call It Something Else
Players opting out with three games to play, their expressed reasons (after-the-fact) and the back-and-forth between former players and older former players was a hot topic last week. There's no right or wrong in the situation.
Yet it's clear what the Gamecocks want, and need much more of. Harris kept grinding, even when wrapped behind the line. Nick Muse caught eight passes for 131 yards Saturday. Jones hurt his ankle early in the game and limped through most of two quarters on it.
Sadarius Hutcherson, who eloquently explained why he couldn't quit last week, is so beloved that when his family couldn't be with him on the field for his Senior Day, the entire offensive line ran out there so they could be pictured with him.
Those guys are winners no matter what their record is. A roster full of those guys will win in both areas.
Some wear the uniform and think they deserve to.
Others deserved it first and wore it second.