COLUMBIA — Dan Mullen got COVID after pleading Florida fans to fill every seat in his home stadium.
Nick Saban's positive COVID test was false.
Everybody in the league was wishing Arkansas would be added to the schedule because the Razorbacks were going to stink. Arkansas is 2-2 and should be 3-1 after the officials robbed it of a victory last week.
Offensive genius Mike Leach was the talk of the country after a Week 1 dismantling of defending national champion LSU. Mississippi State is 0-3 since.
In a season where unusual is ordinary, why couldn't South Carolina take the momentum from Saturday's 30-22 win over No. 15 Auburn and finish much higher than the 2-8 most put as a ceiling?
Takeaways from a historic win:
Bo Pix
The reigning SEC Freshman of the Year didn't play USC last year, so he didn't know. The numbers backed him up: 26 career games for junior cornerback Jaycee Horn before Saturday, zero interceptions.
But Bo Nix, like many others, only focused on that instead of the real numbers. The ones from Pro Football Focus that said of 1,426 career snaps, a mere 100 were targeted toward Horn.
"The ball don't get thrown my way too many times," Horn said.
Covering the majestic Seth Williams, Horn recorded his first two career interceptions. He tipped Nix's third pick to Jaylin Dickerson.
Not sure if Horn is a Jay-Z fan, but the lyric, "Allow me to re-introduce myself" fits.
Andy Reid on Line 1
Everything turned out fine. USC held on fourth down when Auburn had a shot to tie the game.
Just …
These fourth quarters are maddening. Will Muschamp's clock management has been to burn clock when he needs to hurry and hurry when he needs to burn clock.
The Gamecocks had the ball with an eight-point lead and 6:36 to play. Nine snaps, all but one a run, led to a punt. Auburn got the ball with 2:15 to go.
This ranged from snapping the ball with 21 ticks on the play clock to three snaps with three or less seconds on the play clock.
It worked out.
With a few extra chances given.
Hands on, mouth off
Shi Smith remarked that he thought Auburn's defensive backs were trying to get him riled up so he'd lose his temper.
"I would much rather say 'Whoa!' than 'Giddy-up!,' Muschamp said when asked about his players and emotion. He also admitted it's a delicate line to walk between telling a player to be aggressive while also telling him to rein in impulsive behavior.
Smith did more jawing than catching in the first half. There were a few facemask-to-facemask confrontations where it was honestly amazing no flags were thrown.
Smith certainly showed why he's so valuable in the second half. His touchdown catch, high-pointing a ball as his defender jumped in front of him, was pretty. His catch on the sideline where he tapped the ball with one hand and then caught it on his belly while lying on his back, was Beyonce.
He's that good, but he has to keep his emotions in check if he's going to keep being that good.
The Cobra
Kai Kroeger averaged 48.4 yards on five punts. He's quietly but tremendously improved from his first two games.
Kudos to his coverage team as well for stopping those rolling rugby punts inside the 10.
Look …
It's always tricky blaming officiating for losses. There are dozens of plays that have much more impact.
The Gamecocks got a big call Saturday. The pass interference on Smith's attempted catch during USC's final drive was questionable at best. Smith did more pushing than defensive back Roger McCreary did.
Horn was rung up for interference (on a play that didn't count) when he did absolutely nothing to the receiver. Jovaughn Gwyn was deservedly called for holding on a play that wiped out a Kevin Harris touchdown run; yet Auburn's Tashawn Manning was twice seen blatantly holding J.J. Enagbare and Ernest Jones so they only had one arm free while rushing the QB and got no flags.
Anthony Schwartz trapped the ball on the first play of Auburn's final drive. It was ruled complete.
Coaches complain in public, they get fined. Coaches complain in private, nothing happens.
There's human error and there's a troubling pattern of Call it For the Team That's Supposed to Win.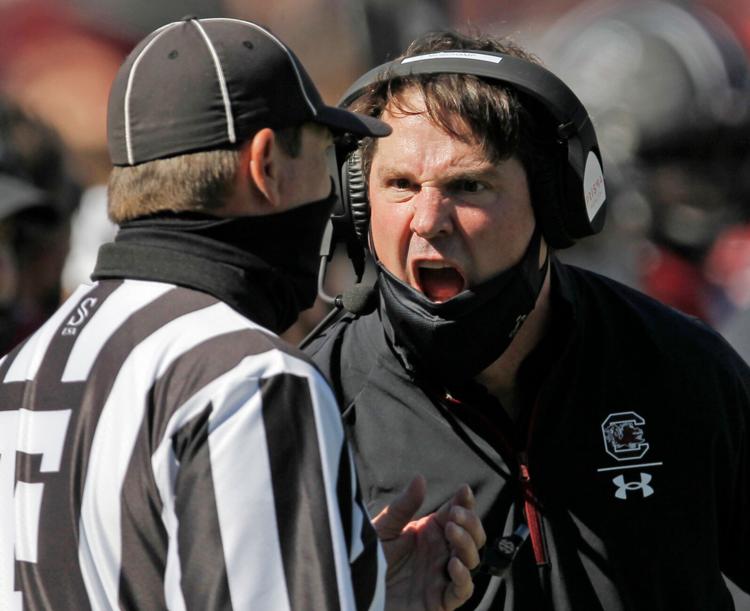 Re-run
The Gamecocks beat Auburn for the first time as an SEC member 30-22 at Williams-Brice Stadium. It was the first win over Auburn, period, since the 1930s and it was clinched by a 15-yard penalty on the opponent's final play.
Fifteen years ago, the Gamecocks beat Florida for the first time as an SEC member 30-22 at Williams-Brice Stadium. It was the first win over Florida, period, since the 1930s and it was clinched by a 15-yard penalty on the opponent's final play.
Wide-screen
The first five games of this season looked to be 2-3 at best, most likely 1-4. The Gamecocks could be counted on to beat Vanderbilt but would be underdogs in the rest.
They're 2-2 with a game next week where they'll probably be an underdog, but the opponent doesn't strike fear. LSU is not a good team, although it will have the most intimidating atmosphere in football (night game at Tiger Stadium) at its disposal.
There are thoughts that USC could be 4-0 right now or at least 3-1 (beating Florida still would have taken a miracle even if USC had moved quicker on that final drive). But 2-2 at this point with a win over a team the Gamecocks never beat?
Acceptable.
Eason-Riddle out
Fifth-year senior linebacker Spencer Eason-Riddle tore his right ACL against Auburn and will miss the rest of the season. 
It's an awful break for Eason-Riddle, who tore his left ACL in the next-to-last game last season. Muschamp has already spoken to the backup linebacker and special-teams mainstay about potentially returning next year.