COLUMBIA — Steve Spurrier gripped the railing and stared out at the vacant turf of Davis Wade Stadium. His 15th-ranked South Carolina Gamecocks had just squeaked out a 14-12 win at Mississippi State, and following another postgame press conference in which he said USC was fortunate to win, he stood on the porch of the Leo W. Seal M-Club Building as the late afternoon sun sparkled.
Golf shirt dotted with perspiration, wraparound sunglasses covering his eyes, the Head Ball Coach could have been enjoying another crisp autumn day after a victory. He could have been relishing that after a trying week when the Gamecocks dismissed troubled quarterback Stephen Garcia, his team had responded to improve to 6-1.
He wasn't. A man who made his living beating the opponent, often unmercifully, and who pleasured in reminding them of just how smart he was, looked beaten. Drained.
Helpless.
There was no bravado as he shook his head, no wisecracking assurance that all was right. Barely audible, as if he couldn't believe he was saying it, Spurrier murmured, "I don't know what we're gonna do now."
10 PAST '11, PART V
This is the fifth in a series commemorating the 10th anniversary of the Gamecocks' 2011 season.
PART I: REBORN
PART II: DAWGS GONE
PART III: 'THAT GAME STILL IRRITATES ME' 
PART IV: RAISING HELL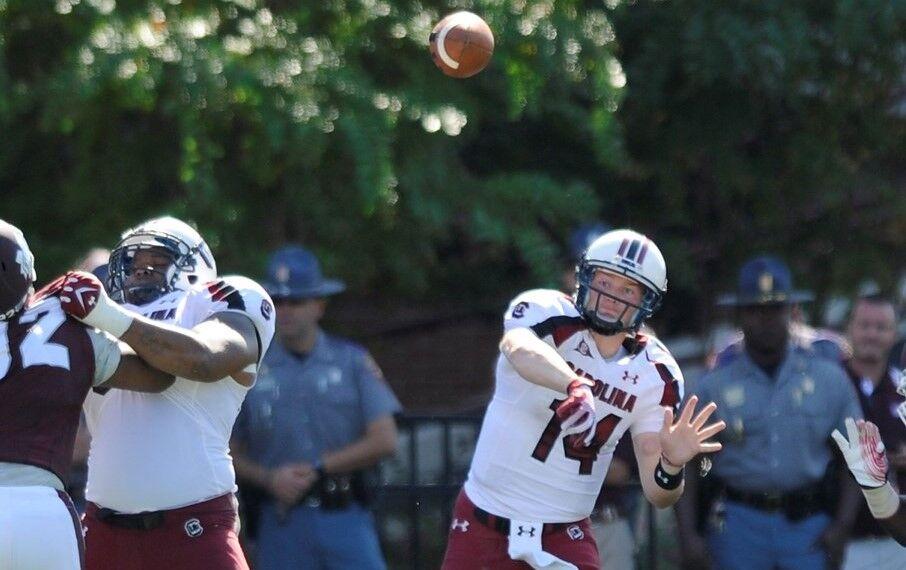 Betting on 21
Marcus Lattimore changed everything.
The Gamecocks had landed big-time prospects before. Some worked out, some didn't.
They'd never gotten one quite like this, who at the tender age of 18, had charisma that rivaled even his future head coach.
"Signing Marcus was huge for our football program," Spurrier said. "He was our ambassador, our face for Gamecock football."
Lattimore was instrumental in landing other top recruits like Alshon Jeffery and Jadeveon Clowney, an in-state kid who chose to stay home and who had the power to talk others into doing the same. It didn't hurt that he immediately lived up to his enormous ratings, taking the field as a freshman in 2010 and rushing for 1,197 yards and 17 touchdowns while leading the Gamecocks to their first and only SEC East championship.
"The day we won this," beamed Spurrier from the visiting press media room at Florida's Ben Hill Griffin Stadium, "was the day we signed him."
With sky-high expectations for 2011, the Gamecocks thought they knew how their offense would look. Heavy doses of Lattimore, and since it was Spurrier, Garcia would air it out quite a few times. His receivers — Jeffery, Ace Sanders, Bruce Ellington, Nick Jones — were stellar and USC's defense, featuring budding All-American Melvin Ingram, ball-hawk Antonio Allen, NFL-bound Stephon Gilmore and Clowney, the country's top recruit, was elite.
Yet offensively, it took a while to gel.
"I think everybody was still trying to figure out what our personnel groupings were going to be, what we wanted to major in on offense, and I think our defense carried us for most of that 2011 season," quarterback Connor Shaw said. "Our defense was staying on the field way too long. I remember us trying to find out who we were on offense."
Lattimore rushed for 100 yards in each of his first two games (176 in a win at Georgia) and Spurrier didn't try to be cute in the third, a ball-control contest against Navy. He gave the ball to his best back, and Lattimore plowed the Midshipmen for 246 yards on 37 carries.
But he was held to 77 and 66 yards in his next two games, and in the second, a 16-13 loss to Auburn, leaked the secret. The Gamecocks were always going to be strong at running the football, but they needed help, and it wasn't coming from the passing game.
Garcia, who Shaw beat out to start the season-opener, relieved in the second quarter of that game and rallied the Gamecocks to victory. He stayed in the starting spot the next four games but after a poor showing against Auburn, Spurrier gave Shaw the nod.
Shaw responded with four touchdowns against dreadful Kentucky but the decisive blow came the next week. Garcia was gone, a failed substance test ending a career with a lot of yards, a lot of great moments and a lot of chances given.
Heading to Mississippi State, Shaw was confident. He had a full game under his belt and Lattimore to tote the ball. A Bulldogs team that would finish 7-6 shouldn't offer that much of a problem.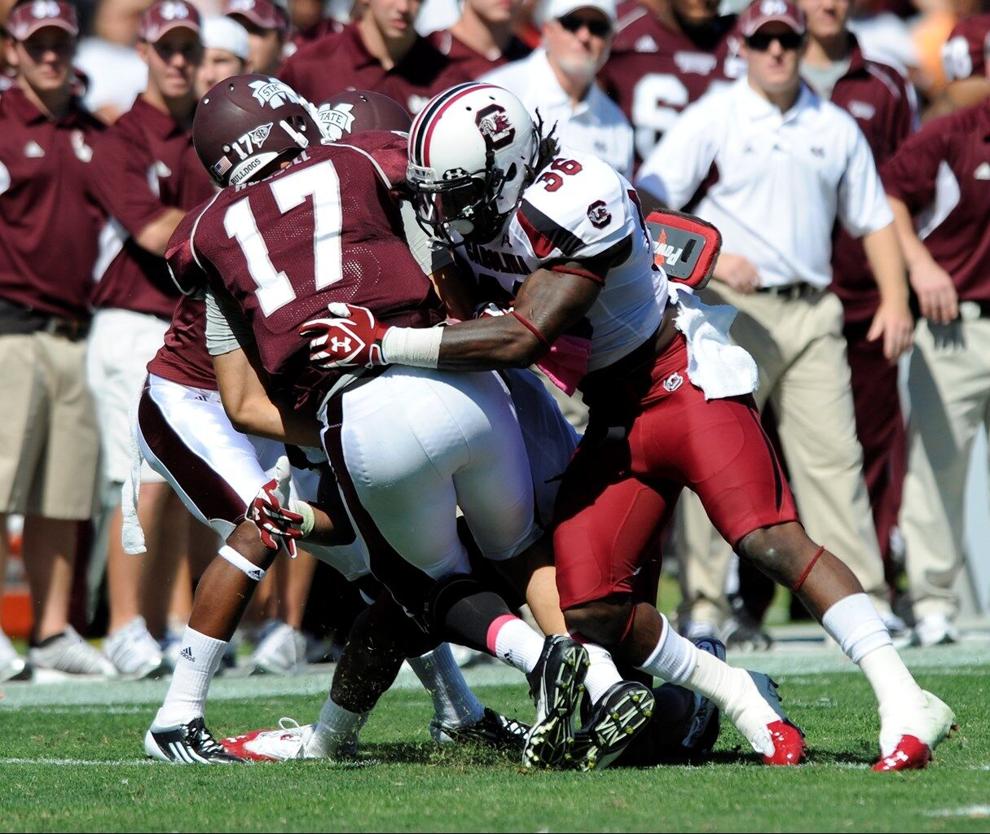 Swaggg
The Mississippi State faithful were clangin' their cowbells as the Gamecocks' offense again sputtered. A defensive contest in which each team would muster less than 300 yards was being slogged between the goal lines.
MSU struck with a 19-yard touchdown pass, but Lattimore equaled it with a 4-yard run in the second quarter. The game remained deadlocked at 7-7 through the third quarter.
Shaw threw two interceptions, equaled by two from MSU's Tyler Russell. Lattimore was bottled despite the touchdown, and as Shaw said about the season to that point, the Gamecocks' defense was carrying them.
USC's leading tackler that day was a junior safety from Greenwood once committed to Tennessee who picked USC when Phillip Fulmer was fired. An all-around athlete in high school, Dayario Jamal Swearinger went by D.J. but everybody knew him by one of two nicknames.
"'Swaggg' came from Little League and AAU basketball, and it feathered off to football. I always was the guy who had on the wristbands, the high socks, I basically looked the best on the court," Swearinger said. "I brought a certain look about myself, some confidence to me. Plus, it kinda sounds like my last name.
"'Jungle Boi,' that came from my college roommates. Because of my hair when I first got there."
Swearinger had a solid sophomore season and was coming into his own as a junior, managing to shine in a secondary featuring Gilmore, DeVonte Holloman and Allen, all of whom would play in the NFL. In Starkville that day, he was all over the field, tracking down ball-carriers and blanketing receivers.
As the clock ticked under 10 minutes, the Gamecocks trailed 10-7 after an MSU field goal. Three points weren't that big of a hurdle.
A bigger one loomed.
'We were stunned'
Forget grasping. Spurrier was yanking every straw he could find to get the Gamecocks' offense out of the muck.
Following a long pass to Sanders and a Shaw run, Spurrier installed Ellington at quarterback. He wanted a direct snap and then an Ellington rush, aiming to get him past the second level and see if he could juke a secondary defender.
"We were setting up for a pass from Bruce later on, maybe the next week or the week after. Coach wasn't afraid to do that, to put Bruce at QB because he's Bruce and just let him work," Lattimore said. "He was running outside zone, I was outside receiver. I'm just blocking the corner that's over me."
Ellington dashed through the gap for a 13-yard pickup. Defensive back Nickoe Whitley dove low from an angle and missed.
He fell directly into Lattimore's left knee. Completely by accident.
But devastatingly so.
"I never felt anything like that," Lattimore said.
"We were stunned. We all were," said defensive line coach Brad Lawing.
"It was a dark time," Holloman said. "We don't want to see anybody get hurt, but especially someone like Marcus."
"He's a tough guy, so any time he doesn't get up we knew there was something going on," Swearinger said. "But we all felt like he shouldn't have been out there blocking if he wasn't getting the ball."
As Lattimore was gently helped off the field, the situation seemed bleak. Sportswriters in the pressbox were switching from watching the Gamecocks try to tie the game to what was going on with Lattimore.
Official injury updates are not available during a game, but signals are always present.
As Lattimore sat on the training table and his teammates came up to him one by one, hugging him and patting his shoulder pads, the diagnosis that wouldn't become official until a day later was starting to be known.
"They checked it right there on the field. Dr. (Jeff) Guy checked it, (head trainer Clint Haggard) checked it," Lattimore said. "They looked at me and said 'ACL.'
"You don't know how to respond to something that's never happened. I didn't know what to do. I was just blank."
Get on up
USC marched to the MSU 5-yard line. Running back Brandon Wilds, the only healthy back left, was stonewalled on first down. Ellington checked back in at QB for a 1-yard run.
For all of his offensive wizardry, Spurrier could also be predictable at the goal line. With Jeffery, who could retrieve a penny off a basketball rim and never rustle the net, Spurrier often called fade passes to the end zone, trusting Jeffery to outjump his opponents.
Shaw's pass was aimed toward the middle of the first "S" in "Mississippi State" etched in the end zone. Jeffery had Whitley behind him, left arm cradled around Jeffery's chest and his right arm raised with Jeffery's. Corey Broomfield ran to sandwich him from the front.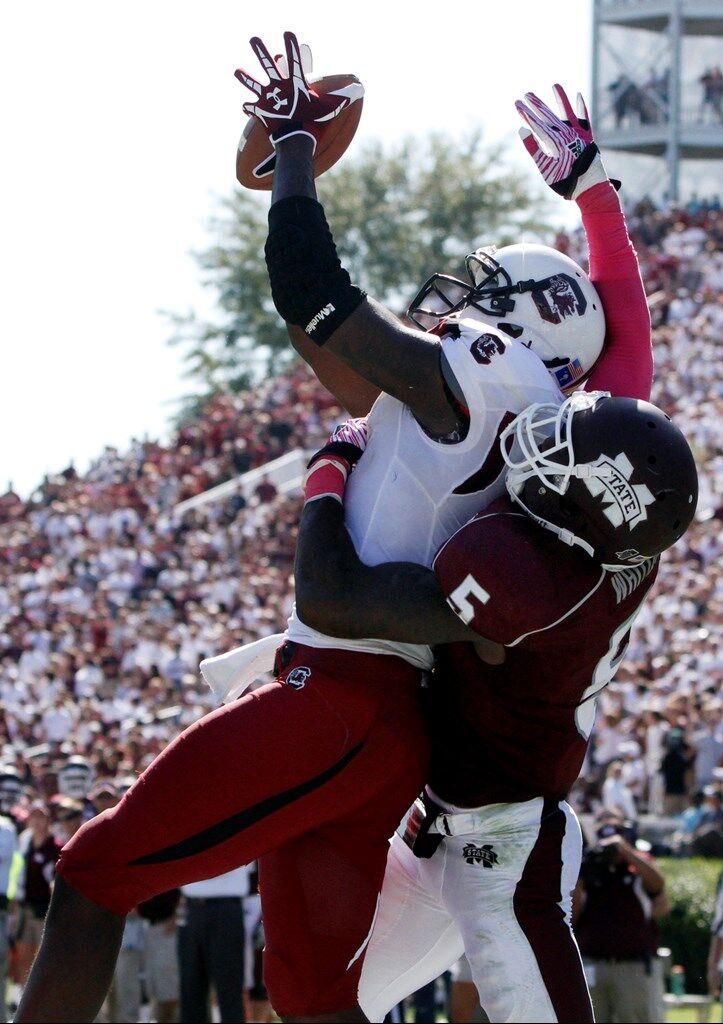 Jeffery, a four-time state champion in basketball from St. Matthews, got both paws on the ball and landed on top of Whitley, losing his helmet in the process. The Gamecocks led, 14-10, with 3:45 to go.
It's a bird, it's a plane, it's JungleBoi
A 21-yard kick return had MSU in business and a 22-yard pass from Tyler Russell to Arceto Clark put the Bulldogs at the USC 46. Swearinger brought down Russell after an 11-yard scramble with just under two minutes to play.
"Connor made a great throw for Alshon, he caught it over three guys in the back of the end zone, so now we got to make the game-winning stop," Swearinger said. "Melvin had the pressure, I kind of felt a route was coming."
Russell again targeted Clark, who was running one-on-one with USC cornerback C.C. Whitlock, but Ingram's pressure made the pass a little too high, a little too shallow. Clark went to his knees, extending his arms for a cradling catch ...
And Swearinger swooped out of nowhere for a diving interception. He caught, landed, turned a somersault and immediately flipped the ball in the air.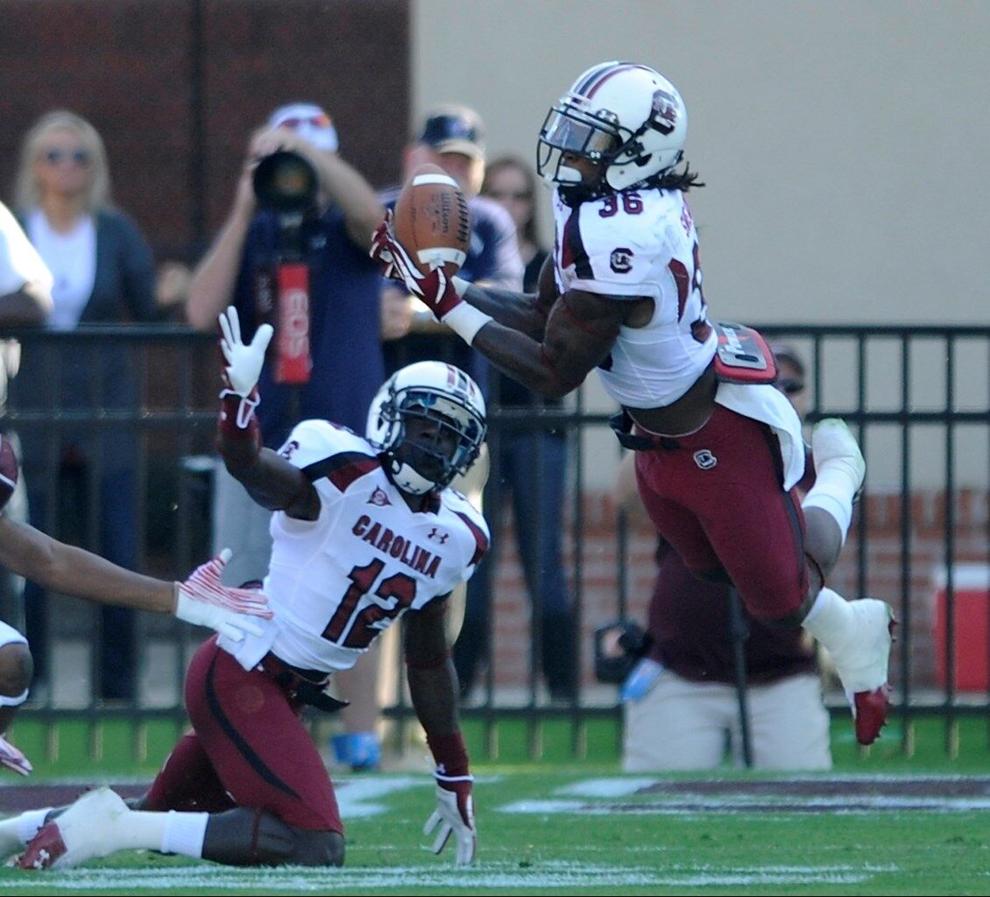 USC couldn't run out the clock so Spurrier ordered Shaw to backtrack into his own end zone, then step out of bounds once the clock hit zeroes. The intentional safety set the final score, the Gamecocks won the game, and everybody breathed a sigh of relief.
For a second. Lattimore's injury dominated the day. USC was 6-1 but its offense was struggling with Lattimore.
Without him?
COMING NOV. 12 – PART VI: THE WILDS BUNCH