COLUMBIA — Silence.
Walking the deserted concourse of Carolina Coliseum, seeing the cracked concrete and the sunlight that filters in the wall-to-wall windows, the silence is what resonates. A building that was known for its noise doesn't make a peep these days.
It was the largest arena in the Southeast when it opened, home to South Carolina basketball and what would become a center for graduations, concerts and for a brief spell, minor-league hockey. The grand old palace between Blossom and Greene Streets, that rises like an ancient temple as one travels southeast on Assembly, still brings powerful memories.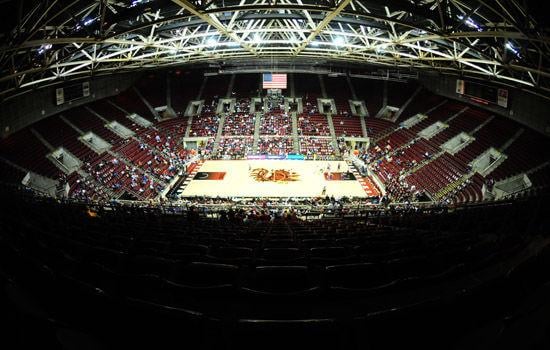 The coliseum turned 50 in November, an occasion neither noted nor celebrated, as she's been content to slip into history. The Gamecocks play basketball across a couple of parking lots at Colonial Life Arena (CLA) and the coliseum's playing surface, the former Frank McGuire Arena, has been converted into practice courts. USC's men's basketball offices take up a renovated space that used to be the "Elephant Room" in the southwest corner, so named because one year when the circus came to town, it was too cold for the pachyderms to remain in their outside tents.
The old girl will remain, though, USC deciding long ago not to tear her down. The College of Hospitality, Retail and Sport Management still resides in the basement corridors ringing the old court, and proposals upon proposals have been considered on what to do with the concourse.
The Coliseum housed the school's first regular-season champion in its SEC history. It hosted a gamut of concerts from Hank Williams Jr. to Kiss, with one particular 1977 show inspiring a USC tradition still beloved today.
She's 50 and lost in her memories.
In the beginning 
Frank McGuire needed a new arena. The decrepit Carolina Field House was in no way fit for the burgeoning basketball powerhouse he was constructing, and no recruit in his right mind wanted to play in it.
Following the 1967-68 season, the Coliseum was in motion but not looking like it would be completed in time for the 1968 season-opener. The plans were to finish the Coliseum during the season and play in the Field House until it was ready.
Not good enough, leading to one of USC's most fascinating urban legends.
"That Frank McGuire burned down the old Field House," said Casey Manning, basketball letterman from 1971-73 and current radio analyst. "The legend is, and it's true, there was a fire in the old Field House, but it didn't take. So two weeks later, a better fire started and we got a new coliseum."
Archives show there was a fire on March 24, 1968, that harmed half of the building. It was completely destroyed on April 13 by another fire.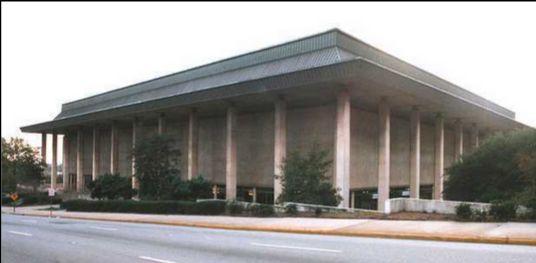 Was the Irishman responsible? Nobody could ever say for sure, and the Gamecocks' all-time winningest coach died in 1994.
But the Coliseum opened on Nov. 30, 1968, where seats were being installed up to the opening tipoff. The Gamecocks hosted Auburn and won, 51-49, when John Roche buried a jumper with seconds to play.
"That kind of set the tone for that year," said Dennis Powell, who played from 1969-71.
Build it and they will come
USC basketball was the hottest ticket in town. The first team to play in the Coliseum won 21 games and the second won 25, including all 14 ACC games.
"It was a shiny new diamond," Powell said. "Beautiful court. A tartan court, which was where that real shiny look came from. The seats were all garnet and cushioned."
The design of the building seated 12,401 in a configuration that brought one word to mind — steep. Climbing to the top nearly required safety ropes.
That led to the Coliseum's reputation. Lower seats were padded but bolted to metal bleachers. When folks began stomping on them as McGuire's boys zeroed in on another opponent, the cacophony was something like a nuclear blast inside cannon fire.
"It was so compact, the noise was contained within the building because there was no outlet for it," Manning said. "The noise, the closeness of the fans, you knew where everybody was in that place."
The King
Elvis Presley played the Coliseum on Feb. 18, 1977. The building had some 600 people above capacity, including former USC quarterback Tommy Suggs.
"When he came out to '2001,' I just went nuts because I always loved Elvis," Suggs said. "About three or four months later, I was in banking school at LSU and he came there, too. He came out with the same intro, and I leaned over to a friend of mine and said, 'That song needs to be something we can bring our football team out to. If it's good enough for Elvis, it's good enough for me.'"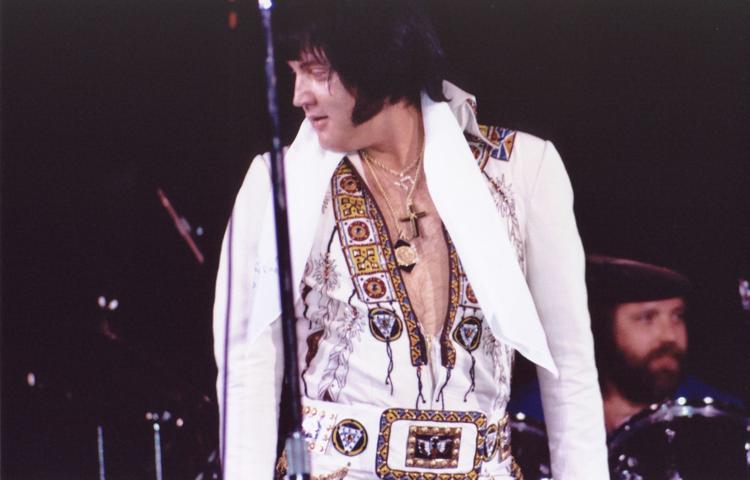 It took three football coaches and two athletic directors, plus a new sound system, to get it done. But in 1983, the Gamecocks ran out to "2001," just as Suggs envisioned when he saw Elvis do it in 1977.
Presley died six months after he performed in Columbia. The Gamecocks still run out to "2001" today.
Wandering the desert
USC departed the ACC in its heyday and its basketball fortunes declined. There were some highlights — Zam Fredrick led the nation in scoring in 1981, the Gamecocks made it back to the NCAA tournament for the first time in 15 years in 1989 — but it was mostly a lot of disappointment.
The "House that Frank Built" and the basketball program were still cherished.
"I lived less than 10 minutes away. I could walk to it," former USC basketball player Carey Rich said. "My buddies and I would walk the railroad tracks to go to the big concerts when LL Cool J or Run DMC came. We couldn't afford tickets and the bus, so we walked."
Rich got to live the dream, a kid from Columbia's inner city that won a high school state championship at the Coliseum and returned to play there as a Gamecock. He led C.A. Johnson High to the 1989 Class AAA title and after a freshman year at Western Carolina, transferred home.
The program had started to rise under George Felton with that 1989 NCAA appearance, but he was gone by 1991 and that started the ill-fated Steve Newton era. Rich played through that, Bobby Cremins' abrupt about-face after accepting the USC job (then returning to Georgia Tech) and the hiring of Eddie Fogler.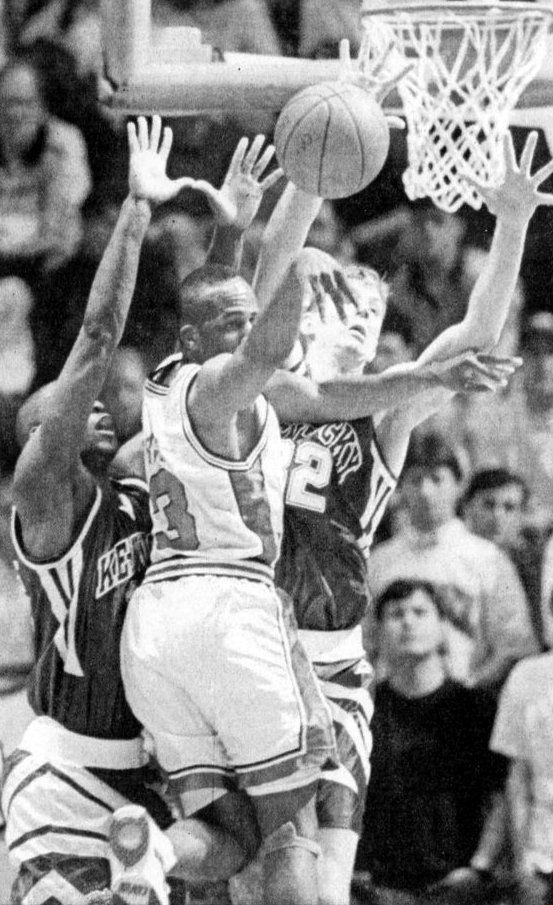 Under Fogler, the Gamecocks began to rise again.
"We upset No. 7 Kentucky in 1994 and I made the winning assist," Rich said. "I had 19 points and 9 assists, and we beat Kentucky by one."
Tony Delk had given Kentucky the lead with 31 seconds to play. Fogler called for Jamie Watson to get the ball and make a decision. Rich was guarded by Travis Ford.
"He left me to go double-team Watson, Jamie passes to me, and I pump-faked from the 3," Rich said. "I took two or three dribbles, got to the paint, was going to lay it up, and Gimel Martinez jumped at me."
Rich passed to a wide-open Emmett Hall on the other side for the game-winning layup. It was USC's first win over a ranked opponent since 1990.
The mountaintop
It started so lousy. The Gamecocks were 5-5 and two of their last three losses were to UNC Asheville and Charleston Southern.
"I think they were shocked we lost to Asheville and Charleston Southern, but the very first conference game against Auburn, we had a really good crowd," point guard Melvin Watson said. "We played hard and we got that one."
Watson committed to USC despite having two of his most sour memories at Carolina Coliseum. As a prize prospect at Burke High, he'd lost the state championship game there twice, each in overtime.
But seeing that big Gamecock painted on the floor made him want to play more games there, and in 1996-97, it all came together. Following the bad start, USC beat Auburn — and then won 16 of its next 17 games, claiming the SEC regular-season championship.
It was the first for the school since it joined the league five years previous, and is still the only one for the men's basketball program. The Gamecocks didn't clinch it on their home court, saving that for Rupp Arena, but beat Kentucky in overtime on Feb. 4, 1997, in one of the best games the Coliseum ever hosted.
"We were down five, Larry (Davis) made a huge 3, then I scored off the high ball screen to send it to OT," Watson said. "BJ (McKie) took over in overtime."
Not a sound
A statue of a rooster, a gift from the 1969-70 senior class, stands watch beside a portrait of McGuire. A glassed-off trophy room still houses plaques and tarnished relics of long ago.
There were moments after that championship season — (remember this?) a seven-year stay for the Columbia Inferno hockey team, some arena football, times when John Mayer or Elton John would use the acoustics for sound check before playing the CLA. Mostly, it's been empty since CLA opened for the 2002-03 season.
There was one final game, when a mistake booked a 2013 concert at CLA the same day USC's women's team hosted LSU. For one night, Carolina Coliseum hosted basketball again, and the Gamecocks won, as they did in the 2002 NIT the night they thought the last game was being played.
Today the 3,000 seats ringing the court have been removed for the practice courts. The buzzing from the electric dome lights persists.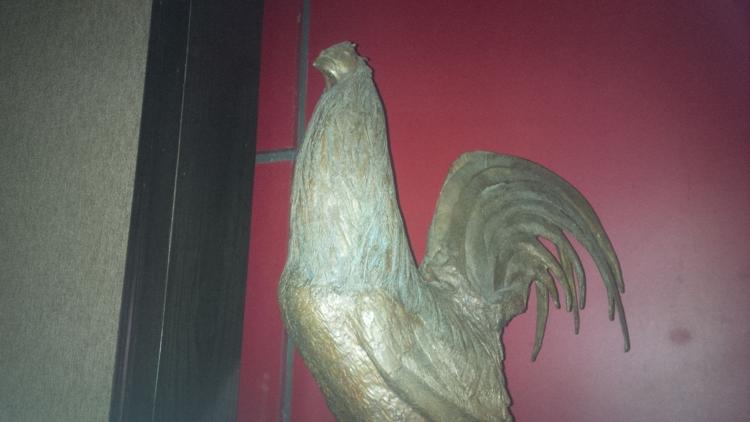 CLA is a beautiful building and has been all that it was supposed to be, except for the basketball atmosphere the Coliseum had. Nothing compares to what that building was when it was full and alive.
"It was a big, open arena, just huge," Watson said. "I loved how the seats were right there behind the bench and went straight up to the clock."
"It was almost like I could walk from our bench, take 10 steps, and high-five somebody in the first row," Rich said. "The sound, it was so loud. It always appeared that it was dark, with the seats and the stands going up in the rafters. Man, I loved it!"
CLA seats 18,000 in an era where many schools build or renovate arenas to cap at 10,000. As much as it was designed to be the opposite of the Coliseum in terms of space, lighting and comfort, it's also the opposite in terms of basketball atmosphere.
Sellouts at the Coliseum were common. CLA has had 14 basketball sellouts in its history.
"I do think it was created with a business model in mind. It takes away the college atmosphere that you want to have in a gym or arena," Rich said. "It's wonderful whenever you can get 18,000 fans in that arena. But when it's not 18,000, then you don't get that kind of feeling."
The Gamecocks needed a new arena and nothing against the CLA, as it's lauded among its peers for its appearance and amenities. But it's not the Coliseum.
She sits a block away growing quieter, her golden anniversary as silent as her walls.