When the S.C. High School League state cross country championship meet begins Saturday at the Colonial Cup course in Camden, the Lowcountry will have a host of runners competing for state honors.
Qualifying meets were held over the last week at various courses in the Lower and Upper State. Those who qualified will compete on Saturday.
In Class AAAAA boys, Cane Bay's Zane Jackson continued his strong fall by winning the Lower State meet, finishing ahead of runner-up Dawson Wright of Fort Dorchester. Daren Hinds of Summerville was third and teammate Noah Woodbury was fourth.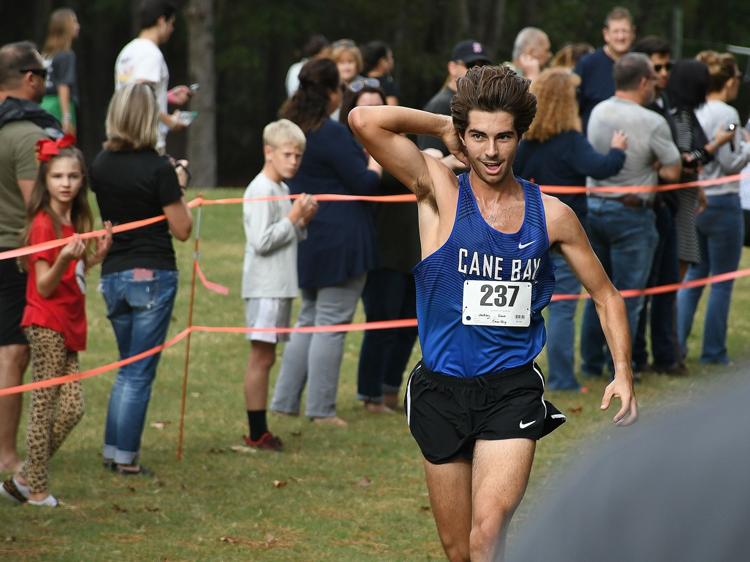 Wando placed three runners in the top 10 with Daniel Munoz placing fifth, Carson Archie taking eighth and Brendan Gomez finishing ninth. Brandon Clark of Ashley Ridge was seventh and Robert Perrecone of Cane Bay was 10th.
Wando won the team title, followed by Summerville, Fort Dorchester, Stratford and Ashley Ridge in the top five. Cane Bay was eighth and James Island placed ninth.
In the Class AAAAA girls, James Island was the top scoring team, led by eighth-grader Hannah Vroon's first-place finish. Amelia Carson of James Island was sixth and Kattie Cannon finished 10th.
Summerville eighth-grader Brianna Dooney was the runner-up to Vroon and teammate Milaya Buchanan was fourth. Stratford's Sydney Palmer was third, joined in the top 10 by teammates Kaelan Pierce (5th) and Alyssa Davis (7th). Fort Dorchester's Megan Studley and Tess Studley were eighth and ninth, respectively.
Stratford finished second in the team standings, followed by Summerville, Wando, Ashley Ridge and Fort Dorchester in the top six.
In the Class AAA boys qualifiers, Bishop England's Mark Richter finished second and teammates Logan Desciak finished fifth and Daniel Infante was ninth. Hanahan's Aidan Hatton placed fourth while Academic Magnet's Evan Daniels and Kristopher Gholson were sixth and eighth, respectively.
Bishop England's Mary Wallace Rainero was the top local finisher in the Class AAA girls qualifier, placing fifth. Hanahan's Hannah Johnson was sixth and teammate Kylie Futrell was seventh. Annika Deveau of Bishop England finished 10th.
Noah Ward of Philip Simmons won the Class AA/A boys qualifier. Hailey Meyers and Josie May of Philip Simmons were fourth and fifth, respectively, in the girls qualifier.
CAWS volleyball all-state
The Coaches Association for Women's Sports (CAWS) announced their all-state selections in volleyball.
In Class AAAAA, the local players selected were Grae Gosnell and Ali Claire Jahn of Wando, and Alli Atkinson and Vanessa Blake of Ashley Ridge.
In Class AAA, Bishop England's Leah Zimlich and Hanahan's Marley Owens were selected. Oceanside Collegiate's Olivia Yarborough and Sophie Meredith were Class AA selections, along with Miya Gerding of Philip Simmons.
Class A all-state picks were Natali Leshko of Charleston Math & Science and Siri Helmstetter of Palmetto Scholars Academy.
North-South volleyball rosters
The 2019 North-South volleyball matches will be held Nov. 23 at Erskine College. Selections for the AAAAA/AAAA South team include Gosnell and Jahn of Wando, Anna McClure of James Island and Maddie Mitchum of Stratford.
Lowcountry players on the AAA/AA/A South roster are Meredith and Kate Majewski of Oceanside Collegiate, Brianna Blanchard of Bishop England and Abby Sutterlin of Academic Magnet.
November signing day
Wednesday is the November early signing period for college scholarships, and several schools around the area will be holding ceremonies.
Recent verbal commitments announced include Stratford junior pitcher Josh Davis to Charleston Southern and Berkeley softball infielder Jersey Silver to Presbyterian College.
Hanahan announced three early signings — Kylie Futrell will run track and cross country at North Greenville, softball pitcher Golden Thrower is signing with Georgia College and soccer player Zoe Mills is signing with USC Lancaster.
At Porter-Gaud, swimmer Elysse Pardus is signing with Auburn. Soccer player Mari Gillum is signing with Winthrop, while Chase Cannon is signing in basketball with Hampden-Sydney.
Schools holding signing day ceremonies are asked to send their signings and photos to shelto66@hotmail.com.