Sitting in a doctor's office in 2011, Laura Francis had no way of knowing her future would include capturing gold in an international boat racing competition.
Back then, the arts teacher at Howe Hall AIMS in Goose Creek was coping with the news that she had breast cancer.
She underwent a lumpectomy and cancer treatments that resulted in several complications over the next few years, including a bout with kidney failure. Francis was drained. But she was not defeated.
"I proved to myself that I could do anything," said Francis.
During her treatments, Francis developed a passion for Dragon Boat racing, a sport that includes a crew of more than a dozen members who paddle a set distance to the finish line.
While she picked up the hobby in 2012, it wasn't until she retired from teaching in 2016 that Francis started competing in the international events with Dragon Boat Charleston.
The group recently returned from Szeged, Hungary, where about 50 of them participated in the International Dragon Boat Festival's World Nations Championships. They competed in the All-Cancer Survivor Women's Division.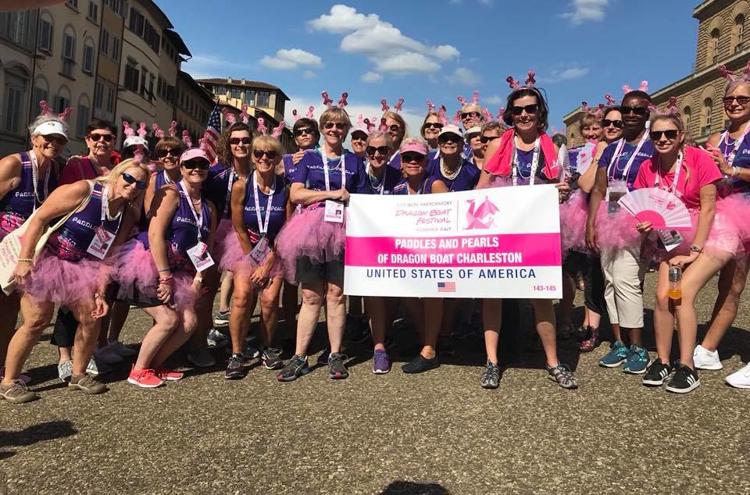 Their team, the Awakened Dragons, won first place in the 200-meter race and second place in 500-meter race.
Overall, 138 teams from all seven continents and 20  countries competed. The Awakened Dragons finished among the top 35.
And in early July, the group competed in a participatory contest in Italy, where they finished among the top 15 teams. That event also included a massive parade and festival.
"The cancer survivors of Dragon Boat Charleston have shown their strength in and out of the boat," said Amy Brennan, the executive director of the group. "We are so proud of our teams and so thankful that they got to experience these events and represent Charleston."
Dragon boat racing isn't all fun and games for the competitors. The paddling not only works the arms, but also the core, said Alice Turner, who's been a member of the local group since 2006.
After her breast cancer diagnosis in 2001, Turner had no desire to work out, jokingly admitting that she was a "couch potato."
And even when she learned the importance of staying active as a cancer survivor, she was ready to quit Dragon Boat Charleston just a few weeks in.
Now, looking back, the 66-year-old is glad she stuck with it.
"Each week, I got stronger and stronger. And it's just hard to believe that now I'm competing in world competitions," she said.
Like her teammate, Francis said she still can't believe how the sport has changed her life. She said the experience not only helps her physically, but socially as well.
"We're not just survivors, we're thriving," Francis said. "And when you have people you just met offering words of encouragement, and showing love … you can't even explain it."