Rickey Sullivan, the director of instruction at the Ranch at Bulls Bay in Awendaw, will be like a proud papa heading to Augusta next week to watch two of his students compete.
Rachel Kuehn, a Wake Forest sophomore from Asheville, N.C., and Amanda Sambach, a high school senior from Davidson, N.C., who has committed to play for Virginia, both have received invitations to compete in the Augusta National Women's Amateur that will be played March 31-April 3 at Champions Retreat and Augusta National, home of the Masters.
The 54-hole tournament features an international field of women amateurs who play a practice round at Augusta National, then head to nearby Champions Retreat for the first two rounds of the tournament (Wednesday-Thursday) with the top 30 players advancing to the final round at Augusta National on Saturday. It was first held in 2019 with Jennifer Kupcho, the world's top-ranked amateur, winning. The 2020 tournament was canceled because of COVID-19.
"If they are getting invitations, they're some of the best golfers in the country, the best in the world," Sullivan said.
Kuehn, who was an All-America selection as a freshman at Wake Forest, recently won the Palmetto Intercollegiate played at Kiawah Island Golf Resort, the North-South and the Annika and has represented the U.S. on both the Curtis Cup and Palmer Cup teams.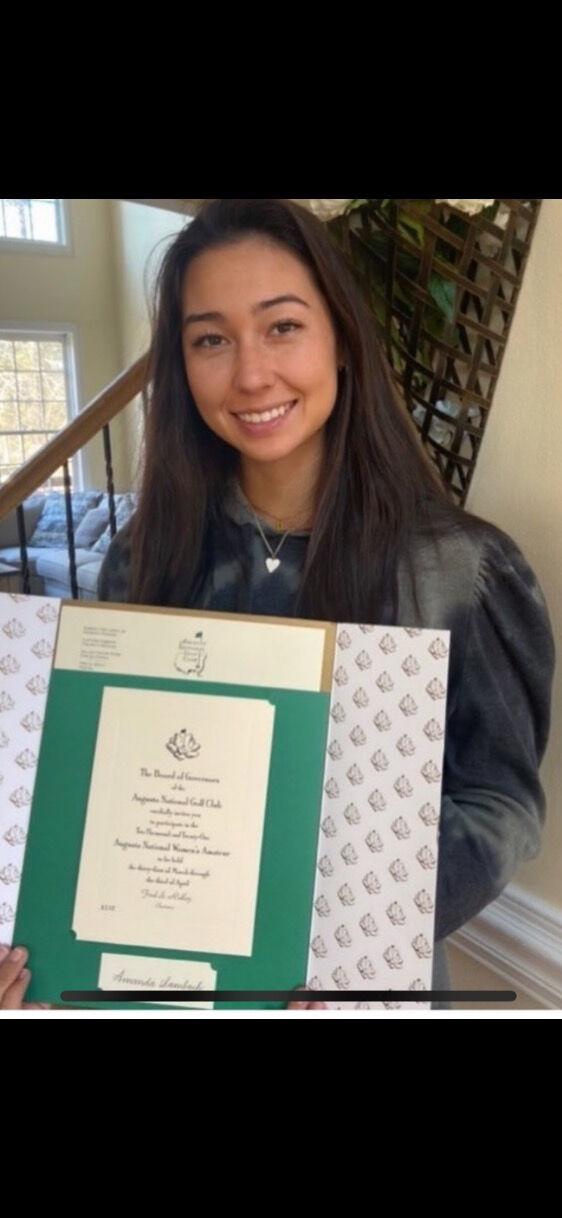 "I've worked with Rachel since she was 12 years old," Sullivan said. "She has a great pedigree. Her mother (Brenda Corrie Kuehn) was an All-American at Wake Forest and also played on the Curtis Cup team.
"We see each other about every four weeks and are really close. She's like a second daughter. We're on the phone every other day, working on golf or talking about life."
Sullivan said he doesn't often get to watch his golfers compete, but he was able to do so when Kuehn played in the Palmetto Intercollegiate at Kiawah Island. He said she came up to him after winning the event and said his presence was a comfort.
"As the parent of athletes and coach of a lot of golfers, that's what you want them to have. I told her I hoped I brought comfort and not anxiety. That was really cool for me to be there," Sullivan said.
Sullivan said he just started working with Sambach, one of the best juniors in the country. Sambach has won the American Junior Golf Association (AJGA) Rolex tournament and been ranked in the top 10 in the world.
"She is a couple of years behind Rachel, but they both could end up being among the best players in the world. They're that talented. Time will tell," Sullivan said.
CALGA at Wild Dunes
Tracy Thorne of Seabrook Island shot 88 to win field low gross honors in the Charleston Area Ladies Golf Association (CALGA) match played at Wild Dunes Resort. Vivi Wood of Dunes West and Lynne Klinkhammer of Wescott shared field low net honors with 68s.
Flight winners: First - Robin Moyer, Rivertown, 90 gross; Evie Wasson, Dunes West, 76 net. Second - Jennifer Alvarez, Rivertowne, 95 gross; Barbara Ambler-Naple, Crowfield, 76 net. Third - Peggy Brinson, Coosaw Creek, 96 gross; Pat Slagle and Lori Irzarry, Coosaw Creek, 77 net. Fourth - Linda Travis, Rivertowne, 102 gross; Nancy Ponderlik, Seabrook Island, 82 net. Fifth - Diane Bowler, Shadowmoss, 99 gross; Tracie Wilson, Wescott, 76 net. Sixth - Sandi Frank, Snee Farm, 98 gross; Clara Polutta, Charleston Municipal, 75 net. Seventh - Charlene Atkins, Wescott, 102 gross; Brenda Griffin, Wescott, 78 net. Eighth - Denise Bromer, Dunes West, 102 gross; Lisa Tang, Crowfield; Desiree Koslova, Shadowmoss; and Joette Licausi, Rivertowne, 75 net. Ninth - Valerie West, Stono Ferry, 106 gross; Joann Thompson, Coosaw Creek, 76 net.
Charleston Golfweek Tournament
Nathan Strack shot 82 to win the Championship Flight in the Charleston Golfweek Tour event played at Kiawah Island Golf Resort's Oak Point course. Biff Huff won a playoff over Tony Capehart after both shot 76 in A Flight. Tim Sumption won B Flight with a score of 79. Tom Brady won C Flight with an 81. Jimmy Sullivan won D Flight with an 82.
Coming up
• The William Brian Moody Foundation will host a virtual golf tournament on May 1. Virtual play is April 10-May 1 with an entry fee of $50. Visit wbmoodyfoundation.com or call 843-323-7730.
• May 3: Coastal Carolina Council, Boys Scouts of America Tenderfoot Golf Classic, Ocean Winds-Seabrook Island Resort, $1,750 per team, $400 individual, contact John Rama at 843-377-0753 or Michelle Strobel at 843-804-9875, or visit coastalcarolinabsa.org.
• May 3: East Cooper Habitat Golf Tees to House Keys Golf Outing, Charleston National Golf Club, $500 per team, $150 per player, visit eastcooperhabitat.org.
• MAY 10: Knights of Columbus Council 9475 12th annual golf tournament for The Daughters of St. Paul, Harbor Course-Wild Dunes Resort, $110 per players, COVID-19 protocols will be followed. Contact Neil Whitman ngwhitman@yahoo.com or call 843-270-9834 for more information.
• May 13: Kiwanis Club of Moncks Corner Golf Tournament to fund high school scholarships, Berkeley Country Club, $65 per player, $260 per team, contact Lynn Smith at lsmith00jls@gmail.com.
• May 22: Warrior Surf Foundation Charity Golf Classic to benefit veterans, Wescott Golf Club, $400 per team, visit warriorsurf.rallyup.com/golftournament.
Aces
Tommy Harper, Feb. 10, Oldfield Golf Club-Okatie, No. 3, 102 yards, 8-iron. Witnesses: Danny Stephenson, Fred Merrill.
Carole Davis, Feb. 24, Charleston Municipal Golf Course, No. 4, 125 yards, 7-wood. Witnesses: Anne Ford, Carole Truslow, Mary Daniels.
Kathy Hagen, March 11, Cassique-Kiawah Island Club, No. 5, 94 yards, 6-iron. Witnesses: Kelly Lance, Jennifer Monroe, Christine Shippee.
Robert Ruff, March 12, Cassique-Kiawah Island Club, No. 13, 165 yards, 8-iron.
Leo Horey, March 13, Cassique-Kiawah Island Club, No. 13, 163 yards, 5-iron. Witnesses: Howard Vogel, Bob Thomas, Nathan Young, Stefan Kwasny, Ty Davis.
Rufus Mincey, March 13, Crowfield Golf Club, No. 4, 119 yards, 9-iron. Witnesses: Carolyn Daniels, Ric Edgar, Jim Parker.
Bruce Boggs, March 14, Bulls Bay Golf Club, No. 7, 138 yards, 5-iron. Witnesses: Reggie Chesson, Bill Crawford, John Lentz.
Rocky Catalano, March 22, Bulls Bay Golf Club, No. 14, 173 yards, 5-iron. Witnesses: Randy Glover, Jimmy Hickey, Terry O'Shaughnessy, Joe Olin.
Tommy Blackwood, March 24, Berkeley Country Club, No. 15, 128 yards, 9-iron. Witnesses:Ron Harvey, Dave Smith, Sammy Parker, Nick Couch.
A hole-in-one should be reported by the golf course. Please email aces to braswellsports@hotmail.com and to sportsdesk@postandcourier.com.