Cam Costa didn't take the most direct route to becoming Bishop England's starting quarterback.
Costa's journey began four years ago at Wando High School, where he played on the Warriors' B team as an eighth-grader. Unable to crack the starting lineup, Costa transferred to Bishop England as a freshman and played on the Bishops' junior varsity team before his family moved to Strongsville, Ohio, a town 30 miles south of Cleveland.
It was during his sophomore season playing  in Ohio that Costa injured his knee. He spent the better part of the next year rehabbing the injury.
"It's called Osteochondritis Dissecans. It's where the bone and cartilage separate from the knee," Costa said. "In some ways, it's worse than having an ACL injury. I had the surgery over the Thanksgiving holiday and I don't think I felt like I was fully back until this past summer."
His family moved back to Mount Pleasant before his junior year of high school, and Costa joined the Bishops football team for the second time. The competition for playing time was tough with teammates Will Daniel and Eddie Marinaro also listed as quarterbacks.
"My knee just wasn't 100 percent last year, so I was kind of limited in what I could do in the offense we were running," Costa said.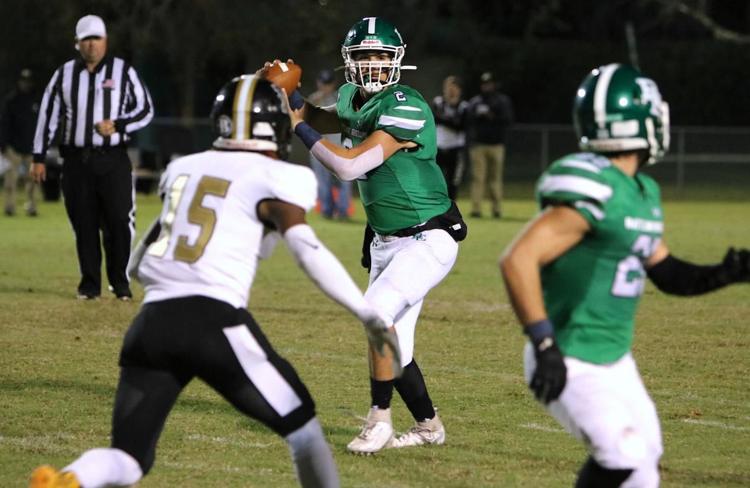 Daniel eventually won the starting job, but he got hurt early in the season and Costa was able to get on the field in a limited capacity. The Bishops' coaching staff began to settle on a more option-oriented attack and Marinaro became the starting quarterback. The 6-3, 215-pound Costa was moved to defensive end and wide receiver.
"I think Cam was a little tentative with his knee, but he did a good job for us at receiver and on defense," said Bishop England head coach John Cantey.
Going into spring practice, Cantey hired Danny Croghan as the team's new offensive coordinator. Croghan led the Bishops to the 2011 Class AA state title and later played at Charleston Southern.
It couldn't have been better news for Costa, whose knee was finally healed. Croghan was the Bishops' JV coach when Costa was a freshman.
"Coach Croghan sat everyone down and told us it's going to be an open competition," Costa said. "Whoever performs the best is going to win the job and play. I spent the whole spring working on my footwork and trying to do a lot of agility stuff. I knew I controlled my own destiny and I felt like it was my job to lose. That was my mentality."
He was named the starting QB after spring practice.
"You think about everything that Cam has had to battle through in the past four years," Cantey said. "He's persevered through a lot of things, moving, coming back, getting injured, and he just kept working and getting better. We run a pretty complicated offense and Cam has gotten more and more comfortable with it as the year has gone on. He's a captain and a great leader for the younger guys."
Heading into Friday's Class AAA state playoff game with Lake City, Costa has completed 128 of 226 passes for 1,685 yards and 17 touchdowns. He's coming off a 241-yard, three TD performance against Manning last week.
"Cam has a really high football IQ," Croghan said. "He's picked up the offense really quickly. He gets us into the right play and knows where the ball is going before the ball is snapped, which is crucial in this offense. He can make every throw, he's the complete package."
With Costa blossoming at quarterback, the Bishops have been able to move Marinaro to receiver, getting their best athletes on the field at the same time.
"That was really important because we needed Eddie to be on the field," Cantey said. "He's a weapon and we needed to get him the ball."
Costa hopes to be playing quarterback in college next year. Wingate, Culver-Stockton and Point University all have shown interest in him.