The records keep piling up for Bishop England's girls tennis team.
And none are sweeter to coach Kristin Fleming Arnold and her girls than the latest one that came Saturday at Columbia's Cayce Tennis Center when the Bishops completed their second straight unbeaten season by capturing their ninth consecutive state title with a 6-0 victory over Chapman (13-3) in the Class AAA state championship match.
Fleming Arnold couldn't help but be proud of her team. "I am excited for the girls. They stayed focused on their goal and came out and did a good job," she said.
The SCHSL girls tennis state playoffs are finally coming down to the wire. And guess who is once again a heavy favorite to win the Class AAA s…
As for the records, "We just stay focused on being ready to play." That was obvious.
The victory earned junior No. 1 Lily Woods a fifth state championship tennis ring. She also was a star guard on the Bishops' state championship basketball team last season.
"I can't explain it . . . it's awesome," Woods described her feelings about winning another state title.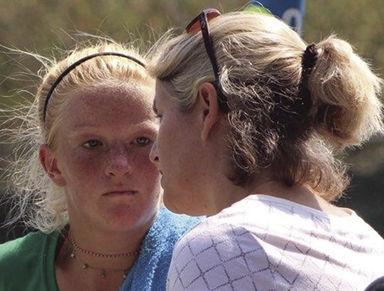 "This is my sixth ring," she added, pointing out that she will start basketball practice again on Wednesday. Woods will participate in the state individual tennis tournament on Monday and Tuesday as the No. 1 seed.
Indeed, the Bishops were ready for the test, even though they had beaten the same Chapman team 7-0 in the 2018 state final. This time, the match was closer as the Bishops yielded 23 games to Chapman, but no sets. A year earlier, Chapman had managed to win just 11 games.
"It was a good match. They (Chapman) were the same team, but a stronger team," Fleming Arnold said.
The Bishops' 22 victories this season included BE Invitational tournament wins over Class AAAAA state champion River Bluff and Class AA state titlist Christ Church.
This one marked Arnold's 16th overall state title, four as a BE player and three coaching the BE boys to go with the nine girls titles. Arnold's boys team also has won the last two state titles.
Overall, the Bishops now own a state-best 24 state girls tennis titles.
Woods, junior Jenna Santa Lucia, sophomore McKenzie Penton, seventh-grader Bella Nava and freshman Sydney Severance all won in straight sets in No. 1-5 singles, respectively, while the No. 2 doubles team of senior Molly McManus and sophomore Elle Bredemann also won, 6-1, 6-0.
CHRIST CHURCH AGAIN
In the Class AA state final, perennial power Christ Church (16-0), prevailed for the second straight year against Oceanside Collegiate Academy, 4-1.
Sophomore Grace Berchtold got the only win for Oceanside (12-4) with a 6-3, 6-2 victory at No. 2 singles over Christ Church junior Mary Cage Carter.
Christ Church sophomore No. 1 Annie Jennings scored a 6-1, 6-1 victory over OCA senior Emily Loring to set the pace for the unbeaten Cavaliers.
For Christ Church, it was the Cavaliers' 17th girls tennis state championship and the 10th during coach Sherry Adams' 14 years as coach of the Greenville team. The Cavaliers scored a 4-3 victory over Oceanside in the 2018 state final.
BE 6, CHAPMAN 0
SINGLES: Lily Woods (BE) def. Elizabeth Williams, 6-3, 6-4; Jenna Santa Lucia (BE) def. Alex Kinlaw, 6-1, 6-1; McKenzie Penton (BE) def. Westlyn Morris, 6-1, 6-2; Bella Nava (BE) def. Molly Foxworth, 6-3, 6-1; Sydney Severance (BE) def. Juliana Coates, 6-2, 6-4.
DOUBLES: Molly McManus/Elle Bredemann (BE) def. Paige Malick/Angela Maksimon, 6-1, 6-0.
CHRIST CHURCH 4, OCEANSIDE 1
SINGLES: Annie Jennings (CC) def. Emily Loring, 6-1, 6-1; Grace Berchtold (OCA) def. Mary Cage Carter, 6-3, 6-2; Sarah Allen (CC) def. Gracen Harris, 6-0, 6-2; Avery Nuckolls (CC) def. Jerdan Brown, 6-1, 6-3; Abby Riddle (CC) def. Ashton Loring, 6-2, 7-5.
Reach James Beck at jamesbecktennis@gmail.com.