New Citadel linebacker Isaac Stewart was making his way to the Bulldogs' football facility at 6 a.m. on a recent morning when he saw a strange sight — strange to him, at least.
"The regular students were out there in their uniforms, doing drills and marching around," said Stewart, a graduate-student transfer from Louisville. "That was new to me.
"You really get to see the structure and the order around here. You come in as a freshman and pay your dues, and it's really structured."
Stewart, a 6-2, 247-pounder who made 50 tackles in his last two seasons at Louisville, is one of four grad-student transfers joining the Bulldogs this season. Defensive lineman Shawn McCord is on board from St. Francis University, along with defensive backs Ronald Peterkin (Georgia State) and Cliff Barrett (Lenoir-Rhyne).
For the transfers, The Citadel provides a chance to play a fifth year of football while pursuing a post-graduate degree — and a glimpse of a military school that's just a bit different from what they are used to. Grad-student players live off campus, not in the barracks, and are not members of the Corps of Cadets.
"You hear things about The Citadel," chuckled Stewart, who went to high school in Charlotte at Butler High School. "Like, it's a military school and they wake up at 4 o'clock in the morning and all that."
Stewart spent four seasons at Louisville, a member of the ACC and one of the richest athletic departments in the country, with revenues of $120 million in 2017, according to USA Today.
Louisville is pumping $55 million into a football facilities upgrade that will include a 100,000-square foot football building with two plunge pools, a new locker room with 120 custom-made lockers, a 20,000-square foot weight room, a movie theater and players' lounge complete with billiards tables.
Needless to say, there's not much like that around The Citadel's Seignious Hall.
"Everybody asks me that — what's the difference between Louisville and The Citadel?" Stewart said. "To be honest, camp is camp for everybody. It's fairly similar; The Citadel has more couches, I will say that."
Stewart's best game at Louisville came during a 31-28 win at Florida State last season, when he totaled a team-best nine tackles. The week before, he had 10 tackles against Boston College, and he played with Heisman Trophy quarterback Lamar Jackson in the Cardinals' ACC showdowns with Clemson.
"It's fun to play on a stage like that," he said. "But once you are in the game, you are in the game. It could be 20,000 fans or 50,000 fans, it's pretty much the same."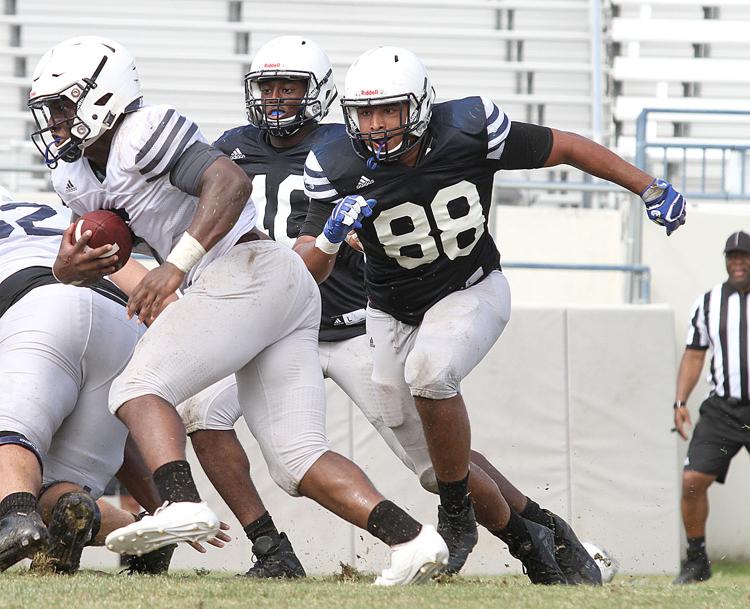 McCord, 6-2 and 255 pounds, played at St. Francis in Loretto, Pa., like The Citadel an FCS school with a modest athletic budget. He's been on campus since June 10, and already has completed two classes toward his MBA degree.
"I had heard of The Citadel, because at St. Francis we made the FCS playoffs in 2016," said McCord, who is from Aberdeen, N.J. "So I knew about their conference championships and that they also had made the playoffs."
🚨New Video Series Alert 🚨👀 the trailer for the new football video series, The Heat 🔥, that will debut this fall. #FireThoseCannons | #TheHeat🔥 pic.twitter.com/N9UyCqeu1V

— The Citadel Football (@CitadelFootball) August 13, 2018
Other things about life at The Citadel were a surprise.
"Wow, what these guys go through is tough," McCord said. "Being a student-athlete is one thing, but being a student, an athlete and a cadet is something else. It really speaks to the kind of man you are when you graduate from The Citadel.
"These are good guys around here, and they don't complain. These practices are more physical and tougher than what I've been used to, and we're doing it here in the heat. And nobody complains."
Citadel coach Brent Thompson expects both Stewart and McCord to play important roles for the front seven of the defense this season. For the transfers, the chance to play one more year of college football is important.
"When you graduate and then you are not playing football in the spring, it's tough," McCord said. "You are like, 'Wow, what am I going to do? Am I really going to go into the real world and get a job?'
"You realize football is what you are made for, that you are built to compete. When the option presents itself — play football or go into real life — you come down here and play football and enjoy every practice, every up-down and every sprint. That's what I'm trying to do."
Notes
• The Bulldogs held their picture and media day Saturday morning, followed by a scrimmage at 6:05 p.m. at Johnson Hagood Stadium.
• Thompson said Saturday the Corps of Cadets would make the trip for the season opener at Wofford on Sept. 1 ... Sophomore guard Jonathan Cole has missed some practice time with a leg injury, but should return soon ... Senior center Tyler Davis also has been out, with dehydration issues ... With Cole and Davis limited, freshman Jonathan Toole has been seeing reps at guard, and redshirt freshman Haden Haas at center.
As things heat up on the field, we swung by @Citadel1842 to provide the @CitadelFootball team with a refreshing @Certified_SC 🍉 treat. pic.twitter.com/EalitRRJQx

— Certified SC Grown (@Certified_SC) August 15, 2018
• The Bulldogs got a post-practice treat Wednesday with fresh watermelon from Certified SC Grown ... Citadel basketball has received a commitment from 6-8 forward Stephen Clark from Metrolina Christian Academy in Charlotte.