College of Charleston athletic director Matt Roberts and baseball coach Chad Holbrook will face no disciplinary action following the settlement of a wrongful termination lawsuit involving former baseball coach Matt Heath, school officials told The Post and Courier late Friday.
"During the proceedings leading to the pending settlement, several allegations of wrongdoing were made by the plaintiff's attorneys against athletics director Matt Roberts and head baseball coach Chad Holbrook," a College of Charleston spokesperson told The Post and Courier in an email. "The College took those allegations very seriously. As a result and with the full support and cooperation of Matt Roberts and Chad Holbrook, the College reviewed the available evidence and sought the advice of external counsel. Upon careful consideration, the College has concluded that no action is warranted against either Matt Roberts or Chad Holbrook."
The College of Charleston agreed to pay Heath $350,000, or the remaining balance on his five-year contract to settle his lawsuit filed in July 2017 last week.
The settlement ended nearly two years of legal battling over the controversial firing. Heath, who is an assistant baseball coach at Tennessee-Martin, had three years remaining on his contract that would have paid him $450,000 when he was fired on June 30, 2017. Under South Carolina labor laws, any money Heath would have earned through the end of his contract in 2021 would have been subtracted in a settlement. Heath has earned about $100,000 since his firing.
"Both Matt Roberts and Chad Holbrook continue to have the confidence and support of the College," the email said. "We look forward to Matt's and Chad's contributions to the College of Charleston both now and in the future."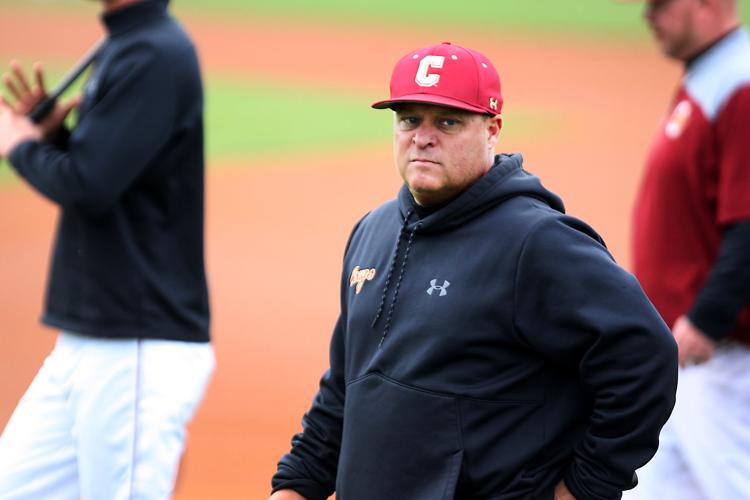 At the heart of the case was Heath's claim that he was fired so Roberts could hire Holbrook, the former head baseball coach at South Carolina, and a close friend dating to their days together at North Carolina.
Holbrook was hired as the Cougars head baseball coach in July 2017.
Roberts and the school countered that Heath was fired for "just cause" for his alleged physical and verbal abuse of his players that created a "toxic environment" for the two seasons he was the Cougars' head coach.
Heath has denied the allegations.
The case was initially resolved this past October when both parties "entered into a settlement agreement" of the original lawsuit that would have paid Heath $166,000. However, Heath's lawyers filed a motion to reopen the case after a forensic expert discovered text messages between Holbrook and his father that seemed to contradict statements made by Roberts.
In March, a federal judge reopened the lawsuit.
U.S. District Judge Richard M. Gergel said the "landscape changed" following the discovery of text messages in the case. He compelled Roberts and Holbrook to hand over electronic devices and emails to a forensic expert.
Steve Abrams, a forensic expert hired by Heath's lawyers, found text messages on Holbrook's iPhone between Holbrook and his father, former college coach Eddie Holbrook, that appear to contradict sworn testimony.
Holbrook said in an affidavit that he texted his father because he didn't want him to worry about his financial future after he was forced to resign from South Carolina. South Carolina and Holbrook reached a $600,000 settlement when he left the school.
In June 2017, the school launched an investigation into Heath's conduct as head coach. The school's investigation alleged multiple allegations of misconduct by Heath.
Roberts suspended Heath without pay during the investigation.
After the investigation was completed on June 14, 2017, Roberts notified Heath that he had initiated a termination action for "just cause" — meaning the school would not be required to pay Heath the balance on his contract. Heath had three years remaining on his five-year contract. He made $154,875 in 2017.
Roberts submitted his final recommendation that Heath be terminated for "just cause" on June 23, 2017, to College of Charleston president Glenn McConnell, who has since retired. McConnell made the decision to fire Heath a week later.
The original suit contended that the investigation by Roberts was "designed for one purpose only, to end Heath's tenure as head coach in bad faith" no matter the cost and not to uncover the veracity of the allegations of misconduct.
Heath, 39, was 59-57-1 in two seasons as the Cougars' head coach from 2016-2017. The team was 28-31 during Heath's final season in 2017. It was the Cougars' first losing season since 2001.
Holbrook is 72-40 in two seasons with the Cougars, including a 31-16 mark in the Colonial Athletic Association this past season. The Cougars finished second in the CAA during the regular-season and received a first-round tournament bye.