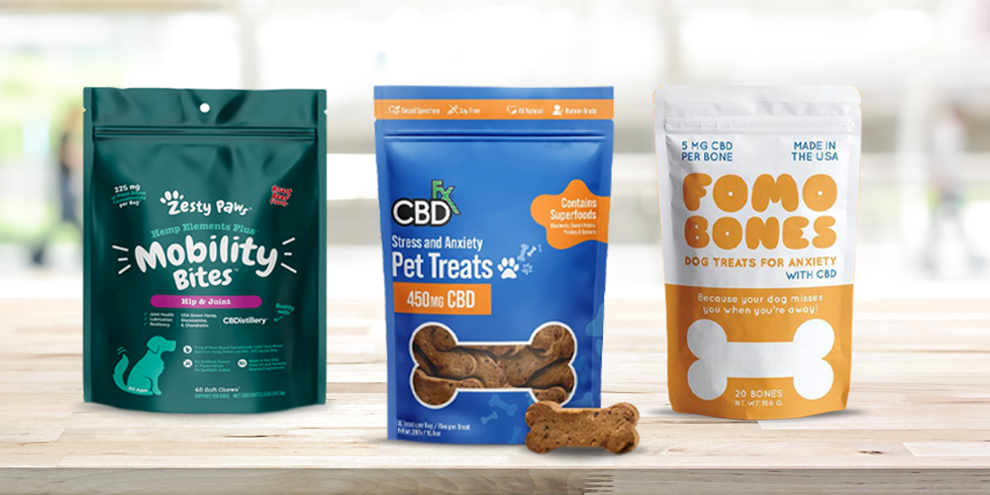 Dogs, like humans, require supplemental support for issues related to pain, anxiety, aging, and more. CBD dog treats are becoming increasingly popular as a natural remedy for these issues and may help to improve your pet's health and wellbeing.
CBD works with the body's endocannabinoid system (ECS) to modulate mood, pain, inflammation, and other physiological processes. CBD dog treats infused with beneficial phytocannabinoid provide your pup with the natural benefits of hemp, helping to increase energy, mobility, and mood.
But, to ensure your pup has the highest-quality products designed to support specific and general wellness conditions, it is essential to choose the best CBD dog treats from a trusted brand. Don't miss our detailed reviews of the best CBD treats for dogs on the market and learn more about how these delicious snacks can make a difference for your pup.
Top 5 CBD Dog Treats
1.CBDfx – Top Pick: Best CBD Dog Treats
2. Penelope's Bloom - For Joint Pain & Mobility Issues
3. CBDistillery- For Cognitive Support
4. FOMO Bones- Worthy Mention
5. Anxious Pet- Honorable Mention
Reviews of the Best CBD Treats for Dogs
1.
CBDfx
– Top Pick: Best CBD Dog Treats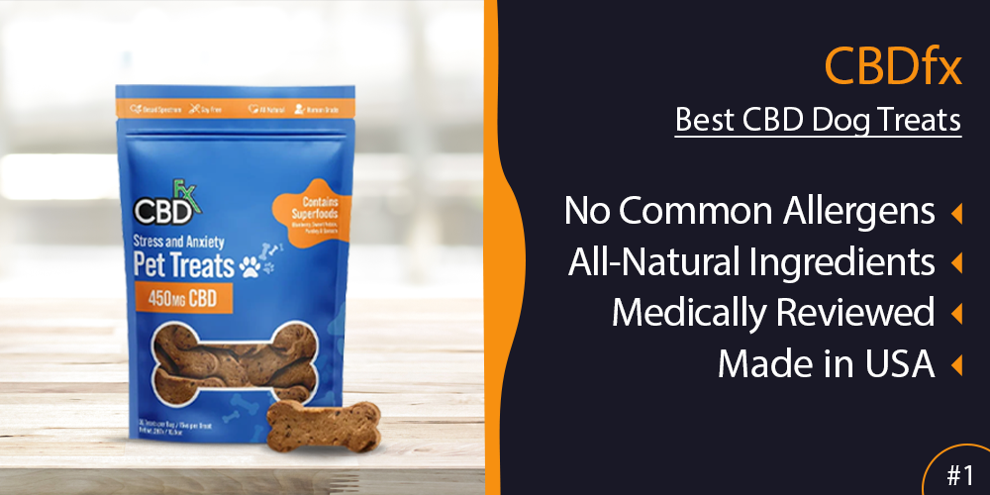 Pros:
Free from common allergens

Provides comprehensive wellness support

Healthy, all-natural ingredients

Medically reviewed by a licensed vet
About CBDfx CBD Dog Treats
CBDfx takes great pride in its hemp cannabis plant products, crafting each with organic, all-natural ingredients that work to enhance the overall wellbeing of your pup. Their hemp-based CBD dog treats are free from common allergens, like wheat and soy, and have been medically reviewed by a licensed veterinarian for safety and effectiveness.
Infused with CO2-extracted broad-spectrum CBD oil, these treats provide comprehensive wellness support to help with inflammation, joint pain, anxiety, and more. Each superfood-boosted treat contains 15mg of CBD and is safe for daily use.
Additionally, these CBD dog treats can help your pup remain calm and balanced throughout the day by boosting serotonin levels that promote more relaxed energy, thanks to the added GABA and L-tryptophan.
Knowing that no CBD dog treat is complete without a way to support the immune system for overall well being, each treat is loaded with a specialty mushroom blend that enhances the body's ability to heal from injury, surgery, and other physical trauma.
What's Included With the Order?
CBDfx delicious CBD pet treats come in 30-count, resealable pouches. The treats are shaped to look like miniature bones - a pup's favorite shape - and have a delicious, sweet flavor your dog is sure to love.
Individual or subscription orders are possible on the user-friendly, secure website, each with low thresholds for free shipping. All orders also come with a 60-day money-back guarantee, making this a safe investment for you and your pet.
Why We Chose CBDfx
Research shows that for dogs to receive the full benefits of CBD, their dog treats should include high-quality ingredients and be medically reviewed by a licensed veterinarian. These criteria put CBDfx far ahead of the competition, making them our top choice for the best CBD dog treats.
Visit CBDfx for more on their CBD dog treats
2.
Penelope's Bloom
- For Joint Pain & Mobility Issues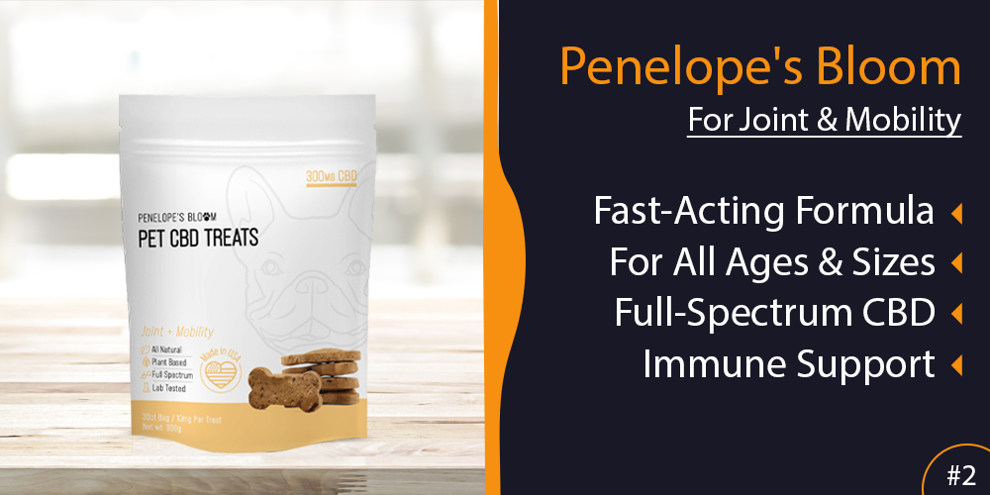 Pros:
Fast-acting CBD oil formula

All-natural ingredients

Suitable for dogs of all ages

Contains a full spectrum of cannabinoids
About Penelope's Bloom CBD Dog Treats
For small and medium dogs suffering from pain and mobility issues due to arthritis, hip dysplasia, surgery, or injury, Penelope's Bloom CBD dog treats are an excellent solution. Formulated with 10mg of full-spectrum CBD oil per treat, Penelope's Bloom pet snacks contain all the cannabinoids needed to stimulate the body's natural restorative properties that reduce inflammation and improve joint health.
Using all-natural ingredients that are easily digested and won't upset your puppy's stomach, these treats are suitable for dogs of all ages. With added organic coconut oil, these crunchy bites also work fast, making them perfect for pets with chronic pain.
Mobility and pain support with CBD aren't the only benefits these CBD dog treats offer. Thanks to the added hyaluronic acid, vitamin E, glucosamine, chondroitin, and turmeric, your dog will have plenty to gain from the immune-supporting properties of these treats.
What's Included With the Order?
Each order includes a 30-count of CBD dog treats with a total of 300mg CBD per pouch. Pouches are resealable to preserve freshness and potency with each dose. The snacks themselves are appealing, designed to look like your pet's favorite toy - a bone.
Single orders have the highest price point, but significant savings are available through bulk purchases or monthly subscription orders. Free shipping is available on orders of dog treats that meet the minimum threshold, and a satisfaction guarantee lasting 30 days is included with each purchase.
Why We Chose Penelope's Bloom
Penelope's Bloom CBD dog treats contain all-natural, quality ingredients that are sure to reduce inflammation and pain while boosting your dog's health overall. The combination of CBD and other nutraceuticals makes this an ideal choice for dogs - especially those suffering from joint issues or physical trauma.
Visit Penelope's Bloom for more on their CBD dog treats
3.
CBDistillery
- For Cognitive Support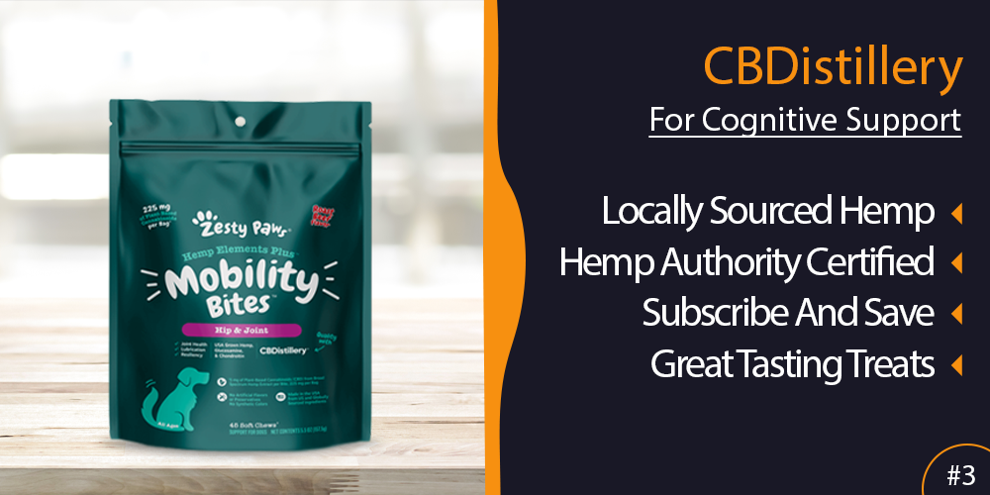 Pros:
Made with organic ingredients

Easily digestible CBD soft chews

Tasty roast beef flavor

Potent broad-spectrum CBD oil formula
About CBDistillery CBD Dog Treats
Whether from aging or genetic conditions, dogs experience cognitive decline that affects their quality of life. CBDistillery's soft chews for dogs are specially formulated to help improve your pet's mental clarity and cognitive functions with a broad-spectrum CBD formula.
Each soft chew contains 5mg of broad-spectrum CBD oil, and while this may seem lower than others on this list, its potency is improved with added terpenes and phytocannabinoids such as CBDa, CBDv, and CBG.
However, the premium grade, lab-tested broad-spectrum CBD oil is only one of many ingredients in these dog treats responsible for these soft chews being popular for cognitive support. Added Ashwagandha and Alpha-GPC further improve cognitive function while also working to reduce stress on the nervous system.
With a delicious all-natural roast beef flavor and tons of yummy, healthy ingredients to round off the mix, your pupper can enjoy these CBD dog treats with no worries to their stomach - or waistline.
What's Included With the Order?
Pet parents making a single order of CBDistillery's CBD treats can expect their order to include a 40-count resealable pouch of bite-sized soft chews. The packaging is quite informative - a helpful thing for new CBD users - offering detailed insight into ingredients, dosing, benefits, and lab reports.
CBDistillery also offers discounts for bulk buys and provides free shipping for subscription orders or those that meet the minimum order threshold. Subscription orders of CBD dog treats come monthly and can be canceled anytime - perfect for dogs with acute or chronic needs.
Why We Chose CBDistillery
A broad-spectrum CBD oil that includes phytocannabinoids essential to your pet's cognitive development and general health, ingredients that reduce stress on the nervous system, a great taste, and helpful packaging made it easy to choose CBDistillery as a top brand for best CBD pet treats.
Visit CBDistillery for more on their CBD dog treats
4.
FOMO Bones
- Worthy Mention: For Separation Anxiety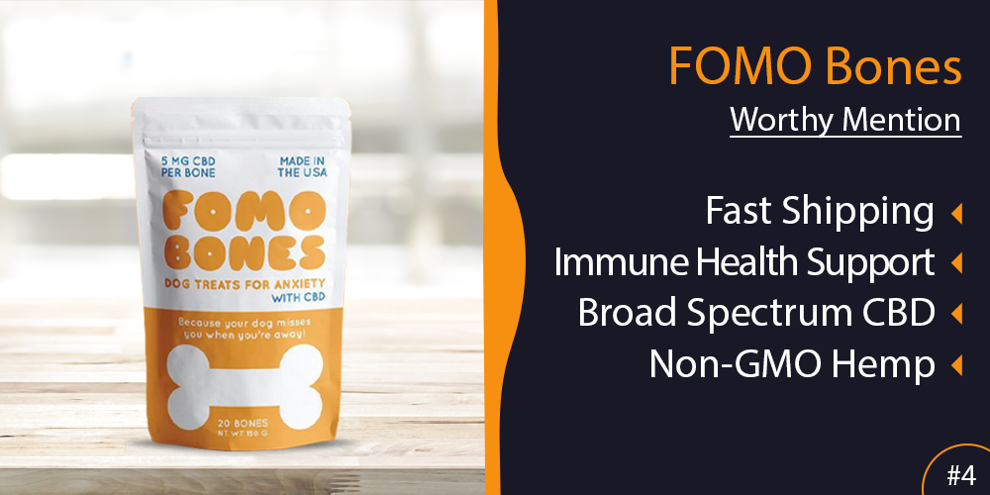 Pros:
Formulated with active botanicals

Pure CBD isolate formula

Approved by the National Animal Supplement Council

Soft and chewy texture
About FOMO Bones CBD Dog Treats
Some dogs become seriously anxious when their owners are away from them. This anxiety can manifest as destructive behavior, restlessness, or even depression. Fortunately, the team at FOMO Bones created an all-natural bone-shaped soft chew formulated with CBD and active botanicals to help reduce your pet's anxiety.
These calming soft chews are made with a CBD isolate formula, ideal for dogs sensitive to THC or other phytocannabinoids. While not as rich in hemp plant compounds as other products on this list, the isolate formula is actually incredibly potent in this CBD dog treat, providing the necessary stimulation to reduce anxiety and boost wellbeing.
Skeptical dog owners accustomed to full or broad-spectrum CBD oil formulas will be happy to know that the pure CBD isolate isn't alone in its ability to support anxiety while you are away. The dog treats contain natural botanical ingredients like passionflower, chamomile, and l-tryptophan to help comprehensively reduce your pet's anxiety.
What's Included With the Order?
FOMO Bones' CBD treats for dogs come in 20-count bags with 5mg of CBD isolate per bone-shaped soft chew. Pouches are resealable and stored easily in any cupboard or pantry. Subscription orders offer the most value for money and always include free shipping. 
Single orders of the treats (or ones made without a subscription) are processed with fast shipping, usually taking only one or two business days.
Why We Chose FOMO Bones
We chose FOMO Bones as a top pick because the CBD isolate is potent enough to reduce anxiety, but when combined with active botanicals like passionflower, chamomile, and l-tryptophan, it becomes a powerful tool for managing pets' emotions. Plus, the included beef protein and natural bacon flavor make these CBD dog treats appealing and easy to feed.
Visit FOMO Bones for more on their CBD dog treats
5.
Anxious Pet
- Honorable Mention: Picky Eaters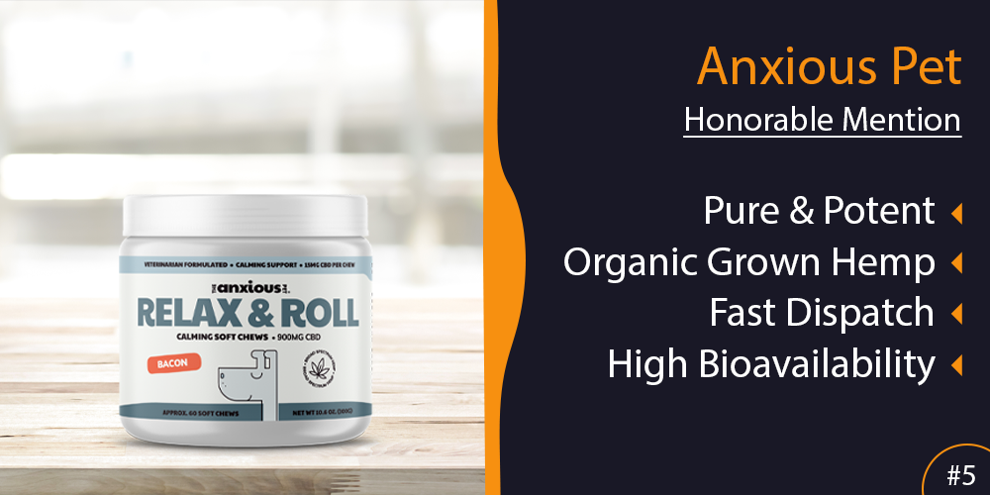 Pros:
Delicious bacon or peanut butter flavor

Non-drowsy formula

Full of antioxidants

Gentle on the stomach
About Anxious Pet CBD Dog Treats
There is nothing worse than a dog who is a picky eater - especially when it comes to managing a dog's health, stress, and wellness. But Anxious Pet has managed to create a CBD dog treat that is so delicious your dog won't be able to resist.
Featuring a broad-spectrum CBD formula, Anxious Pet's dog treats contain a range of phytocannabinoids such as CBN and CBC to support your pet's health and wellbeing. Not only that, but the treats also feature ingredients like melatonin, chamomile, and l-tryptophan to reduce anxiety without drowsiness - a safe alternative to prescription medications.
No matter the flavor you choose, each one of the soft chews contains natural plant-based ingredients like pea protein and sweet potato flour to create the nutritious taste your pup craves. And thanks to the combination of these ingredients with powerful antioxidants like L-carnitine, your pet will benefit from boosted immune support to help prevent emotional issues from becoming physical ones.
What's Included With the Order?
Anxious Pet CBD dog treats come in tubs rather than pouches. Each tub contains 60 tasty and calming soft chews with 15mg of broad-spectrum CBD oil per chew. The treats are small and can be easily hidden in other food if necessary.
Next-day free shipping is available on all orders, and a 60-day money-back guarantee protects your purchase should your dog need to try a different flavor or one of Anxious Pet's other effective pet products made with naturally occurring CBD.
Why We Chose Anxious Pet
Anxious Pet is a no-brainer for picky eaters. Not only are their CBD dog treats tasty, but they also include powerful ingredients like melatonin and l-tryptophan to help reduce stress without drowsiness or other adverse side effects. The combination of phytocannabinoids, antioxidants, and herbs gives pet parents a safe and effective alternative to other adverse-side-effect-inducing options.
Visit Anxious Pet for more on their CBD dog treats
How We Picked the Best CBD Dog Treats for Our List
With all of the research team being dog parents themselves, it was important to consider the same factors that we would consider when searching for the best CBD dog treats for our own beloved pals. We spent countless hours researching and evaluating hundreds of different products from companies all around the world, focusing on factors such as:
Potency

Ingredient quality

Company practices

Customer reviews

Hemp source

Extraction methods

Endorsements and awards

Manufacturing practices and certifications
Our list above was chosen for using exemplary CO2-extracted CBD oil, safe NASC-approved manufacturing practices, and all-natural healthy ingredients for supporting your dog's health. 
What to Look for When Buying Quality CBD Dog Treats
No one knows their pet better than they do, so when shopping for CBD pet treats, there are several factors to consider before making a purchase.
Wellness Issues
With CBD formulas containing (or lacking) an array of natural ingredients, selecting CBD dog treats that provide the specific health benefits your pet requires is essential.
For example, if anxiety and stress relief is your primary concern, then look for treats that include l-tryptophan and melatonin to soothe and relax. If pain and inflammation are the issues, look for treats containing natural anti-inflammatories, such as Turmeric and ginger.
Additionally, you'll want to consider the cannabinoid profile of each treat to ensure they are of the highest quality for meeting your dog's wellness needs.
Full-spectrum CBD oil-infused treats are often the go-to choice for dogs needing comprehensive relief for a range of general concerns. Broad-spectrum CBD oil formulas without THC are a good choice for those who want the benefits of CBD without triggering phytocannabinoid sensitivities in their pup. CBD isolate formulas prove best for those wanting to support a range of included botanical ingredients already proven to help with targeted concerns.
Taste & Texture
Like humans, dogs can be selective in what they like to eat. As such, high-quality CBD treats for dogs may be wasted if it's not something your pup looks forward to eating.
That's why it's important to select a treat with a flavor profile so delicious your dog won't be able to resist. Fortunately, CBD brands make treats with a variety of flavors to accommodate even the pickiest pup.
It's also important to consider texture when selecting treats. Dogs need different textures in their diet, so while some may enjoy crunchy treats, others may prefer soft chews. Softer options are great for senior dogs or those with dental issues, while crunchy options can help keep teeth clean.
Manufacturing Practices
If there is one thing that you should never compromise on when wanting the highest quality CBD dog snacks - it's the manufacturing process.
To guarantee you are getting the finest CBD possible, make sure to select products from brands that use only CO2 extraction methods and have their products tested by an independent third-party lab for quality assurance.
Also, look for certifications - such as NASC, Certified Good Manufacturing Practices, or similar labels - which ensure that your pup's treats are made with safe and all-natural ingredients.
Customer Reviews
While hemp plant products have rapidly made their way into mainstream culture and clinical studies, they are still new to the market, with insufficient evidence to support every wellness claim.
That's why it's always a good idea to look at customer reviews on each product page to better understand what other owners have experienced with the CBD treats. Many dog owners provide detailed information about their pet's condition, size, breed, and other factors that can help you make an informed buying decision.
Transparency
The final hallmark of high-quality CBD treats for dogs is transparency. The best CBD companies provide detailed information and insight into every aspect of their products, from ingredient sourcing to lab test results.
If information isn't available online, it should be quickly delivered with the help of a customer service team that's always ready to answer any questions. If, while shopping for the best treats for your pup, you encounter a brand that is not transparent or is lacking in important information, this can be a major red flag that the products are low quality, ineffective, or harmful to your pet.
When Should I Give My Dog CBD Pet Treats?
Dosing times for CBD dog treats will vary based on several factors specific to your pup. However, in all cases, you'll want to give your dog a CBD treat no less than an hour before you need its effects to kick in. This is because CBD treats for dogs need to be digested before the CBD can take effect.
When to Give CBD Treats for Pain
Typically, the morning is the best for dosing dogs in pain with CBD oil-infused treats. It ensures that the day's activities don't exacerbate the discomfort being relieved with CBD so your pup can remain pain-free throughout the day.
Exceptions to this rule include times when your pet is already taking medications to manage pain from surgery or other trauma. In these cases, it is best to work with your veterinarian to determine the best dosing schedule for your pup so that the beneficial compounds in each formula don't overwhelm the senses.
When to Give CBD Treats for Anxiety
Timing CBD doses for stress and anxiety offers more flexibility than other dosing for other wellness conditions. Often anxiety and stress in dogs is acute and, more importantly, knowable. If you know that a trigger will be occurring, such as fireworks, separation, or a thunderstorm, giving the CBD treat 30 minutes to an hour before can help your pup remain calm and relaxed - any time of the day.
The same is true for fear-based anxiety attacks that usually happen during vet trips or long car rides. In these cases, your pet may also need a second CBD dosage no more than 4 hours after the first if the anxiety persists after the event has finished.
When to Give CBD Treats for Mobility
Aging dogs losing mobility due to joint pain can benefit from daily CBD oil-infused treats given one to three times per day, five to six hours apart. Those with mobility issues due to an injury or surgery should also be given CBD dog treats daily, but the amount and frequency of doses can vary depending on the severity of the trauma.
In some cases, mobility issues result from inflammation caused by poor sleep quality. In these cases, you'll want to give your pup a CBD treat an hour or two before bedtime. This will allow the compounds in the oil to reduce inflammation and improve sleep quality for more restful nights and active days.
When to Give CBD Treats for Cognitive Function
Cognitive function in aging dogs can be improved with a daily CBD oil-infused treat. The best time to give your pup the CBD is typically between meals and no less than one hour before eating. This will ensure that the compounds in the CBD oil have plenty of time to take effect and improve cognitive sharpness.
If a second CBD dosage is necessary, the same timing rules should be applied - an hour or two before feeding. This will keep your pup's cognitive function at its peak throughout the day and help them remain alert and responsive to your commands.
Benefits of CBD for Dogs
Only recently have vets and clinical researchers begun exploring CBD's potential benefits for dogs. Like humans, it's been shown that dogs also have an endocannabinoid system sensitive to hemp plant compounds, making the case that CBD could help canines in much the same way it helps their owners.
Pain management is one of its most promising use cases for naturally occurring CBD, as many dogs suffer from chronic joint and muscle pain due to age-related arthritis or trauma. CBD has been used to help reduce inflammation and provide relief from pain without any dangerous side effects.
CBD can also be used to help improve mobility in aging dogs and those with traumatic injuries. Its anti-inflammatory properties make it an ideal choice for reducing swelling and allowing more freedom of movement.
Cognitive function can also be improved with CBD, especially in older dogs beginning to experience age-related forgetfulness or having trouble keeping up with commands. The compounds in full-spectrum and broad-spectrum CBD oil formulas are ideal for supporting alertness, focus, and sharpness.
In addition to these key benefits, many pet owners are turning to CBD for its calming effects on anxious dogs. It is being used as an alternative remedy for fear-based anxiety attacks and acute stress due to triggers like thunderstorms, separation, and vet trips.
Finally, with the omega fatty acids, proteins, fiber, and other hemp plant compounds often included in high-quality CBD formulas, many dog owners have found the benefit of administering CBD oil pet treats for promoting general wellness in their pups.
How Many CBD Treats Should I Give My Dog?
The first rule of giving CBD treats to your dog is to start with one. CBD affects every dog differently, and the amount you give should be based on your pup's weight and the severity of its condition.
When it comes to pain and inflammation management, most owners opt for mid to high-level doses ranging from 10 to 15mg of CBD. Larger dogs over 50 lbs. may be able to eat a whole treat in one sitting, while smaller or medium-sized dogs may need the same treat broken up into halves or even quarters administered throughout the day.
Mobility or sleep issues can usually be supported with a low to medium dose of CBD. With only 5 to 10mg of cannabidiol, the milder effects can help reduce inflammation and improve sleep quality without making your pup too drowsy.
For cognitive support, the ideal dose range is typically lower - around 2-5mg of CBD per treat. This will allow the compounds to take effect in the bloodstream without overwhelming your pup with too much of the active compounds in one go.
Remember that these tips are only a general guide to how much CBD your pup should get. Doses may need to be adjusted to ensure the best effects and the safest experience. Always consult the product packaging for a more detailed guide on how much CBD to give your pup and when.
Is CBD Safe for Dogs?
CBD is generally considered safe for dogs when given at the correct dose and in responsible formulations designed specifically with canines in mind. While hemp plant products are non-toxic to pets, it's still important to choose wisely when picking CBD dog treats or other ingestible products.
Products that contain potentially toxic solvents should be avoided. Hemp seed oil, MCT oil, and other natural carriers are usually considered safe for canine consumption as they contain no added artificial chemicals or dangerous compounds.
The best CBD dog treats should also be free from sugar, gluten, salt, and any potentially harmful preservatives. In addition to being organic and non-GMO certified, the treats should feature full-spectrum, broad-spectrum, or CBD isolate formulas with no THC content higher than 0.3%.
Because of the interaction of phytocannabinoids with CB2 receptors, some dogs may experience common, minor side effects that usually dissipate within a few hours. These may include increased thirst and appetite, drowsiness or hyperactivity, dry mouth, slight behavioral changes, or reduced energy levels.
FAQ
1. What are CBD dog treats pros and cons?
CBD dog treat pros include providing relief from anxiety, improving mobility, and promoting general wellness. The only real cons are those associated with the poor quality CBD dog treats - so make sure to buy CBD treats from reputable brands that use high-quality ingredients and natural carriers.
2. What are the optimal doses of CBD for dogs?
Most pet owners opt for mid to high-level doses ranging from 10 to 15mg of CBD for pain and inflammation management. For mobility or sleep issues, a low to medium dose of CBD is usually sufficient - 5 to 10mg per treat. Cognitive support should have around 2-5mg of CBD per treat.
3. Can you give CBD to pregnant or lactating dogs?
You should not give any CBD product to pregnant or lactating dogs as it may have an adverse effect on the developing puppies. If your pup is expecting, wait until after the litter has been weaned and consult a veterinarian before giving them CBD treats.
4. Can I share the CBD products that I use with my dog?
No. Human CBD products are not suitable for canine consumption - they are formulated with higher concentrations of CBD and may also contain other compounds that could be harmful to a dog's health. Instead, stick to pet-specific treats or tinctures explicitly designed for dogs.
5. Is dog CBD good for separation anxiety?
Yes. CBD has been reported by pet owners to help reduce separation anxiety symptoms in dogs. Most pet parents find that a low to medium dose given an hour before they leave the house is enough to keep their pup calm and relaxed in their absence.
Give Your Dog the Gift of CBD
CBD can be a great way to help reduce inflammation, mobility problems, and even support anxiety relief in dogs. As long as you find high-quality products with the correct dosage and natural carriers, you can safely give your dog CBD treats as part of their daily routines.
To ensure the best CBD experience for your pup, check out the sites for any of the best brands on this list. With their commitment to safety, quality, and transparency - you'll be able to find the perfect CBD treats for your four-legged friend in no time.