SPARTANBURG — Students across Spartanburg County celebrated the start of new school year, hoping that it won't be disrupted by COVID-19 and that some normalcy will return to the classroom.
Lyman Elementary School's kindergarten and first grade students were joined by their parents Aug. 16 as they walked into the school for the first time during the 2021-2022 academic year. The school, at 1221 Holly Springs Rd., has increased in enrollment with new residential developments built nearby over the past five years and added another building.
Located in Spartanburg School District 5, Lyman Elementary School's students were all back together again after most were part of the district's eLearning program for the 2020-2021 academic year. This academic year, total student enrollment in District 5 is 9,800 students. 
All seven school districts in Spartanburg County returned to the classroom on Aug. 16.
"We are excited and cautiously optimistic," said Melissa Robinette, Spartanburg County School District 5 spokeswoman. "Everybody wants what is close to normal as possible and that is what we are aiming for. We want our kids to get back to normal school. We put our COVID-19 protocols in weeks ago. State law says we can't mandate masks and I know parents fall on both sides of that issue and we respect peoples' opinions and beliefs."
Robinette said schools in the district will get extensive cleaning, practice three feet of social distancing, screen visitors and school nurses will offer testing for those who exhibit symptoms at the school including staff.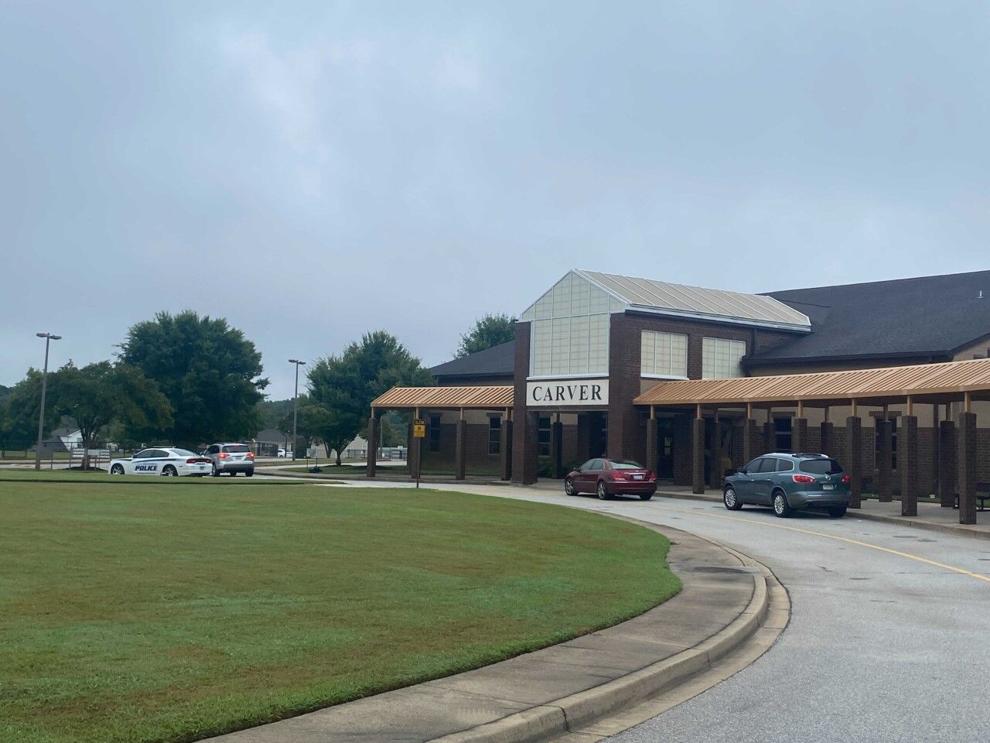 Parents with children in Spartanburg School District 7 expressed some concerns about COVID-19. Annie Mae Edwards has two children who attend Carver Middle School and a child who attends Mary H. Wright Elementary School, both on South Church Street in Spartanburg. Edwards said her children have not been vaccinated, since children under 12 are not yet eligible.
"They don't want to wear a mask, but I make them wear one," Edwards said.
District 7 sent parents safety guidelines for in-person learning. Students in the district are encouraged to wear masks. COVID-19 cases across the state and in Spartanburg County have surged again in recent weeks. Some parents in District 7 said they would have preferred for students to resume eLearning at the start of the new school year. 
Parent Katana Rice-Smith said she has five children in the District 7 system, two of which are too young to be vaccinated.
"I feel like it's really too soon, especially when they're saying there's a whole new strand of the virus coming back around," Rice-Smith said. "I think they should've stayed virtual for a little bit to give the kids who can get vaccinated a chance to get vaccinated."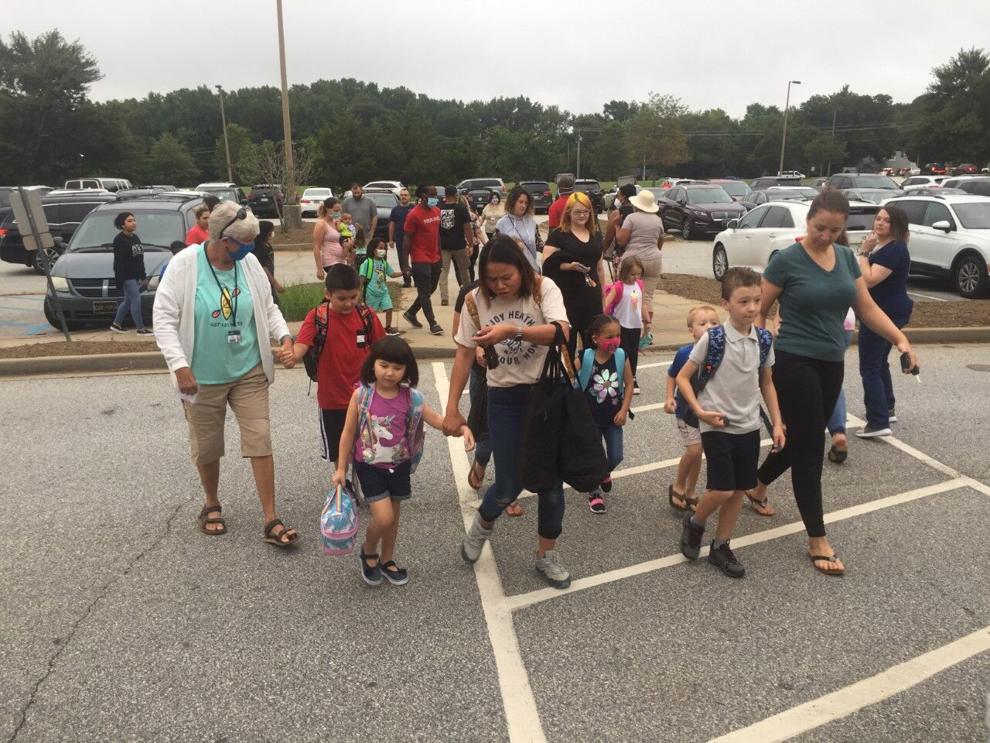 Before school started at Lyman Elementary, Robinette was among those at the front entrance greeting students and their parents as they entered the school. The school's new principal, Allison Hepfner, said it was the first time since March 2020 that all of the school's students were back in-person.
"Everybody is back under one roof," Hepfner said. "We have protocols in place and guidance from the district office on how to keep everyone safe."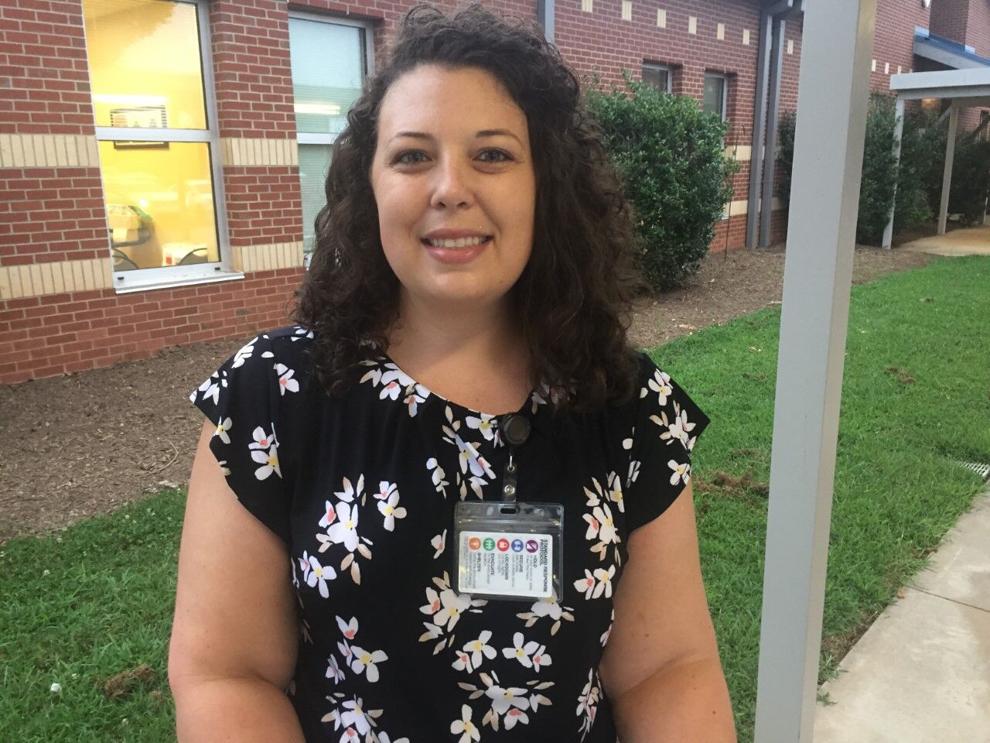 Hepfner said the school will focus on promoting literacy this year. To celebrate the return of students, teachers wore costumes displaying characters from their favorite books. Music playing from a speaker at the school's front entrance, creating a festive atmosphere.
School counselor Carrie Potter walked her children Thomas, 5, and Jillian, 8, into the school to help get them settled into their new classrooms.
"Today is the best day of the school year," Carrie Potter said. "We are all super excited and anxiously waiting for these kids to come in."
Several parents said they believed it was important for their children to return to the classroom since it allows them to socialize with their peers. A few parents were seen wearing masks as they walked their children into the school.
Chuck and Eva Owens of Lyman said their daughter, Lena, 5, was nervous and excited about starting kindergarten. 
"We tried to keep her positive about it all," Chuck Owens said.