New civil asset forfeiture laws were brought to bear on South Carolina drug smugglers and their associates in 1982, with stunning results that included the government seizing and selling Lowcountry homes, sailboats, cars, jewelry and gemstones.
The federal government even became the landlord of Charleston restaurant 82 Queen, for a time, after seizing the building the restaurant was leasing.
Operation Jackpot used what was then a new approach: Focusing on the identification and seizure of illicit wealth, then tracing it back to the smugglers bringing tons of marijuana and Lebanese hashish into South Carolina's coastal waterways since the early 1970s.
Bales of marijuana and bricks of hashish — an estimated $850 million worth — were smuggled up local waterways, sometimes stashed in shrimp boats and pleasure craft.
Civil forfeiture laws were used to seize more than $6 million in cash and property, it was reported at the time. Later, estimates climbed much higher. Properties and possessions were sold at auction, including the building at 82 Queen St., which was purchased from the federal government by the restaurant operating there.
More than 100 people were charged, including two who were eventually extradited from Australia, and the cast of characters included members of the legal and real estate professions.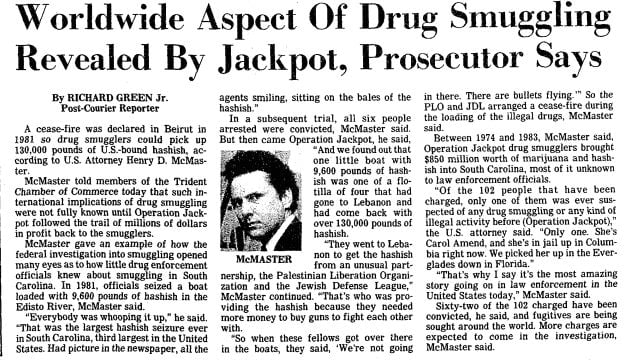 It was not the first time law enforcement authorities have focused on illicit wealth to get results against criminal activity. Prohibition-era Chicago gangster Al "Scarface" Capone eventually went to prison not for the St. Valentine's Day Massacre or other violent crimes, but for federal income tax evasion.
Operation Jackpot was launched at the urging of IRS Director of Investigation Brian Wellesley. The initial investigations, in Hilton Head, were led by an IRS agent paired with a Customs agent.
South Carolina Gov. Henry McMaster was U.S. attorney at the time, and he later called for expanding civil asset forfeiture laws, while running for the U.S. Senate in 1986.
"The criminals' money was used to capture more criminals," McMaster said at the time in an Evening Post report.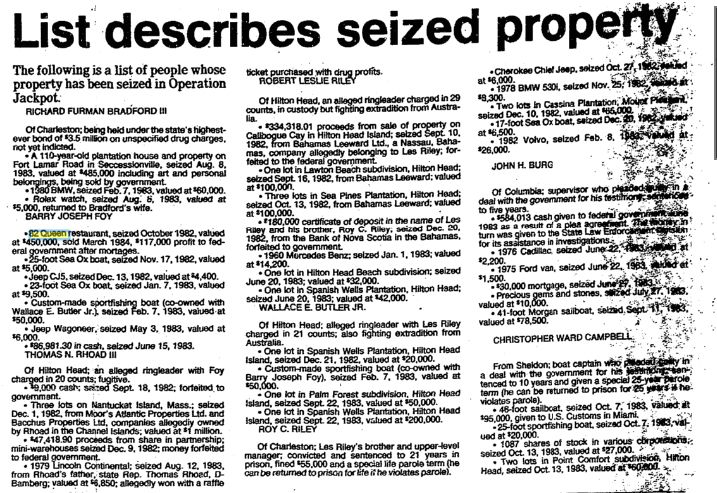 In the 1980s, civil asset forfeiture laws were greatly expanded, both nationally and in South Carolina. In the decades that followed, asset seizures soared into the billions of dollars, and rules allowing local police departments to keep most of the money they seized led to complaints about abuses.
The take from Operation Jackpot seemed enormous at the time. But in the small South Carolina town of Ridgeland, local police have seized as much — $6 million — through traffic stops on Interstate 95 during the past 15 years.
If any of the several bills filed to restrict civil asset forfeiture in South Carolina make it through the Legislature next year, they will eventually land on the desk of McMaster. Whether he will stand by the laws he championed decades ago remains to be seen.