Congratulations, you live in the Charleston area or you're here visiting, and you've got a front row seat to one of the most anticipated astronomical events in recent memory.
With possibly more than 2 million visitors expected to come to the Palmetto State for Monday's total solar eclipse, local and state officials are warning of large crowds, unreliable cellphone service, impassable roads and other challenges.
- Live coverage of the total solar eclipse from around Charleston and South Carolina
- Everything you need to know about the total solar eclipse in Charleston in one place (Read more)
- Event listings, interesting fact and more information (Read more)
Here's what you need to know to make it through:
Eclipse rundown 
The total eclipse will last two minutes, 2:46 p.m. to 2:48 p.m., but the partial eclipse starts at 1:17 p.m. and ends at 4:10 p.m., according to the National Weather Service.
Charleston lies within the path of totality, which is when the moon entirely blocks the sun's face.
Why you need eclipse glasses
Don't use them and you will suffer severe eye damage.
Homemade devices don't work because they allow thousands of times too much sunlight through, according to NASA.
The only safe way to look directly at the uneclipsed or partially eclipsed sun is with special solar filters like eclipse glasses or hand-held solar viewers, according to NASA.
Make sure any eclipse-viewing device you use complies with the ISO 12312-2 international safety standard.
If your eclipse glasses or other solar filters are scratched or damaged in anyway, don't use them. Throw them away. 
Don't remove eclipse glasses or solar filters while looking at the uneclipsed or partially eclipsed sun.
The only safe time to look directly at the sun without a solar filter is during the brief total eclipse.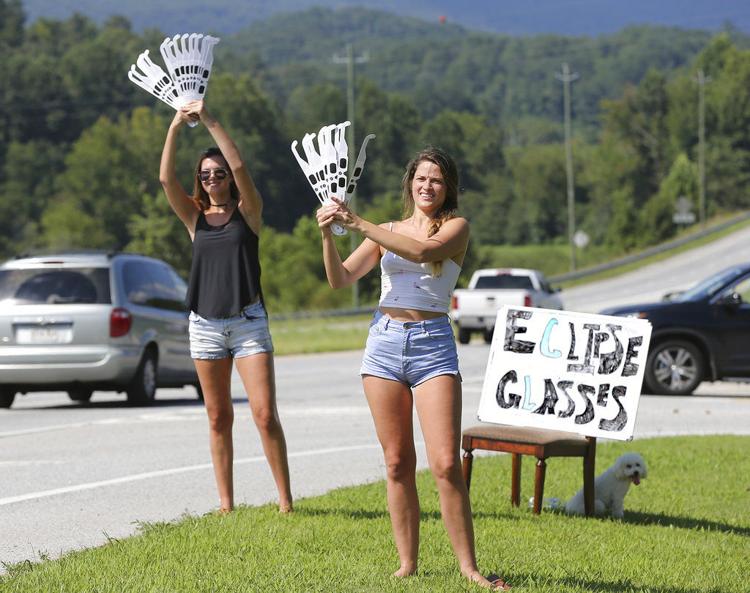 Weather
There's a high chance of cloudy skies in Charleston
It's going to be hot and humid with a forecast high of 88 degrees. But it's been climbing into the mid-90s, so be prepared for heat.
Wear a hat and put on sunscreen.
Bring plenty of water.
There's a small chance of rain, and there may be partly cloudy skies.
Double-check the forecast before heading out. August in Charleston often brings brief but fierce rain and thunderstorms.
Taking pictures?
Using eclipse glasses while taking the photos isn't enough because a camera's lenses amplify sun's the rays and could damage the eye.
Use a specific filter or sheet of film that rated to the ISO 12312-2 standard to cover the camera's lens.
The same applies to those viewing the eclipse through a telescope or binoculars. 
Cell service
Heavy demand will affect cellphone reliability during the eclipse and Charleston County officials urge the public not to call 911 to report a cellphone outage.
Text messaging may be a better way to communicate because wireless networks will be clogged with streaming video and social media activity.
Be patient and stay on the line if a 911 call is not answered immediately.
Text messages may be sent to 911.
Getting around
Charleston Area Regional Transportation Authority buses will run as scheduled on Monday, but services will be on hold from 2:41 p.m. to 2:53 p.m.
CARTA riders should anticipate delays leading up to and winding down from the eclipse, 1:17 p.m. to 4:10 p.m.
Drivers will provide eclipse glasses to passengers who will be able to view the eclipse from the bus or disembark if they so choose.
Rideshare services, such as Lyft and Uber, will likely have increased fares, known as Prime Time and surge pricing, respectively.
Going out
Bring cash in case credit card readers go down.
Expect crowds and be patient.
Plan ahead and leave early.
Parking lots and roads will be congested and likely impassible.
Don't wear eclipse glasses while driving.
If you're on the road, pull over to watch the eclipse. 
On a boat?
Use common sense and remember basic boating safety.
Wear a life jacket and make sure everyone on board is also wearing one.
Turn on boat lights as the sunlight fades.
Don't wear eclipse sunglasses while driving a boat. Instead, drop anchor and watch it while stopped.
Plan ahead and leave early because public boat ramps will be crowded. 
Most of all, have fun. The 2017 eclipse is a once-in-a-lifetime event. Let's make it a day to remember.