In its 351st year, Charleston finds itself pinioned between opposing forces on many sides: a surging sea that is making low-lying areas more dangerous; a massive influx of new arrivals from around the country; and those struggling to afford the Holy City, who don't want to see their way of life disappear. 
All these factors are at play as the city embarks this year on an ambitious plan to remake how land is developed in the next decade. It has turned mainly to the concept that homes and businesses need to be concentrated in the highest possible areas, or an elevation-based zoning that could prove a national model for how to grow in the face of climate change.
The goal is that more buildings and infrastructure won't be in the way when sea level rise pushes the Atlantic Ocean higher in the coming years. The idea is incorporated into the City Plan, a comprehensive land-use document every South Carolina community must complete once a decade and that Charleston is refining this month after several months of research. City leaders have given the plan initial approval, but will meet to discuss it again this week.
The approach is novel in a city where breakneck development over decades put residents in the way of floods, culminating in several damaging episodes in the last few years. A nearly statewide flood in 2015 hit the city in two waves, as the initial deluge flooded the lowest spots, and then as water draining from the Midlands made rivers swell anew. In 2017, Irma, then the remnants of a powerful hurricane, again pushed tides over their banks and unleashed flooding messes, particularly around the city's most important hospitals. And a slew of intense downpours, juiced by a hotter atmosphere, swamp the city regularly each summer.
But as the contours of the new plan to focus on higher ground are sketched out, thorny tradeoffs have popped up, showing the real-world challenges to even the most common-sense resilience efforts.
First: As Charleston maps out what land holds homes, what land houses job centers and how the transportation system might accommodate all of it, it has to plan for growth. Not growing is not an option, planners say. Housing is too expensive already for the working-class people who make the city's service-based economy run.
Four-tenths of the city's residents pay more for their homes than they can afford right now, according to Charleston's own research. Thousands of below-market units are needed to close the gap. 
Second: Some of the highest ground in the city, on the Cainhoy peninsula, is a place of rich history and cultural heritage. Longtime Black residents there are hoping to avoid the fates of other communities in the region, where settlements that date back to the end of slavery are enclosed on all sides by subdivisions, setting up conflicts between the needs of new and long-time denizens. 
'I wouldn't mind living here'
West Ashley, a sprawling area of subdivisions and strip malls west of downtown, may be one of the best examples of where the flooding and affordability problems are crashing into each other.
Lauren Rogers moved there at the end of 2017, following her sister, who had been living in the Palmetto State for years. Rogers was retiring from a 35-year career with the Commonwealth of Massachusetts.
Her sister had purchased a house at Bolton's Landing, a development at the edge of the suburbs west of the Ashley River. The Bluewater apartments were rising next door. 
"They were just building this complex. I said, 'Wow, that's nice, I wouldn't mind living here,' you know? They had the pool done and everything."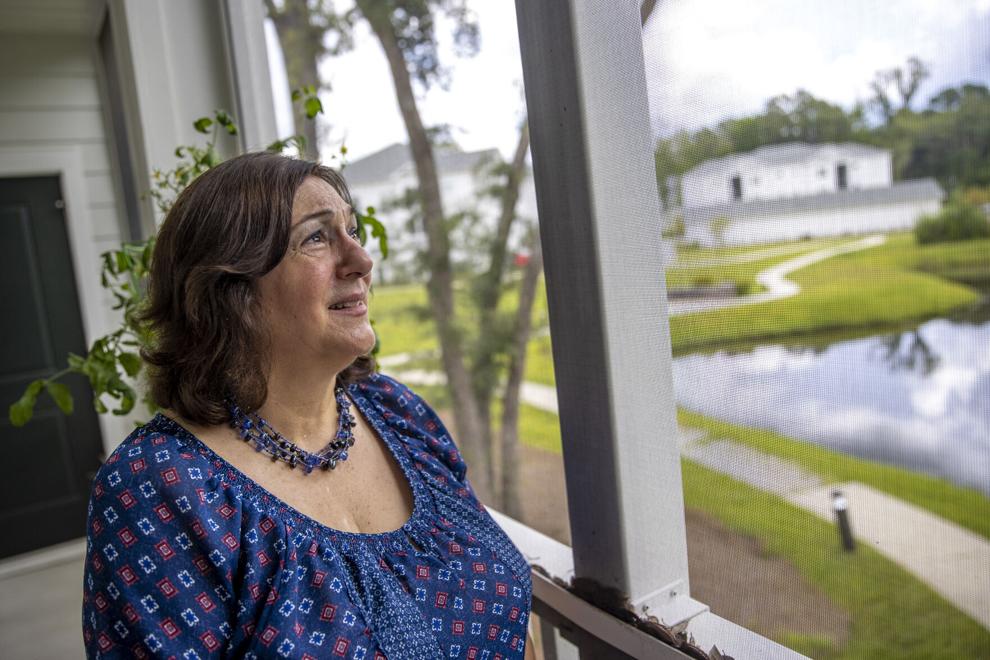 But four years later, Rogers, 66, was shocked in July when her landlords said the rent on her two-bedroom apartment was rising by $250 a month. It sent her into a tailspin: How long could she afford the apartment on her pension if prices were rising this fast? 
"I'm so scared I'm going to be homeless," Rogers said in an interview. "I can't afford to move back to Massachusetts."
Charleston has long had a problem with housing affordability. In research released in February, the city compared nine different metros around the Southeast and found Charleston was the second most expensive, cheaper only than Washington, D.C., where salaries are 28 percent higher.
The main driver of this expense: the cost of housing.
Part of the problem, said John Gaber, deputy chair of city planning and real estate development at Clemson University, is the "tourism bubble effect." Charleston went all-in on attracting visitors in the past few decades, marketing pastel-hued historic streetscapes and repeatedly landing on best-of destination lists. 
Some of those visitors want to move to the Holy City for good, Gaber said. They bring, in many cases, higher incomes or accumulated wealth, and that pushes longtime residents out. 
The housing pressure has also served to transform the region's racial makeup, making Charleston County one of the few places in the state that lost Black residents from 2010 to 2020, according to recently released Census data.
"I know the city of Charleston is working on this, but the problem is the pace," Gaber said. "They're obviously not keeping up with the pace of demand for development."
City officials know this, too. They have previously said that more than 16,000 new affordable units need to be erected in the next 10 years to keep up with housing demand. The largest number need to be located in West Ashley, where Rogers lives.
At the same time, West Ashley has been the site of some of the city's most pernicious flooding, and stands as an example of how poor development can endanger residents. For years, single-family homes were placed on lots raised with dirt around the Church Creek Basin, where the narrow creek drains thousands of acres into the Ashley River. All that building pushed floodwaters to older, lower houses, contributing to the flooding disasters of the last five years.
New drainage rules for builders have raised the standard for what can be put in the area, to the relief of nearby residents. But they also served to stymie some planned developments, depriving the market of new homes.
Meanwhile, prices continue to rise for buyers and renters alike there, including Rogers. A property manager told her the market value of her unit had jumped to $1,739, according to emails she provided, and her $250 increase in rent didn't even fully cover that gap.
Jonathan Merkel works for The Sterling Group, the owner of Rogers' complex. He said the company is constantly scrubbing data on apartment prices when it sets rents, and that rising rents at Bluewater only reached 80 percent of the market value Sterling calculated. 
In West Ashley, he said in an August interview, apartment occupancy among similar complexes was at 96 percent. That's why prices across the market had jumped by almost a fifth in the past year. 
"It's a very hot market. The demand is insane and the supply is minimal," he said. 
Rogers still sought a solution and reached out to state representatives and Mayor John Tecklenburg's office. She was frustrated to learn that, unlike in the Northeast, there are no rent-control policies in South Carolina that would cap increases year by year. 
Ultimately, the complex met Rogers in the middle, raising her rent by $125.
But even before the price hike, Rogers' home wasn't considered affordable. With water, sewer, trash and garage fees, she was paying more than $1,500 each month. Under the traditional definition of affordable housing, she should pay at most 30 percent of her income toward rent and utilities. In this case, that's $1,300 a month. 
Rogers has other financial concerns — a marriage that turned sour sapped her savings, and she has significant credit card debt to pay down. She's trying to apply discipline, turning to financial self-help gurus like Dave Ramsey. It's still a struggle.
"It's like, do you pay bills or do you eat?" Rogers said. "That's where I'm at."
The next frontier
Charleston needs more housing. It also needs to make sure those homes don't flood in the future. The question, then, is where to put them?
The new City Plan tacitly acknowledges that the lowest lands in the city will someday be covered in water or migrating marsh if nothing is done to armor them. That fact has put the spotlight on the higher-elevation Cainhoy peninsula, with some of the largest inventories of undeveloped land found anywhere in Charleston.
The peninsula, north of Daniel Island, is still mostly rural. Towering longleaf pine forests spread over former plantation land. Nestled between the pines are communities like Jack Primus, where some of the formerly enslaved people settled down to determine their own destiny. 
A cadre of locals, who have become amateur historians over many years of development fights, are dutifully recording the history of the area and trying to preserve it. Already, that's a challenge; there's a controversy over whether the developer of one new subdivision might be encroaching on the unmarked graves of Black people in a historic cemetery next door.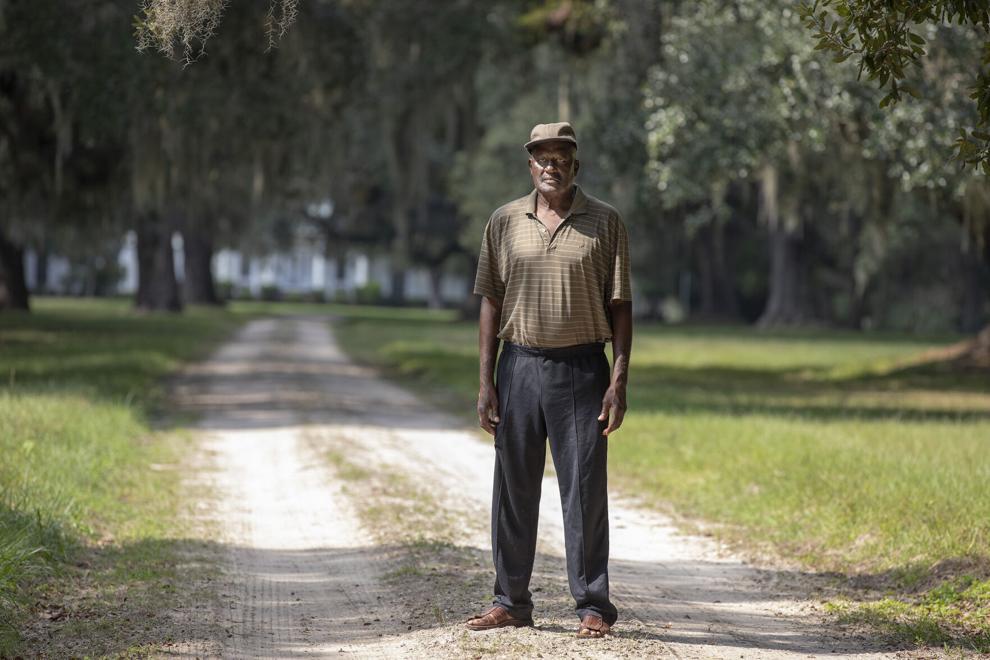 At Fred Lincoln's home, the Jack Primus community, builders haven't broken ground that closely yet.
The 300 acres of Black-owned land feels worlds apart from the planned community of Daniel Island to the south. Here, new-construction houses with multiple levels stand next to squat cinderblock homes that Lincoln remembers rising in his childhood. Then, the block houses were a sign the community had arrived, as they replaced rickety shacks. 
This mix is crucial, Lincoln said, to making sure Jack Primus doesn't follow the path of other Black settlements, like the Phillips Community nestled inside Mount Pleasant. Development slowly grew around Phillips on all sides, and as traffic got worse, a plan was floated to mow through the community with an expanded four-lane road.
After months of organizing, Charleston County Council landed on a compromise plan in late August that will avoid that outcome.
Jack Primus is also trying to steer clear of that fate, in part, by encouraging a mix of housing that might scare some larger developers away. To avoid a similar incursion, "The zoning must allow mobile homes," Lincoln said. "That's the stabilizer."
Marie Delcioppo, the city councilwoman for the area, grew up learning to drive on weekends along then-empty Clements Ferry Road — the street that traces the elevated spine of Cainhoy. Now, Clements Ferry is a bustling thoroughfare filled with cars and large trucks headed to construction sites. She's pushed to make sure future development is centered along that spine and stays away from rural communities.
"I completely respect the fact of building on higher ground. ... I don't want to see us have to buy out homes like we've had to because of the flooding issues," she said. But for the Black residents who have passed their land down for generations, "They deserve better. They deserve us to respect their dedication to this area."
The city can state whatever intentions it wants in its land-use plans, but its ultimate control over Cainhoy is hamstrung. Much of the land there was already put into a special development plan in 2014. Developers have said there could be around 9,000 new homes at build-out.
Delcioppo hopes to negotiate with the builders. The nonprofit Coastal Conservation League, an environmental protection group, also proposed an alternate plan that limits almost all development to a narrow corridor around Clements Ferry.
Christopher Morgan, a planning manager for the city of Charleston, said the city's plan encourages that, too, but it's ultimately up to the developer how and where they build the thousands of units to which they have a legal claim.
Higher ground
As renters and homebuyers struggle to afford shelter, and as longtime residents of Cainhoy work to protect it, in the background, the sea is rising. 
Charleston is still cleaning up the flooding messes of yesterday, with an estimated $3 billion price tag for all the water-management projects that have been identified so far.
In August, the city received grants to buy and demolish two repeatedly-swamped homes. Those were just the latest of 49 total residences that had been so damaged the federal government and city together paid more than $13 million to pull them down.
Dale Morris, Charleston's chief resiliency officer, said it's crucial to make sure that people are settling in safe places outside of flood risk. Most communities have resorted to other strategies, like making builders construct new homes higher than federal flood standards dictate (which Charleston has also done).
A few small towns in Maryland and Virginia have pursued the height-based zoning Charleston is considering. But many people are watching what happens in the Holy City as a potential model for resilience. 
Morris is optimistic that the city could account for its newcomers and the water at the same time.
"It's not all doom and gloom," he said. "This can be managed."
But even if the council approves a plan that bases development patterns on elevation, it will be an expensive one to implement, said Jason Crowley of the Coastal Conservation League. 
"Is the city council ready to invest, and what is that going to cost to do?" Crowley said. "It's not easy or cheap to rewrite an entire zoning code."
That includes, he added, defending against landowners or developers who may be angry that the rules are changing for their properties. This has happened already, such as when the city passed stricter drainage rules for new construction in outer West Ashley and a handful of builders sued. 
Morgan, of Charleston's planning department, said the zoning rewrite would easily take a year, and probably requires hiring an additional consultant to get it done.
That process will determine, in far more detail, where the city might be able to encourage the missing middle that Charleston lacks in new construction, or housing that's somewhere in between single-family homes with yards and towering luxury high-rises downtown. City planners, including Morgan, say that these townhouses, duplexes and triplexes help provide more housing options on the market.
Morgan was optimistic that some units might be built at aging retail sites along high ground on Sam Rittenberg Boulevard in West Ashley, for example, where vast retail parking lots remain half-empty, even on busy days. 
Charleston has made other efforts. The city recently started a program allowing homeowners to build small apartments on their lots for family or below-market renters, and raised the fees charged to large developers who don't put affordable units in their projects.
Baby steps are not a bad way to approach the housing problem, said Gaber, the Clemson professor.
"Once you start looking at the big picture, you get overwhelmed," he said. "You've got to start somewhere, and usually it's easier to start with small steps."
All the while, Charleston is caught between two waves: of the people who won't stop coming and of the sea slowly advancing.